A complete and accurate Budget Worksheet is the foundation of your financial aid award adjustment (if any) and your scholarship or loan application (if any). It is also an excellent planning tool so that you and your family can financially plan for your off-campus study program.
Completing your Budget Worksheet correctly is critical to ensuring that you receive all of the funds that you are eligible for. There are three versions of the Budget Worksheet—Carleton Programs, Global Engagement Programs, and Non-Carleton Programs—make sure you select the right one.
Carleton Programs
The program cost matches Carleton's comprehensive fee. The current fee is published on the Business Office website and is set for the upcoming year in February or March. If you are completing a Budget Worksheet for next year and the comprehensive fee is not yet published, use the previous year's estimate and Student Financial Aid will adjust your award according to the new numbers when they are available.
Use the Additional Cost Worksheet, available in your student portal (after program acceptance), to estimate your additional expenses and transfer these estimates into the Budget Worksheet for Carleton Programs. Be sure to include a flight estimate.
Global Engagement Programs
Global Engagement Program tuition and program fees and additional costs are posted on the individual program website in the fall of the year prior to the program. Use these estimates, plus a flight estimate, to complete the Carleton Global Engagement Programs Budget Worksheet.
Non-Carleton Programs

Every Non-Carleton Program is different. On the program's website, find the page that lists the program fee and additional expenses. These estimates often include ranges by category and expenses that apply only to some students. Read the documentation carefully and transfer the information, by category, from the program website to the OCS Non-Carleton Program Budget Worksheet and don't forget to include a flight estimate. If you are unsure about how to transfer the information that is on the program's website to the budget worksheet, schedule a meeting with an OCS adviser and they would be happy to assist you.
Below is a Non-Carleton Program Budget Worksheet (right) filled out for the Berlin – Metropolitan & Urban Studies program (left).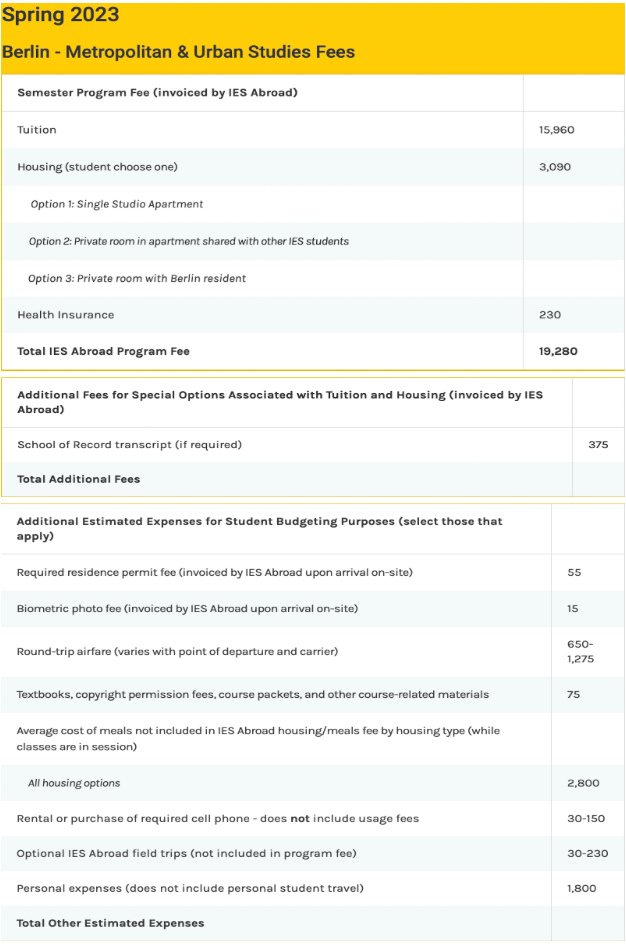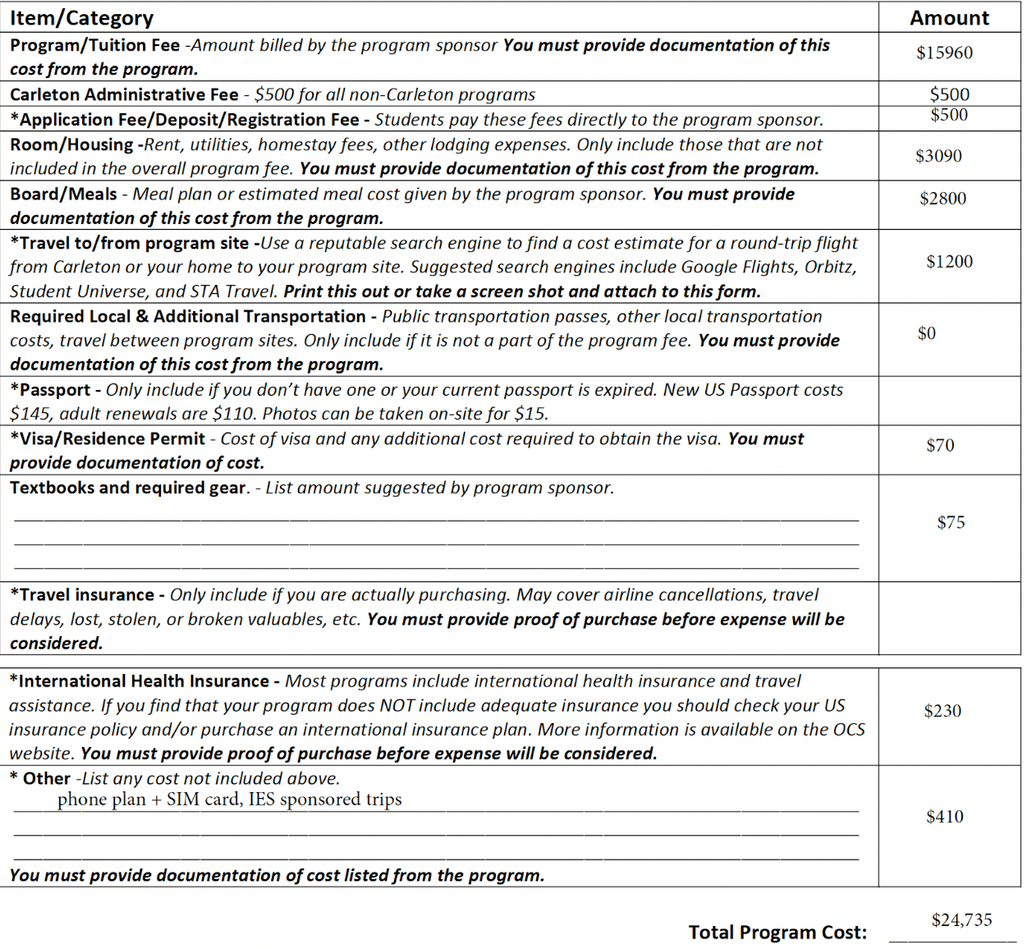 Notice how all items on the IES cost sheet are transferred to the Carleton Budget Worksheet. It is crucial to accurately estimate costs. For example, round-trip airfare is listed on the IES site as a range, but if a student was coming from the East Coast, their flight would likely be on the lower end of that range compared to a student flying to Berlin from California. A specific cost estimate should be included for your flight.