"We're still here": Indigenous organizing at Carleton
Native students, professor, allies form community partnerships around Indigenous issues.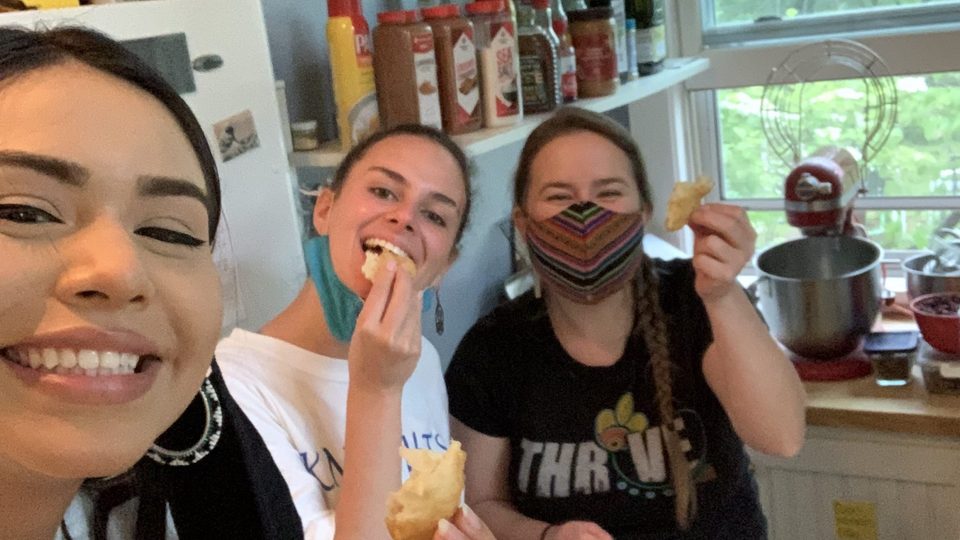 Community engagement is a core part of Carleton's mission both in and out of the classroom. Currently, a group of Native students, faculty, and staff, joined by non-Native allies, are pushing this ethic of engagement even further. Through academic and civic engagement (ACE) courses, a working group on building and sustaining relationships with indigenous communities and the reinstatement of the Indigenous Peoples Alliance student organization, they are critically examining Carleton's past and present connections with Indigenous peoples — both on campus and in the surrounding community — and charting a better future.
Engaged Research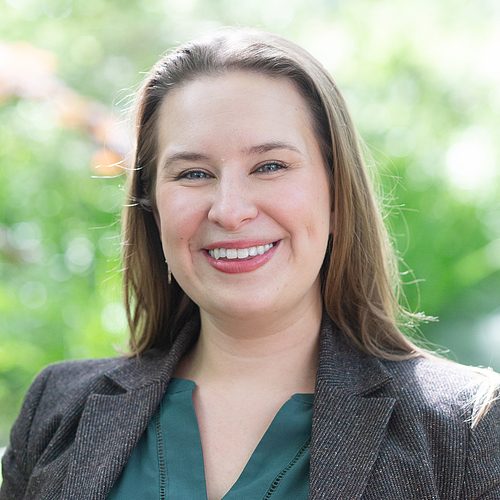 Dr. Meredith McCoy, assistant professor of American studies and history, has been critical in bringing people together and kickstarting action around Indigenous issues. McCoy is of Turtle Mountain Band of Ojibwe descent. She teaches courses about Indigenous history, activism, and research methods, many of which have ACE components. This spring, she taught History 301: Indigenous histories at Carleton. Students in the class conducted the first comprehensive archival research of Carleton's relationship with Indigenous people along four historical threads — Carleton's land acquisition, Indigenous students and student organizations, Indigenous faculty and staff, and campus representations of Indigenous people — and presented their research to the Northfield community on May 29. 
McCoy has been planning this course since her arrival at Carleton in 2019. She wondered about Dakota relationships to the place currently known as Northfield, but waited to offer it until she had learned more about this place from Dakota teachers and discussed possibilities with Carleton's archivist, Tom Lamb, as well as other faculty and staff.
"So much of Indigenous Studies is about relationality," McCoy said. "And if we jump into a project thinking we've already got all the answers, well, for one, that's not exercising a lot of humility. But also, it doesn't make space for relationship building."
As she's established herself in Minnesota, and at Carleton, McCoy has indeed put time into building relationships with community organizers. During the pandemic, she volunteered with community-led efforts to cook and distribute food in the Twin Cities and to Native nations. One of them was run through an organization called The Sioux Chef, co-owned by Dana Thompson, who is a parent of a 2019 Carleton graduate. McCoy's volunteer work led to an ACE opportunity for her students where they researched images around food sovereignty for The Sioux Chef.
For McCoy, volunteering is an obligation rather than altruism or a search for projects.
"Part of my understanding of myself as a member of the community is when people need you, you do that thing that they're telling you they need you to do," she said. "You show up, you show your face, you show that you're here to be a good and contributing member of the community and then things eventually come back around with opportunities for you to then further contribute."
One such opportunity arose during History 301 when Dakota teacher Ramona Kitto-Stately visited class to present about a nonprofit she directs, called We Are Still Here Minnesota. Kitto-Stately mentioned they were in need of extra hands to spotlight the present activities of the 11 Native nations in Minnesota. Aligning with course goals, a research collaboration was born: Thomas White '22 is writing his final paper about present-day Indigenous education, narrative change, and sovereignty in Minnesota that will be used by We Are Still Here.
The process reflects McCoy's philosophy on ACE projects. She values them for her students and she says it's just as important that "whatever those community engagement components are, that they are of equal benefit to our community partners as they are to us."
New Connections
Organic, reciprocal relationships are forming on Carleton's campus as well. Over the 2020-21 school year, a group of Indigenous and non-Indigenous faculty, students, and staff have convened a working group called "Building and Sustaining Relationships with Indigenous Communities." Andrew Farias '21 started the group after the introduction of Carleton's land acknowledgement in fall 2020.
The statement reads: "We stand on the homelands of the Wahpekute and Mdewakanton bands of the Dakota Nation… We acknowledge the ongoing injustices that we have committed to the Dakota Nation, and we wish to interrupt this legacy, beginning with acts of healing and honest storytelling about this place."
Farias knew that "healing and honest storytelling" would take work and he wanted to enact these promises. He heard from a range of Carleton community members who did too—from professors, including McCoy, to staff in the Arboretum, to students like himself—so he decided to bring them together.
Since then, the group has met regularly and taken the lead on a wide variety of projects. They have helped plan the Elder-in-Residence program for 2022, which will bring a Dakota or Ojibwe elder to campus for talks, class visits, and conversations, they have supported the development of the Why Treaties Matter exhibition coming to Carleton in fall 2021, and they have had conversations about ways to make Carleton more accessible to Native students, such as expanding the language requirement to accept Indigenous languages.
The working group has been crucial to sparking conversations between Indigenous and non-Indigenous people at Carleton. It has made a place to divide up tasks and work together. Native students have also been forming spaces of their own.
Creating Community, Resisting Invisibility
This spring, a group of Native students rechartered a campus organization called Indigenous Peoples Alliance (IPA) after its hiatus since 2018. The reinstatement comes as part of a long history of intermittent Native student groups at Carleton. Students established Native Americans With a Future in 1981, which morphed into American Native People's Association in 1986 and became inactive in 2004. IPA was originally founded in 2015, but three years later, most of its members graduated with nobody left to carry it on.
The idea to recharter IPA started in fall 2019 with Zaya Vijil '22, who is Diné and a member of the Navajo nation. They had been at Carleton for over a year without any formal Indigenous group.
"I wanted new students coming into Carleton to have a community that they'd feel connected to," they said.
In the 2020-21 school year, Ana Pina Marcelino '22 put the idea into action by rechartering IPA. Pina Marcelino is Nahua from the San Miguel Tecuiciapan pueblo in Mexico and lives in Houston, TX. She felt the lack of an official Native community on campus acutely.
"In Houston, we have a huge community of Nahua people from my pueblo," she said. "Because I was raised around them and my family is Nahua, there was never a scarcity of Nahua people around me. But when I came to Carleton, I was the only one."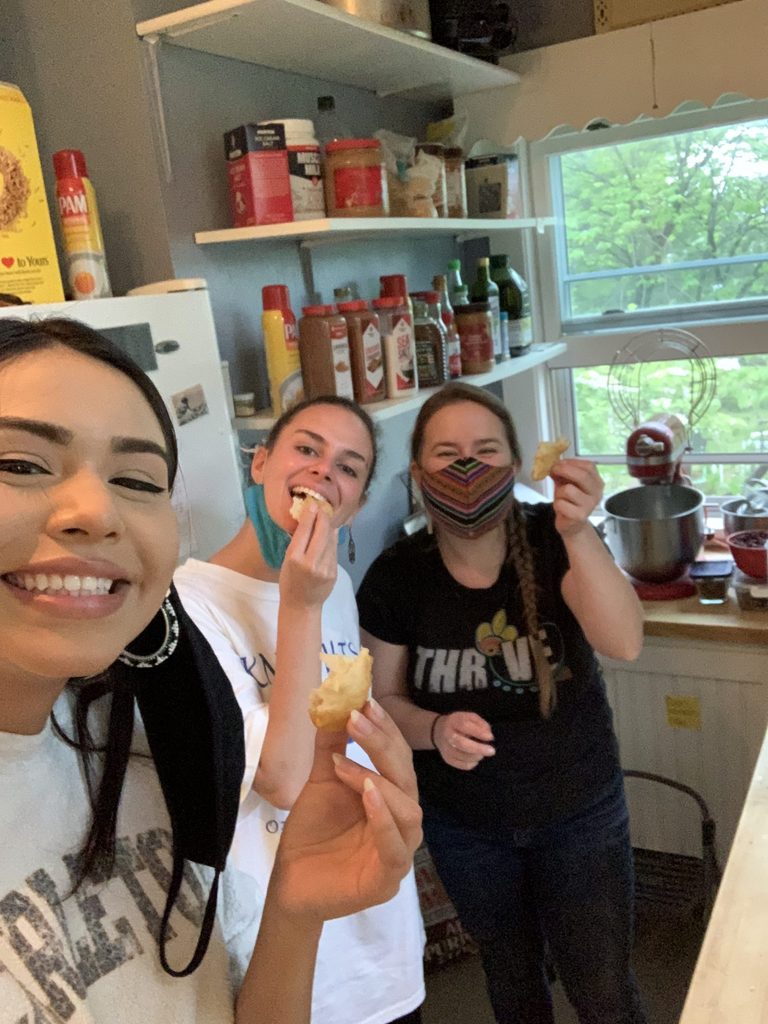 So when she learned other Native students at Carleton were working towards reinstating IPA, she quickly got involved. On April 19, her work came to fruition when the Carleton Student Association officially approved IPA.
Pina Marcelino and other Indigenous students involved with IPA hope that the organization will last longer this time. Zia NoiseCat '23, who is First Nations from the Canim Lake Band in British Columbia, said that previous Indigenous student groups have "all fallen off because Carleton doesn't have a continuous group of Indigenous students on campus." NoiseCat and Pina Marcelino are working through their jobs in admissions and the summer liberal arts institute, respectively, to increase intentional and thoughtful recruitment of Native students. They hope to see Carleton admit students from the Dakota and Ojibwe nations whose land Minnesota inhabits.
For now, NoiseCat appreciates the community that she has formed with other Native students.
"The fact that all of us are from different tribes, from places that are so far away from each other, and we're all still willing to create our little inter-tribal community is great," she said.
Alongside regular calls, IPA has hosted its first event: a cooking night to make fry bread tacos. In the future, they aspire to hold powwows and student-led Indigenous People's Days, as well as to raise awareness around political issues like the crisis of Missing and Murdered Indigenous Women and Relatives.
On a broader level, IPA is a step towards a larger Indigenous presence on campus.
"Invisibility is very hurtful for Native students at Carleton," Marcelino said. "People should know the history of Indigenous students. It matters because we're still here. We're your classmates, we're your peers and your coworkers. You interact with us, you just don't know it."