Theresa Nash '73 and husband Pierre Montant donate personal painting to Carleton in honor of 50th Reunion
The painting, Château Iowa, currently hangs in the OIL office, with plans to move it to the College's new Multicultural Center once the building is finished.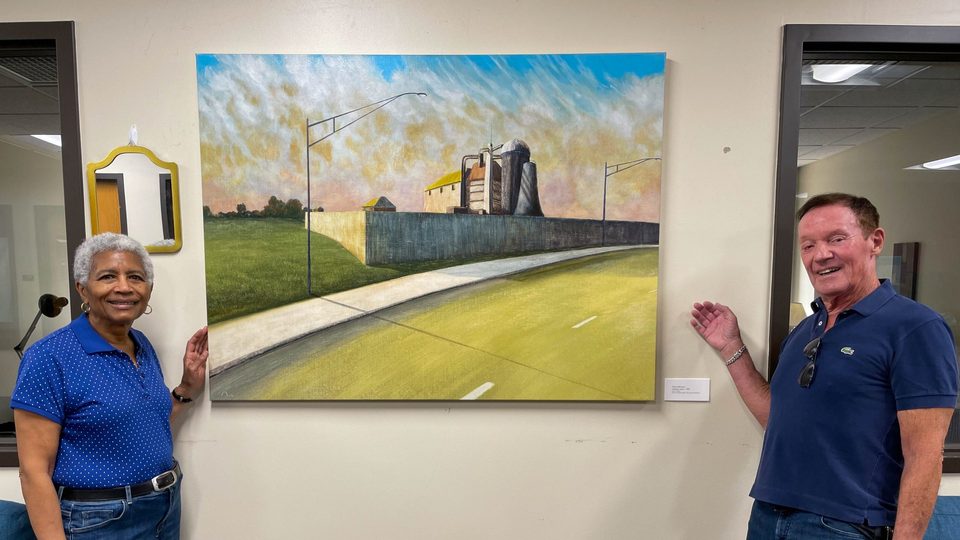 As soon as Theresa Nash '73 walked into the Ole Store, a shout of "Theresa!" echoed through the dining room. The shout came from Linda Johnson Thomas '73, a classmate of Nash's whom she hadn't seen since they graduated from Carleton in 1973. The women embraced and began to catch up immediately, talking like it had only been 50 minutes since they last saw each other, instead of 50 years.
Nash insists she was shy and not much of a leader as a student, but her husband, distinguished Swiss artist Pierre Montant, says that she's plenty confident now—as one of her class's 50th Reunion co-chairs, she spent two years before Reunion expertly wrangling her fellow alumni and keeping the process moving efficiently.
Her Reunion planning trip to campus in late October 2021 was Nash's first time back at Carleton in decades, and she immediately wanted to bask in all of the "Minnesota Nice," especially when she compared it to her and Montant's current home of Geneva, Switzerland, where "the old people are all so stiff."
"One of the things I love about Carleton is that everyone is so nice," she said. "Everyone says hi to you! I went to the Wharton business school in Philadelphia after Carleton, and no one on campus there ever just said hello. I would say hi to people on the street and they would look at me like I was crazy."
"There's a special atmosphere at Carleton," Montant agreed. "Everyone is smiling, relaxed. There is no pretension."
In celebration of their love for Carleton and to make their annual donation particularly meaningful for Nash's 50th Reunion this year, Nash and Montant donated one of Montant's own paintings, "Château Iowa" (1990), to the College's art collection. Currently hanging in a place of honor in the Office of Intercultural Life (OIL), there are plans for the piece to move to Carleton's new Multicultural Center once the building is finished as part of the Student Life and Housing Plan.
The large painting depicts an old public utilities building near downtown Waterloo, Iowa, the town where Nash was born. Nash and Montant were driving through the city on a trip to visit Nash's family in the late 1980s, when Montant told her to stop the car next to the structure on River Road, because "it had the exact proportions and volume of a medieval castle" and he absolutely needed to study it so he could paint it.
Montant says that's how he comes up with all his paintings. It starts with the "shock idea," where "an arrangement of objects that suggests something mysterious" inspires him. He then sketches his plans out, decides on the size and proper canvas style for the art, and then simply "paints until it is finished." Often, Montant says, the art takes on a life of its own and "tells its own story," so he never quite knows what the finished product will turn out to be.
Montant, who was a doctor before he was a professional artist, isn't the only one with an impressive résumé. Aside from the fact that she's now a violinist and published fiction author post-retirement, Nash was honored this year with an Alumni Association Distinguished Achievement Award for her unique professional impact that has stretched from Wall Street to Switzerland to Africa. After getting her MBA, Nash worked for Chase Manhattan Bank, rising to second vice president of the international department. In 1981, she took a position editing Business International in Switzerland before soon moving to Digital Equipment Corporation, where she coordinated capital structure planning and financing for more than 30 entities in Europe and Africa. In 1998, Nash joined Telecel International as vice president of finance and chief financial officer, expanding its mobile phone service from five countries in Africa to 12 within four years.
"This changed the lives of millions of people," a nominator for Nash's award wrote, "enabling them to keep in contact with their families and improve their economic and healthcare circumstances. She helped lay the infrastructure required to bring internet access where previously the populations were completely cut off from the rest of the world."
While she was CFO, Nash also personally helped in the relocation process for families that had to escape overnight the ethnic cleansing campaign of the Tutsis in the Democratic Republic of the Congo.
After an eventful 50 years out of Carleton, Nash looks back on her time as a student fondly and is happy to see one of her husband's paintings in a place where it can be appreciated by decades of Carls to come.
"Carleton encourages freedom and critical thinking, it creates lasting friendships with amazing people, and its approach to education is simply excellent," Nash said. "If I had to repeat four years of my early life, I would pick Carleton, and I wouldn't change a thing."
---
Erica Helgerud '20 is the news and social media manager for Carleton College.