The Repeat: Eclipse wins back-to-back national titles
In what was supposed to be a rebuilding year, Eclipse focused on the fundamentals, leading them to a second straight USA Ultimate D3 women's national title.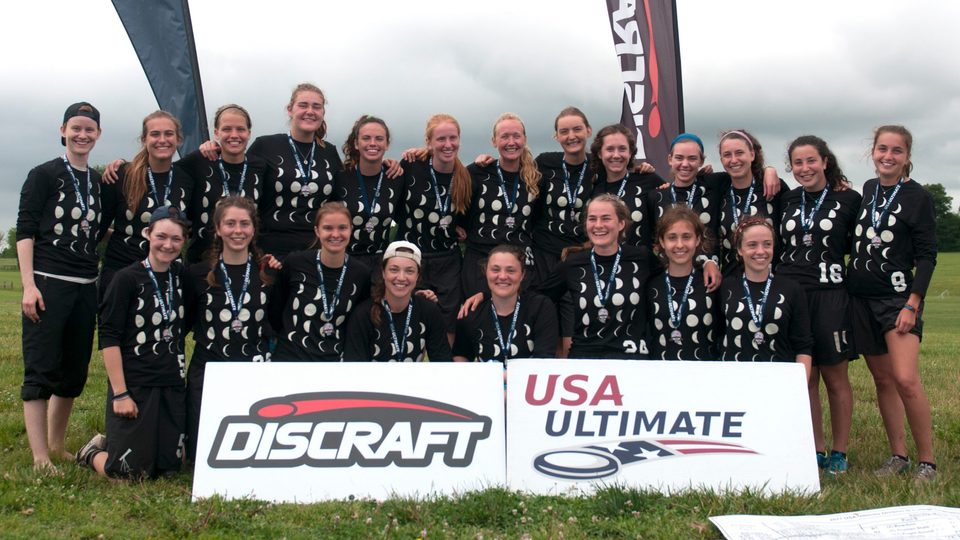 In the span of two weekends, Carleton claimed a pair of USA Ultimate Collegiate national titles. This past weekend, CUT claimed its fourth D1 men's national crown in Ohio, which we'll cover later this week. Last weekend, Eclipse captured its second straight D3 women's crown. Here's an insider's look at how the defending national champions successfully repeated.
The repeat. It's the hardest thing to do in sports—to have the strategy, conditions, matchups, and luck all be on your side—and to do it again the very next year. This year, Carleton's DIII women's Ultimate team, Eclipse, did just that, clinching their third national championship in seven years—a repeat of last year's success.
At last year's tournament, Eclipse arrived with just 12 healthy players, only 9 of whom got playing time in the finals. They were the eighth seed, an underdog, playing point after point with the same players. This year, Eclipse knew that success had to be more sustainable.
Walking into the beginning of the season, after bolstering their roster with eight rookies, captains Haley Olson '17 (Weybridge, Vt.) and Leah Roche '17 (Wilmette, Ill.) deemed this year a "building year." They graduated five of the nine players who played in the championship game last year. None of the seniors had a full four-year career to their name. The chemistry and skill that had led them to a title the previous year would have to be rebuilt.
With the help of coach Kirstie Barton '16, the leadership carved out a plan for moving forward. They wanted to focus on the fundamentals: getting everyone on the roster comfortable with a simple set of throws and cutting formations. Practices and tournaments throughout the season were focused on building. If they built depth and skill and didn't focus on winning, the results would come.
The strategy handed them mixed results in the regular season, finishing off with a 17-6 record, but only a 1-3 record against the national's field they'd be facing in Lexington, Kentucky.
In pool play on day one, they were put to the test. They struggled in their first game against Mount Holyoke, edging out a double game-point win. The temperatures in the mid-80s and humidity took a toll on their bodies with Olson suffering heat stroke in the first game. The team spent their bye on their Northfield Lines coach bus, hydrating, soaking up the air conditioning, and emerging ready to play.
They would end up edging out Lehigh and later Valparaiso, again on a double game point. Eclipse could have played tighter lines, and worked to win by as many points as possible, but their goal was instead to "win in a sustainable way so that players we needed in tight moments were never too exhausted to be useful" said Olson. This proved to be a key later in the tournament.
An injured St. Olaf squad in quarters gave Eclipse an easy path to the semis, allowing them to give the starters rest and let role players come into their own. Kaya Stitzhal '18 (Seattle) had a hand-block and some soaring deep shots while Nora Brown '19 (Brooklyn, N.Y.) consistently outran her defenders and scored several goals. Finishing off an easy 14-6 win, Eclipse never looked back.
In Sunday's semifinals, Eclipse faced the University of Puget Sound, who had just dispatched heavy tournament favorite, Williams, in a stunning 12-7 win. But Eclipse still had some tricks up their sleeve. Throughout regular season tournaments and practices, with the help of Barton's extensive ultimate background, Eclipse worked to build an arsenal of zone defensive sets that would prove deadly on the final day. They utilized height and athleticism to set up a cup* with a 5'11" Nora Mertz '20 (Evanston, Ill.) and 5'10" veteran Abigail Polk '18 (Newton Highlands, Mass.) at the top with two more rookies, Laura Kiernan '20 (Madison, Wis.) and Julia Kenney '20 (Evanston, Ill.), as athletic marks. The cup intimidated Puget Sound's handlers, especially with Roche in the deep space taking away any bailout hucks downfield. Eclipse would take half 8-3 and cruise to a 15-12 victory.
In the final against Wesleyan, Eclipse kept doing what worked, rattling off three early scores to take a 3-1 lead. The zone kept creating opportunities, and Eclipse kept capitalizing on them, taking half 8-5. "We knew that we had a pretty scary zone and were therefore hoping it would be kind of windy," Olson said. "We built a lead and then opened up lines for the upwind points and were therefore able to score our downwind points or stack an upwind point if we needed a break. Overall we got a lot of legs on the field, which was one of our goals going into the tournament. We didn't want to leave the way we did the year before with only a few people feeling like they contributed on the field in the crucial games."
Eclipse had achieved its goal of cultivating a deep roster of skilled players who could be relied on throughout an entire tournament. In the final, 16 of the 18 players on the roster played, which is more than the entire roster from the year before. But late in the second half, a simple truth was laid bare as Roche, Olson, and several of Eclipse's top players, like speedy Jillian Banner '17 (Santa Monica, Calif.), took a point off. What followed was a 25-minute back and forth point with their athletic zone getting blocks and opportunities to score, but struggling to convert without the offensive output of Roche and Olson. Their depth and skill had pushed them this far, but if Carleton was going to win, it would be on the backs of Roche and Olson. Luckily, the dynamic duo delivered.
In the final point, after intercepting a Wesleyan deep shot, Roche went every other throw, marching down the sideline until she eventually found her co-captain, friend, and roommate, Olson, in the end zone. The two had done the same thing hundreds of times in practice, dozens of times this tournament, and already a couple of times this game. But this time would be their last, and this time it would be for the championship. Olson, who also caught the game-winner in last year's final, threw her hands up as teammates, friends, and family rushed the field in celebration. Eclipse took the game 13-10 and won the national championship for the second year in a row.
By the end of the tournament, Roche led the Nationals field in assists by more than a dozen points, notching 47 assists on the weekend. If that weren't enough, Eclipse had three of the top five goal scorers in the division, with Olson leading the tournament scoring 25 points.
Looking forward, Eclipse is only graduating four seniors this year with a solid amount of leadership and talent returning. The goals of focusing on fundamentals should set the returners up to feel comfortable with their skills and with continuing to build the team.
When Olson looks back on the season, she won't be remembering the specific catches from the specific games. She won't remember the early morning workouts or the all night bus drives to tournaments. "What I will remember is the feeling of being on such a supportive, positive team with a group of people that I love," said Olson. "I will remember how Abigail got an upwind layout Callahan* for the win against Oregon State, I will remember when Laura got a Callahan and when Kaya got three hand blocks at nationals. Though at times it was exhausting, I take such pride in how far our team has come this year."
*Cup is an Ultimate term that describes a zone defensive technique where three defenders surround the thrower.
*A Callahan is one of the rarest but most prestigious plays in Ultimate. It occurs when a defender intercepts the disc in the opponent's end zone