The man behind the music: talking with Matthew Zimmerman '82
Carleton's audio/visual production manager reveals what he loves about Kracum Performance Hall and working with students.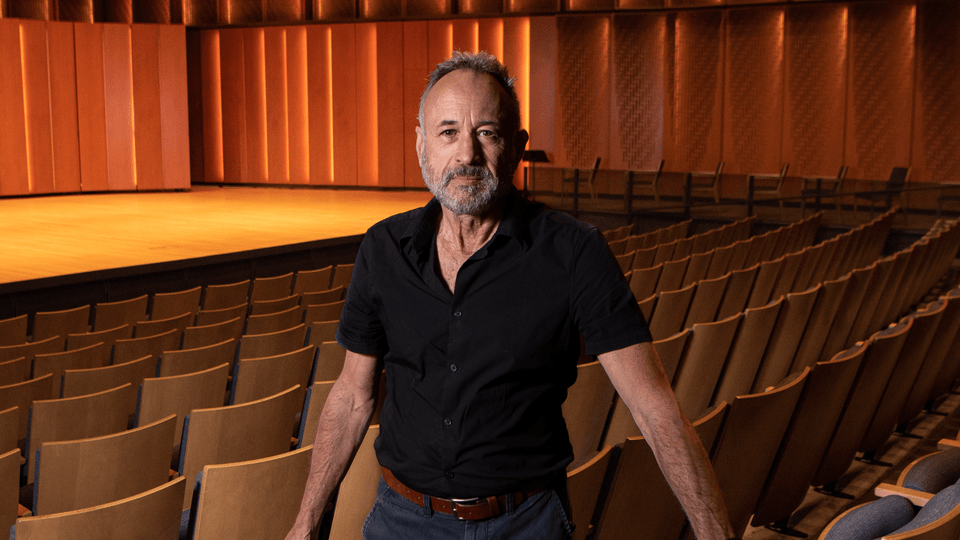 Like most faculty and staff members at Carleton College, audio/visual production manager Matthew Zimmerman '82 loves to talk about his students.
He leans back his chair in the sound booth that serves as his office, perpetually smiling as he chats about them. It's clear that whether they're the workers he supervises or the performers he supports during concerts and recitals, Carleton students are a major reason why he loves his job.
"Some of the most meaningful moments are seeing the students blossom and be happy," he says. "Obviously, we get all these amazing visiting artists, but the best moments for me, the most authentic moments, are the moments involving the students."
Those moments are a significant element of his everyday responsibilities as well as performances, and that is thanks to his student workers.
"This [term] will be the conclusion of my fifth year [working at Carleton]… I am going to have a senior graduate this year who has been with me for four years," Zimmerman says fondly. "I remember when he sat with his parents to the right of the booth [in Kracum] during Accepted Students Week and he said to me, 'Professor Zimmerman, I would like to work with you,' and I said, 'First of all, I'm not a professor, you can call me Matthew, and here's my email.' He's amazing."
Zimmerman may not be a professor, but part of what makes the job so rewarding for him is the ability to teach.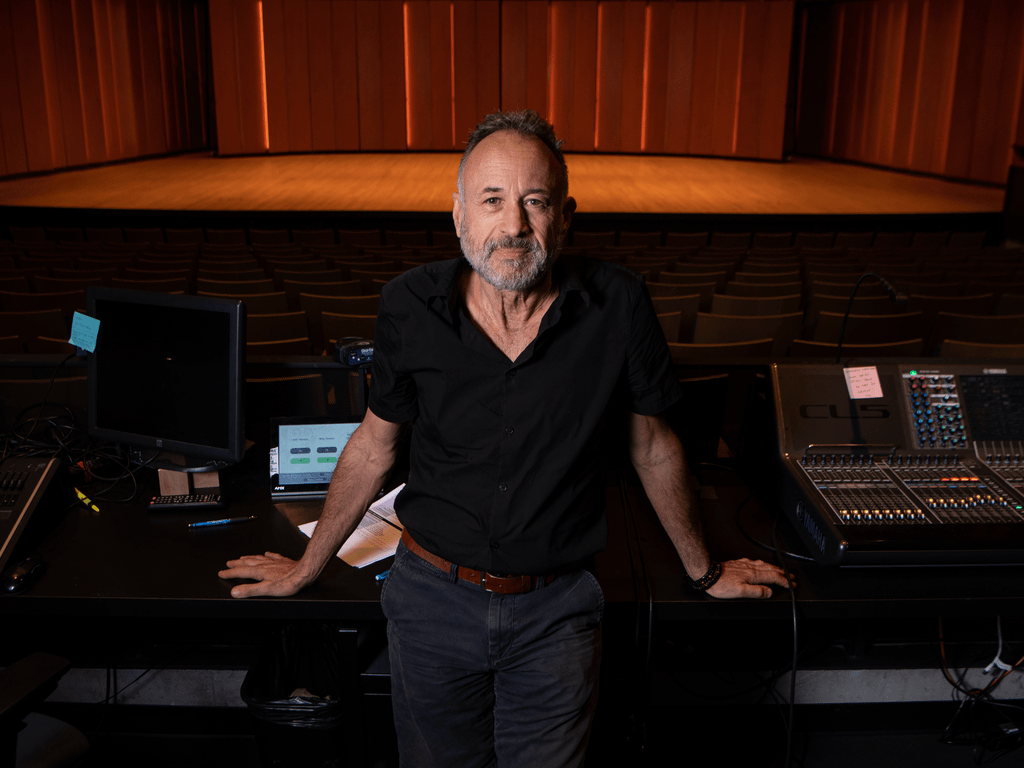 "[The student worker position] demands a lot, not everybody can do it," Zimmerman says, gesturing to the amount of lights, buttons and switches in front of him in the sound booth. "The guy who's graduating… came with a [huge] amount of knowledge right away, so teaching him was more about how we do things [at Carleton]… With the other people, I can only teach them a fragment of what's needed, so I've attempted to create some specialties… [The students] are all amazing, though… they're super bright… There's just so much to learn!"
Zimmerman has a lot to teach them. The audio/visual production manager for the Office of the Director of the Arts since August 2017, Zimmerman was hired as part of the commissioning of the music wing of the Weitz Center for Creativity, which opened during the fall term of 2017. His responsibilities include running all the performance technology in the recital and concert halls, including Carleton's main stage, Kracum Performance Hall.
Zimmerman is jovial by nature, laughing often and always up for casual conversation, but he takes his job as the keeper of Kracum seriously—and again, it all comes back to the students.
"This job and this whole place is an incredible thing," he says. "It's just mind-bendingly great and [the students and I] have got incredible trust… [Kracum and the Weitz music wing] are for the students. I'm just the good shepherd of it all, [managing] how to share it and make sure it exists for future Carls."
When he first arrived, the hall was still being built, and Zimmerman was drawn to Kracum's cutting-edge tech. Over the years, however, he's gone in a more holistic direction.
"The technology, the sound systems [used to be my favorite], but now I'm increasingly trying to make the hall itself the star, not just the technology," he says. "Some of the best moments are when I can sonically reinforce an event, letting the hall be the star, because it's such an interesting and beautiful acoustic space. The hall itself is my favorite [part of the hall]."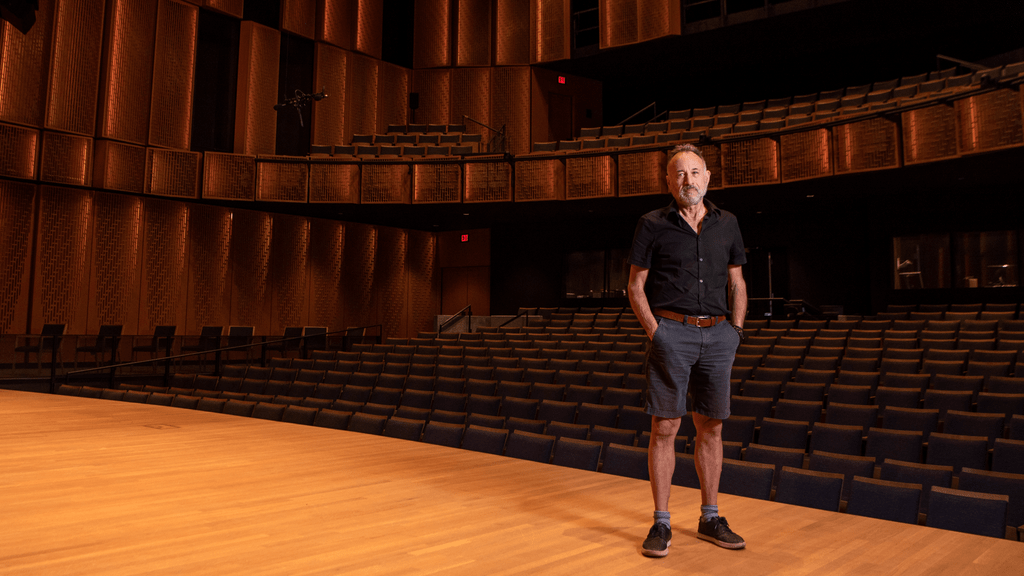 One benefit of his role at Carleton that Zimmerman makes sure to mention is the ability to experiment with sounds and recording techniques in a place like Kracum.
"I've done recordings where I've played music through the sound system and then recorded it with the microphones to get reverb because the hall sounds so good," Zimmerman says. "It's like… the shows are the paint and the hall is the canvas."
The "paints" he gets to work with vary in type, from core department events like Symphony Band and Chinese Ensemble which recur every term, to annual visits like the St. Paul Chamber Orchestra (SPCO), to unique guest artists who perform for a single weekend.
"The SPCO [concert] is a really big deal," Zimmerman says. "They love this hall. It's the same architects that built the Ordway [where the SPCO regularly performs], and [they think Kracum] is unbelievably, incredibly great."
The annual SPCO performance lets the hall shine acoustically, which Zimmerman delights in, but he also welcomes the concerts that allow him to flex his skills as a music producer.
"Last term, we did the amazing Mark Applebaum multi-room experience, that was crazy," he says. "We had performances going on in non-performance spaces, we used the loading dock, we had five things going on simultaneously and we rotated the audiences around… And [this past] term, one [concert] that's really amazing from a technical standpoint is the Capella Romana show on May 17… It was to show off the technical abilities of the hall, so we [simulated] the Hagia Sophia in Istanbul using electronics and multiple speaker arrays that I [deployed] through the whole hall."
Given the range of concerts he works on, Zimmerman's day-to-day varies a lot with each performance, and he has an interesting way of describing what he does because of that.
"I think I'm kind of a creative midwife," he laughs. "I'm responsible for helping the faculty, the students and our visiting artists have the experience that they wish to share with… the Carleton audience."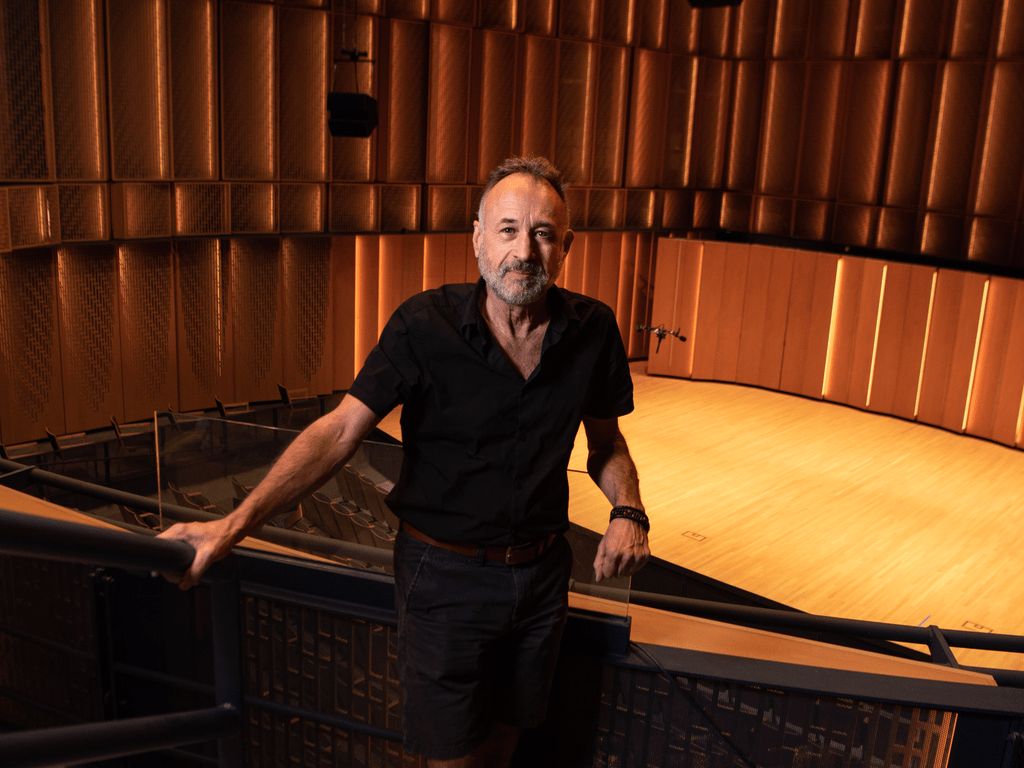 Though Zimmerman's role as artistic consultant is a constant, his job has also changed over the years as Carleton's various music and arts departments have settled into their space in the Weitz—and his responsibilities changed even more due to the pandemic.
"Obviously COVID really changed things [when events] went online," he says. "My job has become increasingly more focused on hybrid events and recording, archiving, sharing and disseminating what happens here with as many people as we can, as well as trying to advertise this space and put butts in seats."
It's still a bit of a novelty for Zimmerman, as an alum who attended Carleton from 1977 to 1982, to even be able to advertise the kinds of experimental musical events occurring on campus now. When he was taking classes, he was almost exclusively involved with student music groups rather than the actual music department.
"Back then… [the music department] was very much for the orchestra, there wasn't much of a support system for popular music like there is now," Zimmerman says. "It's pretty amazing, actually unbelievable now."
This month was Zimmerman's 40th reunion, too, though he stuck to participating behind-the-scenes, as usual.
"I [kept] a low profile, I [was] working," he laughs.
Zimmerman has worked on a lot, so much so that it's hard for him to choose which project he's liked best—though it won't shock anyone to learn that student recitals stand out in his mind.
"I can't really [pick a favorite concert]," he says. "The most meaningful moments though for me have been the ones where you see… something really positive happen. Like, some of the voice recital stuff is amazing, because it's so personal."
Zimmerman didn't always know he would return to Carleton, but now that he's here, he can't imagine being anywhere else.
"I never expected to work here," Zimmerman confesses. "I ran my own business for like 30 years, a recording studio, and this place, the hall, everything about it is a miracle. People in the cities now, and other artists, they all know about it and they all want to be here and work here, so I feel pretty darn lucky."
---
Erica Helgerud '20 is the news and social media manager for Carleton College.