Sustainability and Carleton's Student Organic Farm
Carleton's Student Organic Farm—and its new endowed fund, which will keep it going for years to come—plays a small but important role in the sustainability efforts of the college.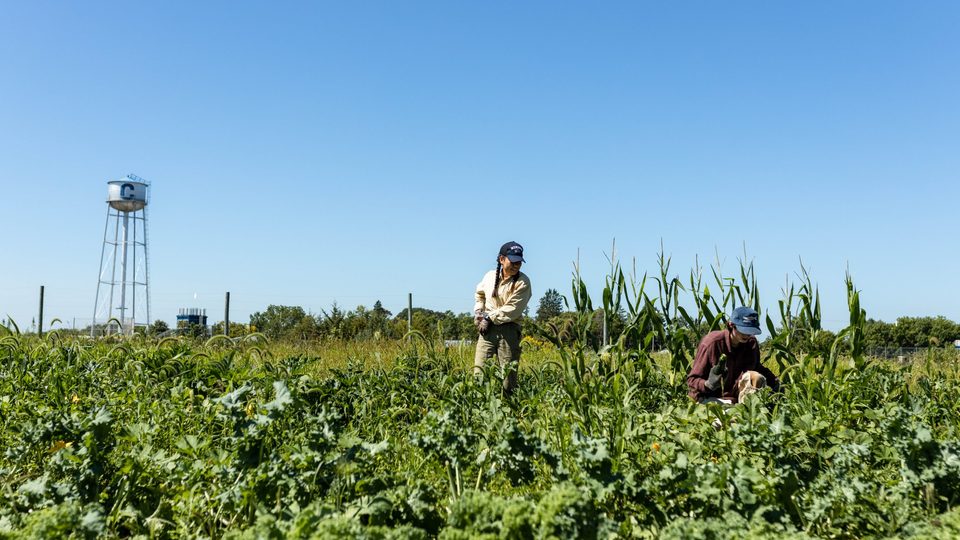 At 1.5 acres, the Student Organic Farm has long played a small but plucky part of Carleton's sustainability goal of becoming carbon-free by 2050. Providing thousands of pounds of fresh produce each year directly to the college's dining halls, the farm cuts down on carbon emissions from transporting food to campus.
"A lot of people think of the Arboretum or composting on campus when it comes to sustainability," says farm intern Izzy Charlton '23. "But the farm plays a really important part, too. We're organic and we practice sustainable water use, but the biggest part is we're so local. The food is literally grown right on campus."
Charlton and her co-interns, Sigrid Edstrom '24 and Julianna Baldo '25, typically spent their mornings over the summer harvesting vegetables—124 pounds' worth on the last day of August—that they delivered to Bon Appétit over the lunch hour. The farm sells almost all of its produce to the food service company, a practice Baldo noticed even as a high school student in Madison, Wis.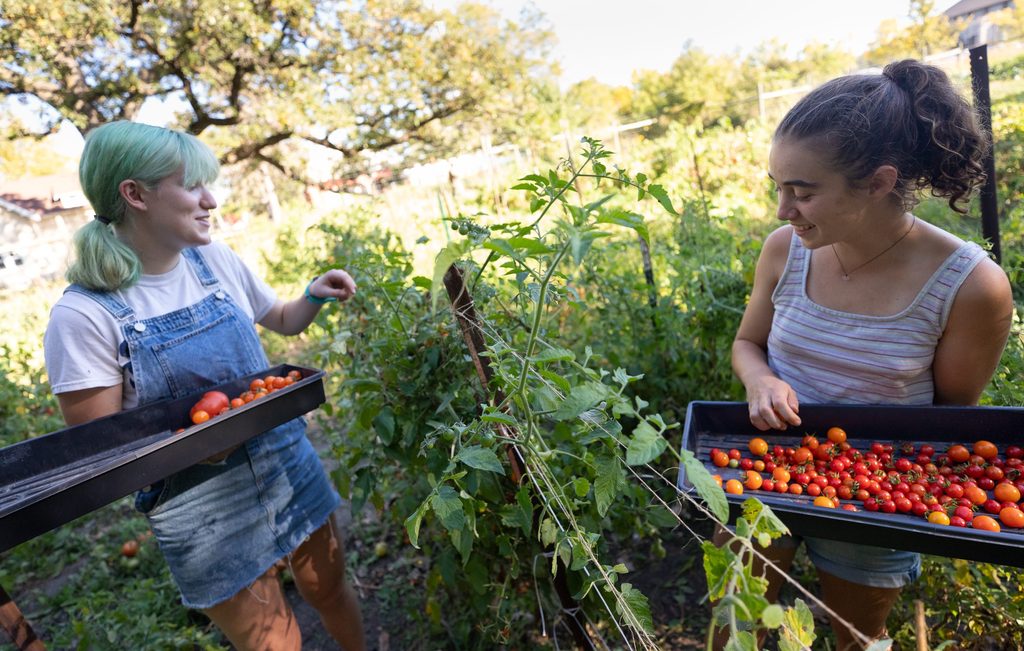 "One of the defining factors in my college search—among the top liberal arts colleges—was does this college take the environment seriously?" Baldo said as she scooped sungold tomatoes into small containers for the farm's pop-up sale on the Bald Spot later that day, selling veggies they hadn't brought to Bon Appétit to students and community members. "And the farm was a big part of that."
The farm's importance to sustainability was also recognized by the college last year with the creation of a future endowment to support the farm in perpetuity. Begun by geology professor emerita Mary Savina '72, the Endowed Fund for the Carleton Student Organic Farm will eventually cover expenses for a handful of student interns every year, provide a stipend for the farm's faculty advisor and potentially support research projects within the college's curriculum.
"The farm fits into sustainability at Carleton because we need to think about where we get our food," Savina said. "What is the carbon footprint of getting it here? What does it cost to get it here?"
As a student during the first Earth Day, Savina says sustainability has long been part of Carleton's identity, even if it hasn't always been referred to that way.
"Many of us who came to Carleton at that time had sensibilities related to environmental issues, and we came to a place where it was possible to learn more about those issues. I chose to go into geology because the professors were talking about environmental science issues."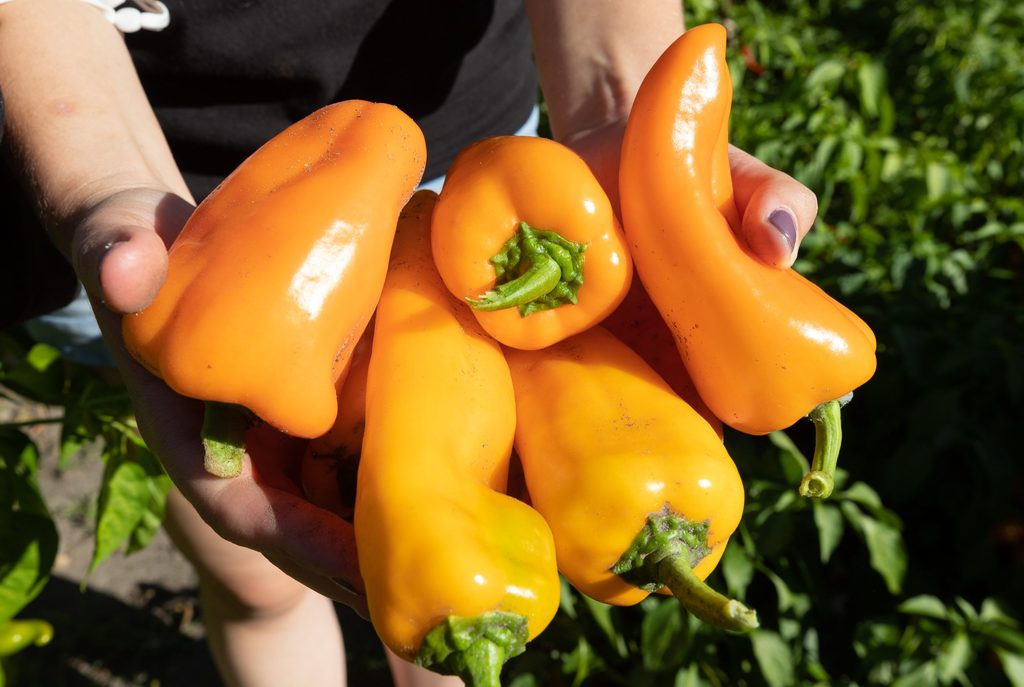 After she graduated, Savina's career path brought her back to Carleton, where she retired in 2020 as the Charles L. Denison professor of geology, emerita. Her studies focused on how landscapes form, and by extension, how landscapes and people connect. In a place like Northfield, where 80 to 90% of the area is farmland, Savina says visiting farms with students and learning what it's like working on a farm added significant insights to her teaching. In fact, she sees the farm as similar to other Carleton sustainability efforts, such as the switch to using geothermal power, in that on top of the environmental benefits, both have curricular and co-curricular ties.
The Student Organic Farm, however, has much deeper roots than the geothermal project. It began in 1992 when David Hougen-Eitzman, senior lecturer in biology, came to Carleton and agreed to oversee it—though he says he's merely a mentor to the students who run the farm completely on their own. They take care of everything, from planning—including meeting with Bon Appétit to discuss the types of produce the supplier is interested in buying—to pricing to picking.
"The farm is such a well of experience and real-life sustainability," Hougen-Eitzman said. "It's not theoretical. Students actually grow food on campus, and that food is passed to the food service and other students actually eat it. The students who grow the crops gain valuable experience about how the food is grown and how the food system works, and hopefully through outreach efforts the rest of the community experiences it, too."
One of the farm's big goals, says Hougen-Eitzman, is to raise not only produce but also awareness of sustainability. Having an endowed fund to now support the farm will ensure its longevity, which, "as a result, will have a large impact on sustainability issues at the college."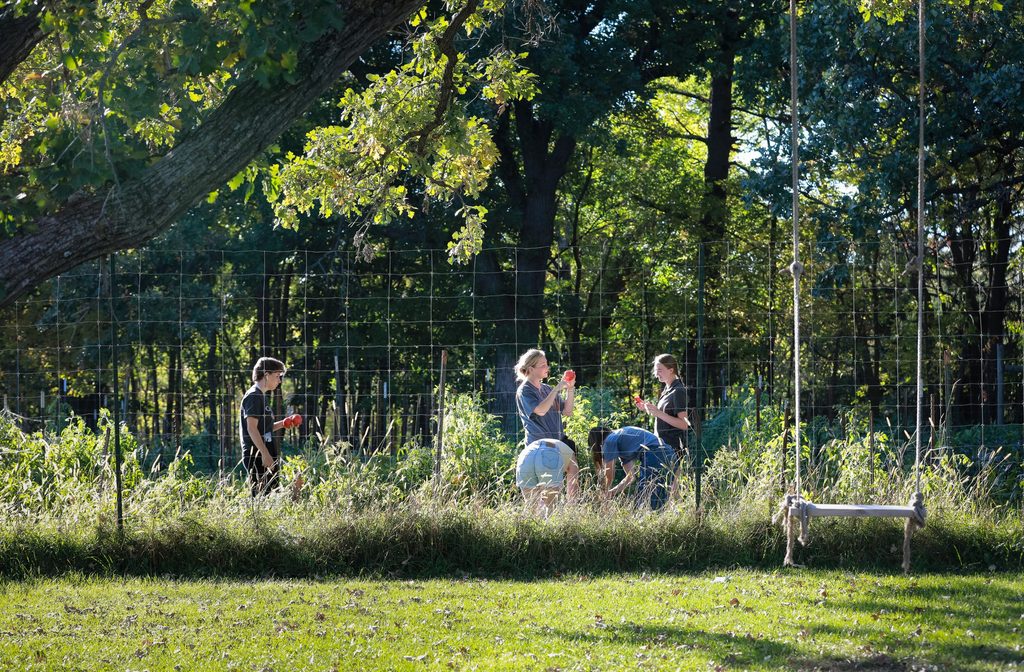 "Having an endowed fund is a really important part of maintaining the farm into the future. In the past, finances have been tenuous in the sense that all expenses of the farm were paid for by the sales of produce—depending on the harvest, income from sales would vary, which makes long-term planning difficult," Hougen-Eitzman said.
Plus, Charlton adds, with dependable funding, the farm could experiment with new techniques like no-till farming, which has environmental benefits such as reduced greenhouse gas emissions, erosion reduction, and improved water retention.
Ensuring that student interns were all paid a fixed amount, not related to sales, was important to Savina as she created the fund. She hopes the endowment eventually allows for more student involvement with the farm, whether as paid interns, volunteers interested in trying something new, or students working on a research project. Through research she conducted with St. Olaf environmental studies professor Kathleen Shea, she heard how important and beloved the student organic farm was to many alumni—and not just the biology majors.
"We needed an endowment for the farm to make sure it's a permanent part of the curriculum and has the kind of funding it needs to be successful and to do the maximum number of things that it possibly can," she says. "I hope that the student organic farm is a feature of Carleton that ties together academics and practical experiences—and that it remains an important part of the landscape here."