Staff, faculty and volunteers help Food Recovery Network continue amid pandemic
Armed with awareness of the pandemic's disproportionate impact on underserved communities, several members of the Carleton community have been able to continue the mission of the Carleton chapter of the Food Recovery Network.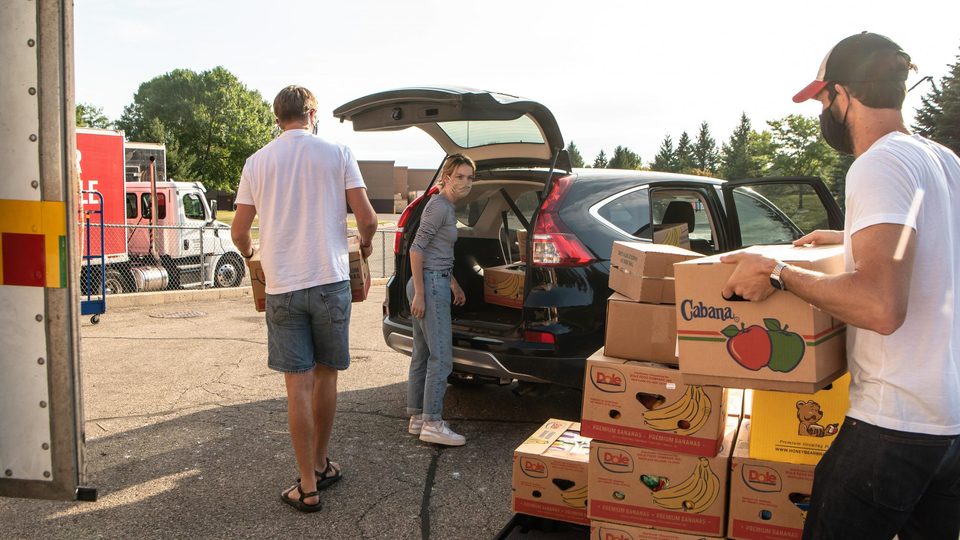 When the COVID-19 pandemic disrupted lives around the globe earlier this year and sent hundreds of Carleton students home to continue their studies remotely, it also upended programs and plans that had been set in place on campus. However, armed with awareness of the pandemic's disproportionate impact on underserved communities, several members of the Carleton community have been able to continue the mission of the Carleton chapter of the Food Recovery Network (FRN).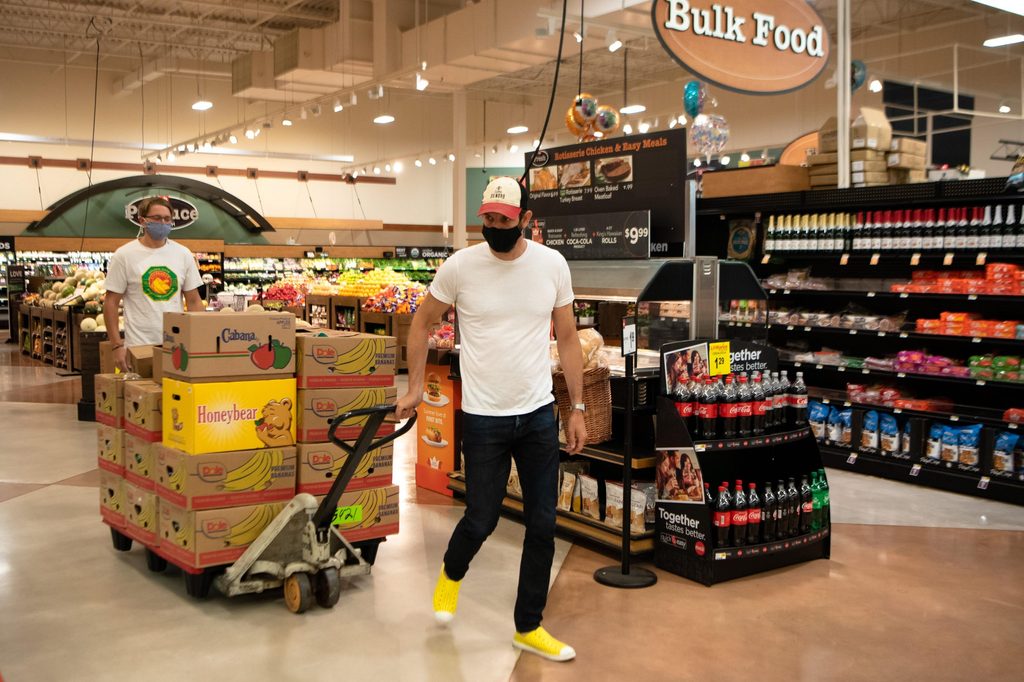 While food recovery from dining halls was halted at the end of winter term and has not yet resumed, the efforts for the retail recovery program have continued, which includes picking up pallets of food from Cub Foods and Target in town and transporting it to the Northfield Community Action Center's food shelf (CAC).
"We have been graciously supported by Carleton faculty and staff in continuing our retail recovery program," program director Sarah Allaben '21 said. "As the CAC has faced a dramatic increase in usage due to COVID-19, the continuation of this food delivery is vital, and we're so grateful to those who have kept it running."
Food Recovery Network is a national nonprofit that unites college students to fight food waste and hunger by recovering perishable food from their campus dining halls and donating it to community members in need. Together with Bon Appetit, the Center for Community and Civic Engagement (CCCE) founded Carleton's chapter of the national Food Recovery Network in 2014. Striving to reduce food waste from the dining halls, Carleton's FRN achieves threefold goals of addressing food access, reducing the campus carbon footprint, and connecting in a meaningful way to the surrounding community.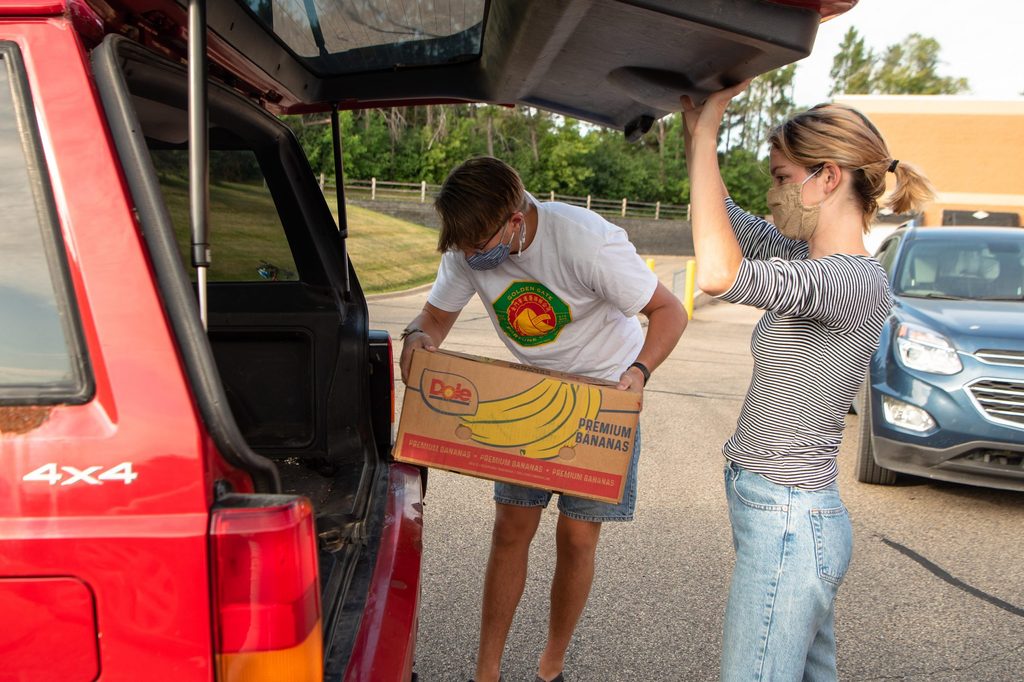 Carleton's student-led FRN chapter started with food recovery from one dining hall and has grown over the years to include recovery six days a week from both dining halls, now providing food to seven community partners. Two years ago, Carleton's FRN chapter was asked by the CAC to add retail rescue to its volunteer duties, and the FRN accepted the challenge. In 2019, a second day of retail rescue was added to the group's plate. The CAC food shelf rescues over 300,000 pounds of food annually from local retailers. Carleton's FRN chapter provides retail rescue from Cub and Target two days a week, transporting over 100,000 pounds of food annually.
"I can't say enough about the CCCE office or the Food Recovery Network," said Anika Rychner, program director at the CAC. "Even during the pandemic, when the students had to go home, we've had staff, faculty, and community volunteers that have helped out as our volunteer needs and the request for food has gone up significantly."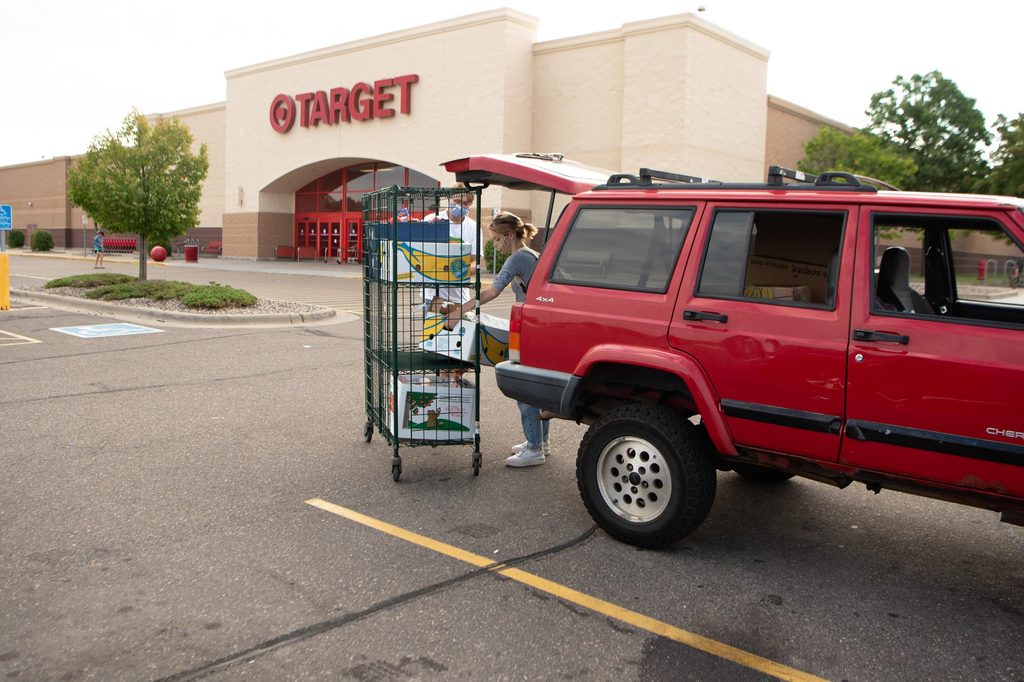 Carleton's volunteers perform retail recovery efforts Monday and Thursday mornings and transport that food to the CAC food shelf where many volunteers also spend time sorting the food. In addition to the retail recovery, Carleton has also been key in helping the CAC apply for grant funding.
"With the help of CCCE, we received a grant from the Minnesota Pollution Control Agency to purchase a walk-in refrigerator, which has allowed us to source additional food that we otherwise couldn't have," Rychner said. Students have also taken the lead on assisting with grant writing and researching the necessary equipment and supplies needed to help the CAC open a secondary food shelf location in Northfield. These efforts are assisted in part by the Academic Civic Engagement (ACE) Stats Consulting course where students produced resources that helped make the case for grant funds to support the new satellite food shelf in a location that was closer to where Northfield residents who use emergency food resources live. The secondary location, which was scheduled to open in September but was delayed due to COVID-19, will open at what was formerly Greenvale Park Elementary School. The students have also committed to helping coordinate volunteers and develop ways to incorporate farmer's markets at the new location.
When COVID-19 hit, Carleton's FRN scrambled to fill the gap in volunteer services created when students left campus. The CCCE, recognizing the importance of the program both from an environmental perspective as well as a humanities perspective, understood the essential need for the program to continue. Fortunately, a dedicated crew of faculty and staff volunteers has regularly been filling in for the students over the shorter-term breaks. These volunteers have committed to continuing the retail recovery during COVID-19 or until students can safely return to campus.
Carleton digital archivist Nat Wilson has been key in keeping the FRN program going during COVID-19. Wilson heard about the lack of food supplies in the Northfield area during the first few weeks of the stay-at-home order.
"I thought this would be a good way for me to help out the community," Wilson said. He has since been involved offering up some spare time each week to carry out the FRN mission, which he said, "involves collecting one to two pallets of food from Cub and one pallet from Target. We load it into our cars and bring it over to the Community Action Center (CAC)."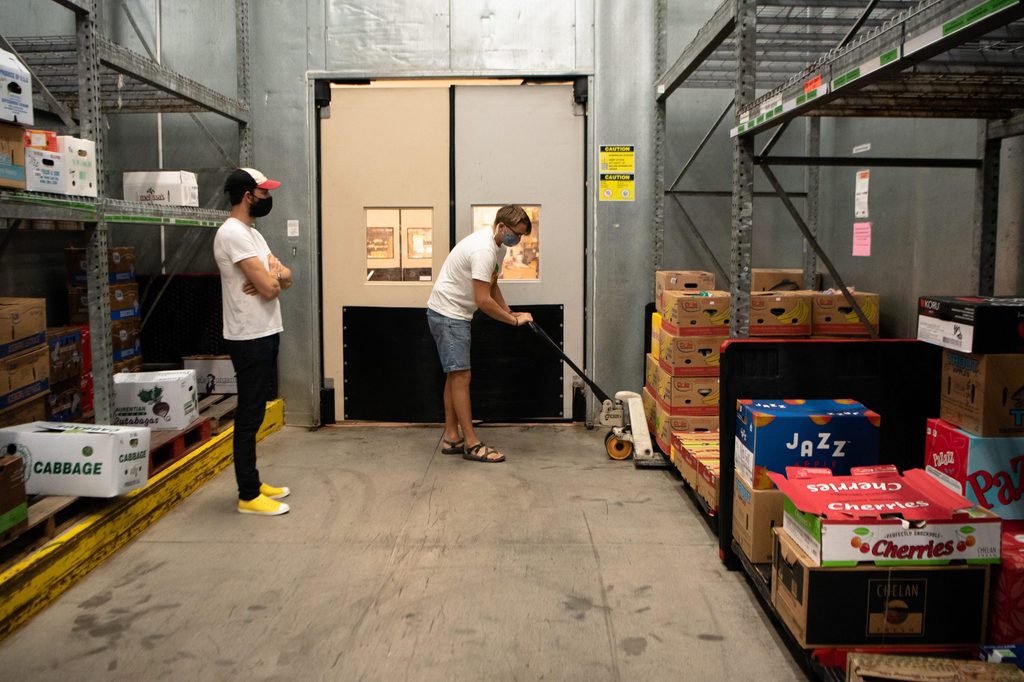 Associate professor of philosophy Dan Groll also pitched in during spring term to support the retail recovery program.
"It's actually kind of fun getting to go behind-the-scenes at the stores," Groll said. "I learned how to use a pallet jack, and I often took my son with me. He got a kick out of lugging boxes and helping to pull the jack."
Jack Johnson '21 has also been assisting with the recovery efforts during the summer months along with a few students in Northfield.
"This summer, I have a great opportunity to work at the Northfield Community Action Center Food Shelf through a CCCE fellowship. In addition to my responsibilities at the food shelf, I also help coordinate the retail recovery efforts that Carleton's FRN is in charge of," Johnson said. "What I enjoy most about this position is getting to see the recovery process work from the pick-up at the store all the way to the delivery to a customer. I'm very grateful we have well-staffed and engaging offices like the CCCE to make these opportunities happen."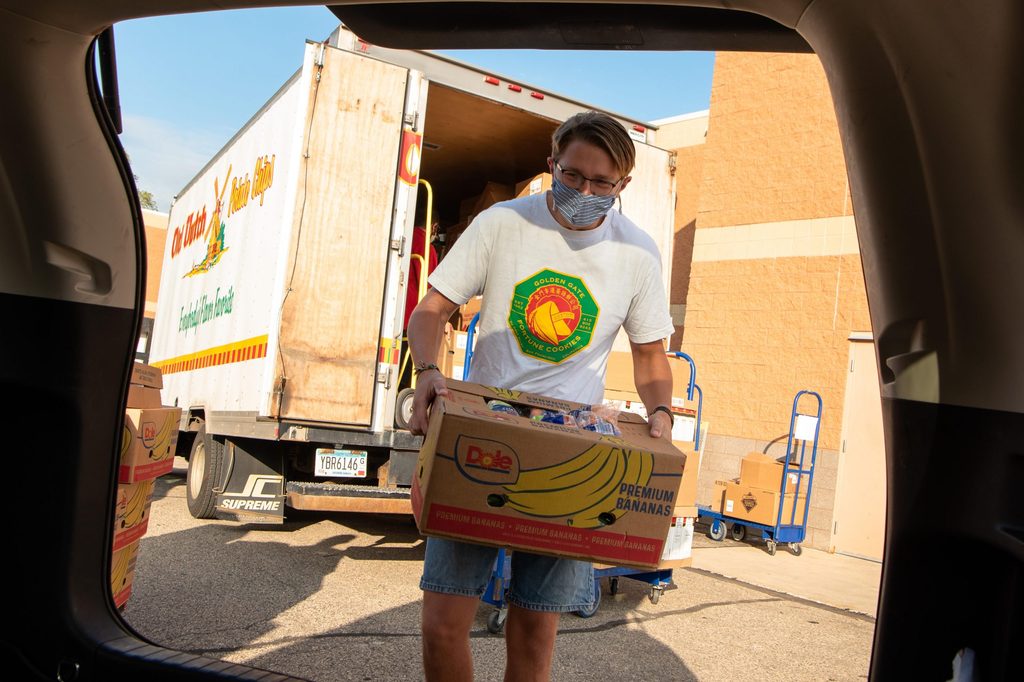 FRN continues to engage Carleton students and build bridges between dining hall staff, students and community partners—both remotely and in person. The program directors for Carleton's FRN continue to meet remotely and provide remote support for issues relating to food insecurity and food waste.
"We welcomed five new program directors for the 2020-21 school year, and met with national coordinators from Food Recovery Network to outline goals for our program next year," Allaben said. "We also hosted a virtual movie discussion event for our student volunteers—we watched 'A Place at the Table' and held group discussions on its messages about food insecurity in America and its relationship to our work in FRN."
The students hope to resume food recovery from campus dining halls this fall term as they return to campus, in addition to continuing their retail recovery efforts.