Socialism & Architecture focus of 2019 European Studies Lecture
Iowa State professor Kimberly Elman Zarecor will present, "The Socialist City and its Afterlives in Post-Socialist Europe."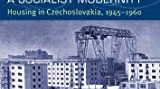 Kimberly Elman Zarecor, associate professor of architecture at Iowa State University, will present Carleton's 2019 Annual European Studies Public Talk on Tuesday, January 29 from 5 to 6:30 p.m. in the Gould Library Athenaeum. Her presentation, titled "The Socialist City and its Afterlives in Post-Socialist Europe," will discuss the relationship between socialism and architecture in post-war Europe.
Professor Zarecor's research focuses on historical and contemporary architecture in former Czechoslovakia. Her 2011 book, "Manufacturing a Socialist Modernity: Housing in Czechoslovakia, 1945-1960" (University of Pittsburgh Press, 2011), examines the relationship between socialism and architecture and discusses the intersection of architects, housing design, and government in postwar Czechoslovakia. Specifically, she details the development of mass-housing materials such as prefabricated structural panel buildings and examines the relationship between communism and architecture.
"By the end of this book, a reader unfamiliar with Czechoslovak architectural history will never look at a panelak—the much maligned prefab apartment bloc of the socialist period—the same way again. . . . Zarecor brings to the book the eye of a trained architect, but also an ear for the politics of the time, and this is as much a study of policy-making and factional struggle as it is of design. On those grounds alone it should be read by anyone with an interest in Stalinism in Central Europe." —SEER
In an ongoing project, Zarecor studies the postwar development of Ostrava, a Czechoslovakian industrial city that dates back to the early nineteenth-century. Currently, she also leads a National Science Foundation-funded project that uses her research on the shrinking of European cities such as Ostrava to study shrinking rural communities in Iowa.
Looking at small and shrinking rural communities in Iowa, she and her research team are studying seven Iowa towns that are losing people while also protecting the quality of life for current residents. Using the concept of 'shrink-smart' from European work on this phenomenon in large cities, Zarecor's research breaks new ground by asking what smart shrinkage looks like in rural places and considers how these towns can make good decisions about their futures, even as they lose population.
Zarecor received her PhD in architecture from Columbia University in 2008.
This event is free and open to the public, and is sponsored by the Carleton College Department of European Studies. For more information, including disability accommodations, call (507) 222-4215. The Gould Library is location off College Street on the Carleton campus and is also accessible via Highway 19 in Northfield.