Scoville Library history uncovered–literally
Contractors working on the Scoville renovation project made a cool discovery, revealing the signatures of some of the original builders of the iconic Carleton landmark.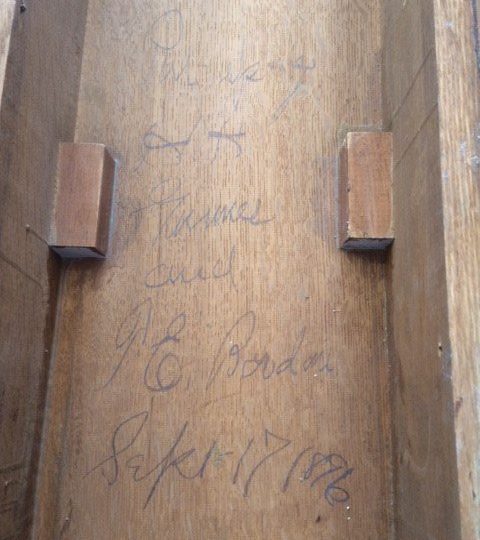 Earlier this week, workers from Terra Contractors, working on Carleton's Scoville renovation project, made this discovery:
@terra_gc re-installing millwork @CarletonCollege NRHP Scoville & found this gem. Names of 1896 carpenters? @newsnorthfield #libraries pic.twitter.com/prxI01NZmN

— terra contractors (@terra_gc) January 11, 2017
Scoville, originally constructed in 1896 as the College's library, was renovated for office and classroom uses in 1954 after Gould Library was built because the school needed a much larger library space. The project is restoring the architectural integrity of the building and addressing issues of accessibility as a primary focus of the renovation, allowing Scoville to become an elegant, public-centered home for Carleton's admissions and financial aid offices. Once that project is finished and those two offices move, the career center will move into the vacated Johnson House (after minor renovations), giving that office a more visible and accessible space on campus.
Much of the original interior architecture, including the stunning archways and beautiful columns, will be restored with the current project. It's scheduled for a summer 2017 completion date.