Schiller to appear on CBS sitcom "The Odd Couple"
Executive producer Bob Daily '82 conspires with Jill Poskanzer '15, Felicity Flesher '14 to place bust of German poet appearance on television show.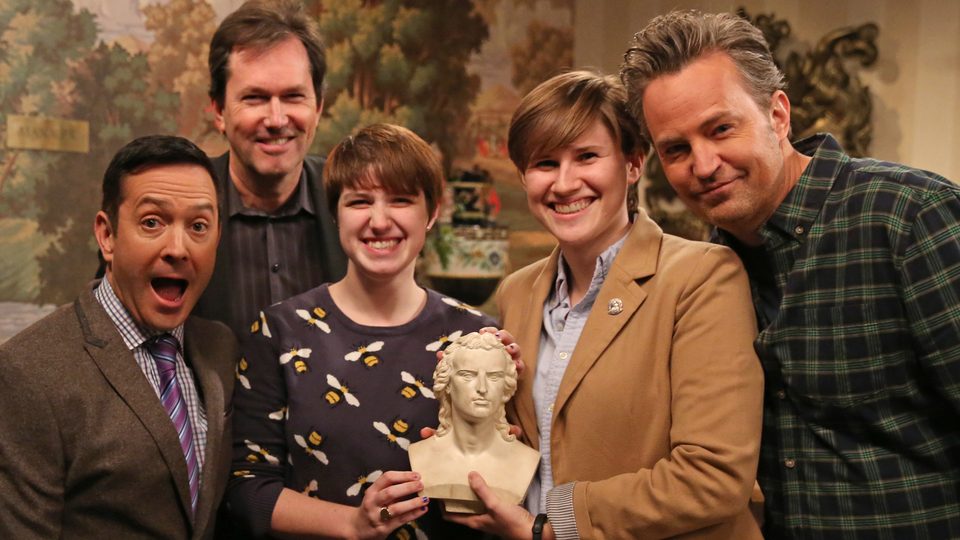 Bob Daily '82, executive producer of the CBS sitcom "The Odd Couple," who also finagled a Schiller appearance on the ABC show "Desperate Housewives" finale in 2012, conspired with Jill Poskanzer '15 and Felicity Flesher '14.
"We worked to obtain the super-secret package, keep it protected and under-wraps, figure out how to feature it, and get it cleared with our legal department in the nick of time, all while coworkers judged us for being so excited about a little bust of this German poet dude," Flesher said. "We tried to explain, but those non-Carls just don't get it."
"Schiller just so happened to fit the decor of the lobby in this scene so we really lucked out after much deliberation on how to appropriately integrate him into the episode," Flesher said. Matthew Perry (Oscar Madison) and Thomas Lennon (Felix Unger) were gracious in putting up with the Carls' antics, Flesher shared.
Flesher is also the LA Club chair and she organized an event to have some Carls (parents and alumni representing a range of 60 years of Carleton) in the audience to coincide with the special taping.
"We had a great time bringing everyone together to recall those good ol' Northfield days!" she said.
The episode is currently slated to air on CBS on May 16. Check local listings for exact times.