Sara Cluggish joins Carleton as director and curator of Perlman Teaching Museum
Sara Cluggish joined Carleton College in August as the new Mary Hulings Rice Director and Curator of the Perlman Teaching Museum after working in museums and galleries across the United Kingdom and Twin Cities.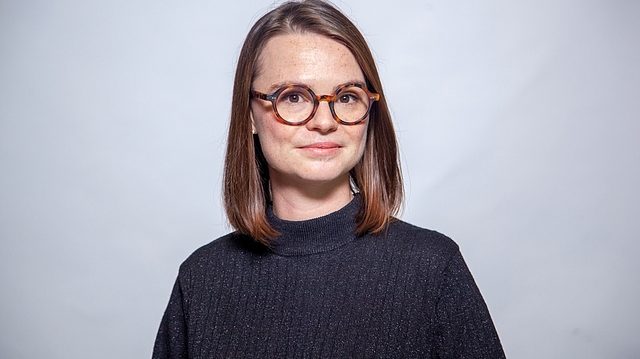 Sara Cluggish has joined Carleton College as the new Mary Hulings Rice Director and Curator of the Perlman Teaching Museum. After working in museums and galleries across the United Kingdom and Twin Cities, Cluggish began her position at Carleton in August.
Cluggish became interested in the arts early in life and received an undergraduate degree in photography before catching what she called the "curatorial bug." She then moved to London to pursue a Master of Fine Arts in Curating at Goldsmiths University of London.
After finishing her master's, Cluggish spent several years working across the UK as an assistant curator at Nottingham Contemporary and a curator at Site Gallery in Sheffield. In 2016, she moved to the Twin Cities where she managed the private collection of Elizabeth Redleaf, taught art history at the Minneapolis College of Art and Design, and worked as the director of the artist-in-residence program, FD13 Residency for the Arts. "The way that I got to know the Twin Cities was by doing different projects in different places, exploring new communities, and collaborating with different people each time," Cluggish said.
According to Cluggish, her "passion for visual thinking" stems from how "visual thinking and learning allows us a way to process information in ways that are different from written word, or data, or research-driven methodologies." As a curator, Cluggish loves "working with large teams of people to make something from nothing."
In her new role, Cluggish is in charge of Carleton's Perlman Teaching Museum, a position which she said "perfectly combines my experience of collections management, of teaching, and my passion for pedagogy and learning." The selling point of the position, she said, was Carleton's community and "how much people care for one another and all the exciting research and thought that's taking place at Carleton."
As the director and curator of the Perlman, Cluggish has undertaken a variety of responsibilities. She works with the staff of the museum to manage the collection, helps guide new acquisitions and gifts, and thinks about what kinds of works would create great teaching opportunities for students. Cluggish also manages the exhibition program and, along with others, comes up with ideas for new exhibitions. "I think we have a unique opportunity to showcase a vast array of artistic content and material across historical periods and cultures. I want the museum to be a place of exploration and inclusivity in this respect," she said.
Cluggish also works with student workers, giving them professional experiences and training them to work in museums and galleries after Carleton. She is also involved with event management, helping bring interesting speakers and thinkers to the Perlman, and working with artists and academic departments to host events.
"The Perlman Teaching Museum is a fully student-centered museum that operates for and by the Carleton community," Cluggish said. "I want the museum to feel like a vibrant, active space, a space students are excited to go to, and to participate in exhibitions and events that they would enjoy."
The Perlman Teaching Museum will have two exhibitions this fall. The first exhibition, Cover to Cover, is a collaboration with the special collections in the Gould Library and exhibits books made by artists. The books cover an array of topics, from astronomy and infographics to personal histories and gender studies. Some of the pieces were made by Carleton students, and the books use a wide variety of different mediums and printmaking processes.
"One of the things that I like most about the Gould Library's collection of artists' books is that, like the teaching museum, it exists to be used by all the diverse departments and disciplines that make up Carleton," Cluggish said.
Cover to Cover is on view now through Nov. 19.
The second exhibit, which will also open this month, is a collaboration with associate professor of art history Ross Elfline's ARTH 341 class, Art and Democracy. Using Elfline's syllabus as the "spinal cord of the exhibition," Cluggish explained that new works will be introduced into the gallery each week throughout this term. Elfline's students will write all the interpretative materials for the exhibition and some will make their own artworks for inclusion in the exhibition. At the end of the term, the students will also be responsible for re-hanging all the work in a curatorial intervention. That finished exhibition will remain on display into the winter term.
"Creating exhibitions is so enjoyable to me because there are many different people who are responsible for building them and facilitating all the tiny decisions which are made along the way," Cluggish said. "I love working with huge groups of people to crystalize a project towards its end point."
While the COVID-19 pandemic initially put several of the museum's projects on hold, the Perlman is now open for in-person visits by students, faculty and staff, with a limited capacity of 25 visitors. In setting up the exhibition, Cluggish is making sure that the pieces are spaced out to facilitate social distancing. The museum is also open for individual appointments to see objects in the collection. In order to facilitate access to the museum, Cluggish and Special Collections Librarian Rebecca Bramlett will be giving a virtual tour of Cover to Cover from noon to 1 p.m. on Tuesday, Oct. 27. Follow the Perlman on Instagram and on Facebook to learn more about current and upcoming exhibits.