Ross Elfline awarded inaugural Mellon Academic Leadership Fellowship
Elfline is associate professor of art history at Carleton.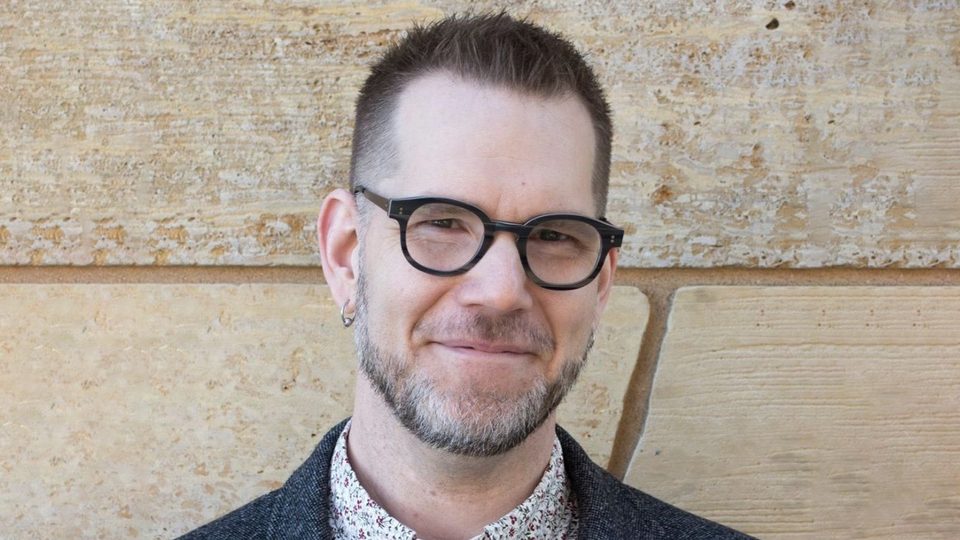 Ross Elfline, associate professor of art history, has been awarded one of the inaugural Mellon Academic Leadership Fellowships from the Associated Colleges of the Midwest (ACM). The new program is meant to familiarize humanities faculty with academic leadership at the highest level through immersion in the workings of upper-level academic administration.
"The members of the inaugural cohort of ACM Mellon Academic Leadership Fellows are a highly distinguished group of teachers and scholars whose projects all aim toward enlarging the role of the humanities by cultivating a new crop of campus leaders to serve the ACM colleges and the entire liberal arts sector," Director of the Grants Office Chistopher Tassava said.
The College will receive $112,000 in funding from ACM and contribute significant Carleton resources to cover expenses such as Elfline's course releases for the 2023-24 and 2024-25 academic years, during which he will pursue multiple curricular projects.
"Ross's project here at Carleton builds on his background as a department and committee chair and dovetails with the College's strategic plan," Tassava added. "Ross's unique set of experiences and skills will enable him to use the fellowship to investigate several ways that teaching and learning at Carleton might be improved."
Over the course of the next two academic years as a fellow, Elfline will work in two overlapping areas—collaborative modes of teaching and more intentional, sustainable civic engagement partnerships—which will strengthen how faculty teach and how students learn across disciplinary boundaries.
"I will be working quite closely with faculty over the course of the grant period," Elfline said. "One of the benefits of the fellowship is the time it affords me to meet regularly with faculty across campus who want to do collaborative teaching in order to problem-solve how we might make that happen. That direct work with faculty is what I'm looking forward to most. More than that, though, what intrigues me is that we can think more expansively and broadly about what collaborative teaching might look like. There are so many more models available to us beyond team-taught courses. What models might those be? And in what ways might Carleton prove itself to be a leader in newer pedagogical models that we haven't experimented with before?"
Elfline will develop a range of different models of collaborative teaching beyond the standard team-taught model of two or more faculty members teaching one six-credit class together at Carleton. While the College takes considerable pride in pedagogical innovations, faculty and administrators both understand that despite the appetite and need for further opportunities for collaborative teaching and learning, there are still significant barriers to the implementation, exploration and testing of various interesting models.
"A significant area of focus for the [College's] current strategic plan is to expand collaborative teaching and learning opportunities both among faculty at Carleton and between Carleton faculty and community partners," Elfline said. "As faculty, we have long said that we have wanted to do more interdisciplinary teaching, but we often run into various barriers in attempting to do so. Through the fellowship, I look forward to working with the provost's office to identify and eliminate at least some of those barriers so that we can engage in the kinds of intellectual inquiry we long to do."
Expanding collaborative teaching opportunities will lead directly and meaningfully into strengthening Carleton's Academic Civic Engagement (ACE) courses and relationships with community partners, both facilitated through the Center for Community and Civic Engagement (CCCE). A vital part of the two-year project will involve identifying ways to make partnerships with community partners more sustainable, regular and dependable in the long term.
Arching over both collaborations themselves and students' wider perspectives on difference is the goal of redressing the root causes for inequities based on race, class, gender identity, ability and other markers of social difference. This work corresponds with Carleton's Community Plan for Inclusion, Diversity and Equity (IDE).
"I'm really quite pleased to be joining the new cohort of fellows," Elfline said. "It's rare that we have the opportunity to pause our academic careers to experiment with different ways of approaching academic work, so this fellowship is a tremendous gift."
---
Erica Helgerud '20 is the news and social media manager for Carleton College.