Ross '17 is Carleton's 75th Watson Fellowship winner
Emily Ross '17 earns a Watson Fellowship for the 2017-18 school year to explore intersection between ceramics and geology in Iceland, Italy, China, Japan, Ghana, and Chile.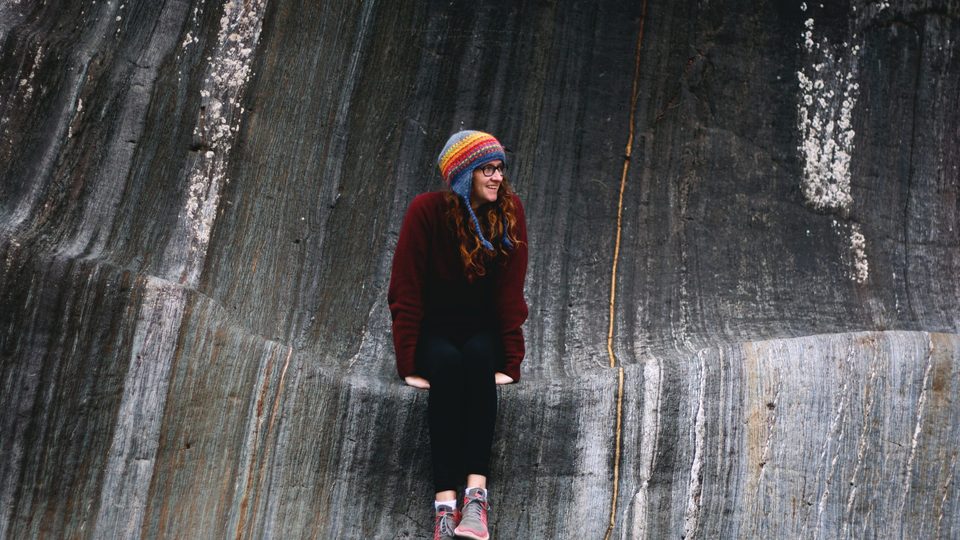 Northfield, Minn.—Emily Ross '17 (Niwot, Colo.) is the recipient of a prestigious Watson Fellowship for the 2017-18 school year.
The Watson Fellowship provides a year of unparalleled international exploration for select graduating college seniors in any field. Ross is the 75th Watson Fellow from Carleton.
"I plan on exploring the intersection between ceramics and geology in Iceland, Italy, China, Japan, Ghana, and Chile," Ross reports. "In Iceland, for example, artists use freshly erupted volcanic materials to make vibrant glazes. In Japan, regional geology determines differences in clay from town to town or from even from studio to studio."
"The idea for the project came naturally out of my experience at Carleton as a double major in geology and studio art," she explains. "I came to Carleton intending to study geology, and then took some amazing classes in ceramics and art history my sophomore year and decided to double major. Instead of being forced to choose between the two or live some secretive double life, my professors and peers in each discipline encouraged my curiosity about the connections between art and science."
Ross sees a strong parallel between her two disciplines. "Geology and ceramics are both very welcoming and communal disciplines, and I think there's a mutual respect and awareness between the two, so I'm ridiculously excited to learn from ceramic artists in their studios and explore where their clay comes from."
"Emily's a great Carl—in some ways the embodiment of the liberal arts ideal," says Pierre Hecker, associate professor of English. "As a double major in geology and studio art, she's a scientist who's got the chops to spend a recent summer doing an internship at NASA's Jet Propulsion Laboratory while also being someone who, in her words, embraces the emotional and aesthetic sensibilities of an artist. Resisting great pressure to choose a particular path, she has instead merged her passions and forged her own. The beauty of her project is that she's really found ways of having each discipline serve as a lens for exploring the other. I'm gratified that the Watson Foundation saw the tremendous value in that."
"Emily will be a great ambassador for Carleton and her extraordinary combination of brains, resourcefulness, and grace under pressure will serve her well as she sets out on this grand adventure."
This year's class of Watson Fellows comes from six countries and 21 states. They will travel to 67 countries exploring topics ranging from pediatric cancer treatment to citizen journalism; from animation to autonomous vehicles; from immigration to island communities; from megacities to wildfire management. "As we approach a half century of making big bets on remarkable students, we are thrilled to announce this year's class," reports Chris Kasabach, executive director of the Watson Foundation. "We work with a terrific group of partner institutions and these fellows show the enormous depth, width and creativity of our next generation of leaders."
Watson awardees come from private liberal arts colleges and universities across the United States. From the program's 40 partner institutions, 149 finalists were nominated to compete on the national level from which 40 Fellows were selected. Fellows will receive $30,000 for twelve-months of travel and college loan assistance as required.
About the Watson Foundation
In 1961, Jeannette K. Watson created the Thomas J. Watson Foundation in the name of her husband, Thomas J. Watson Sr., best known for building IBM. Through one-of-a-kind programs, the Foundation provides fellows with cultural, professional and personal opportunities that challenge them to expand their vision, test and develop their potential, and build the confidence and perspective to do so for others. In 2015, the Foundation organized as a public-facing foundation, unifying its programs under the Watson Foundation.
About the Thomas J. Watson Fellowship
Over 2,800 Watsons have been named since the fellowship's start in 1968. A Watson Year provides fellows with an opportunity to test their aspirations, abilities and perseverance through a personal project that is cultivated on an international scale. Watson Fellows have gone on to become international influencers in their fields including CEOs of major corporations, college presidents, Emmy, Grammy and Oscar Award winners, Pulitzer Prize awardees, artists, diplomats, doctors, faculty, journalists, lawyers, politicians, researchers and inspiring leaders around the world.