Renowned Pianist Makes Rare Northfield Appearance
Jazz pianist Jon Nakamatsu to perform in Concert Hall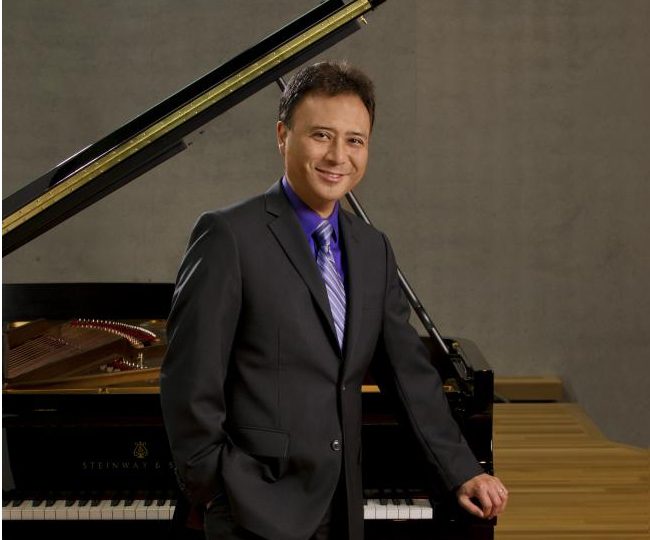 World renowned classical and jazz pianist Jon Nakamatsu will perform in concert on Sunday, April 12 at 3 p.m. in the Carleton College Concert Hall. A Van Cliburn gold medalist, Nakamatsu is considered to be one of the most sought-after pianists of his generation. Bernard Holland of the New York Times wrote, "This young American pianist has stunning technical control and can do anything at the piano he wants."
Nakamatsu's not-to-be-missed performance will feature selections by Mozart, Schubert, Schumann, and Chopin—and is free and open to the public.
Nakamatsu draws unanimous praise all around the globe as a true aristocrat of the keyboard, whose playing combines elegance, clarity, and electrifying power. He is noted for his continuously expanding career based on a deeply probing and illuminating musicality, as well as his quietly charismatic performing style.
A native of California, Nakamatsu came to international attention in 1997 when he was named Gold Medalist of the Tenth Van Cliburn International Piano Competition, the only American to have achieved this distinction since 1981. His achievement was particularly profound, because the 29-year-old musician seemed to come out of nowhere, winning over other heavily-favored experienced pianists. At the time, Nakamatsu was teaching German at a local high school and says that it was the last competition he was planning on entering before finally giving up his dream of becoming a full-time professional musician. Instead, the win rocketed Nakamatsu, who had never studied at a music conservatory or music graduate program, to international acclaim.
Since his dramatic Van Cliburn Gold Medal triumph, his brilliant but unassuming musicianship and eclectic repertoire have made him a clear favorite throughout the world both on the concert circuit and in the recording studio. He has performed widely in North America, Europe, and the Far East and has collaborated with such conductors as James Conlon, Philippe Entremont, Marek Janowski, Raymond Leppard, Stanislaw Skrowaczewski, Michael Tilson Thomas and Osmo Vänskä. His extensive recital tours throughout the United States and Europe have featured appearances at Carnegie Hall and Lincoln Center in New York City, at the Kennedy Center in Washington, D.C., and in cities such as Boston, Chicago, Cincinnati, Paris, London and Milan.
Nakamatsu records exclusively for Harmonia Mundi USA, which has released thirteen of his CDs to date. His all-Gershwin recording with Jeff Tyzik and the Rochester Philharmonic featuring Rhapsody in Blue and the Concerto in F rose to number three on Billboard's classical music charts, earning extraordinary critical praise. Other acclaimed releases include an all-Liszt disc featuring the Dante Sonata, a recording of Brahms' Piano Sonata in F minor; and Rachmaninoff's Piano Concerto No. 3 and the Rhapsody on a Theme of Paganini. Nakamatsu's 2008 recording of Brahms' Clarinet Sonatas with Jon Manasse was chosen by the New York Times as one of its top releases for the year; his latest disc with Manasse, released in August 2012, includes both the Brahms' Clarinet Quintet and the Piano Quintet with the Tokyo String Quartet. Of his most recent release on the label, a 2014 solo disc of the piano works of Robert Schumann, BBC Music Magazine states that "Nakamatsu clarifies Schumann's mid-range saturated textures to a remarkable degree, reveling in its fantastic imaginings with rapier-like precision and effortless command."
More at www.jonnakamatsu.com.
This event is sponsored by the Carleton College Department of Music. For more information, including disability accommodations, please call (507) 222-4308. The Concert Hall is located on First Street, between Winona and Nevada Streets, in Northfield.