Registration opens for MCAN's The Gathering
The reunion event for Carleton's Multicultural Alumni Network will happen on campus, Sept. 30-Oct. 2.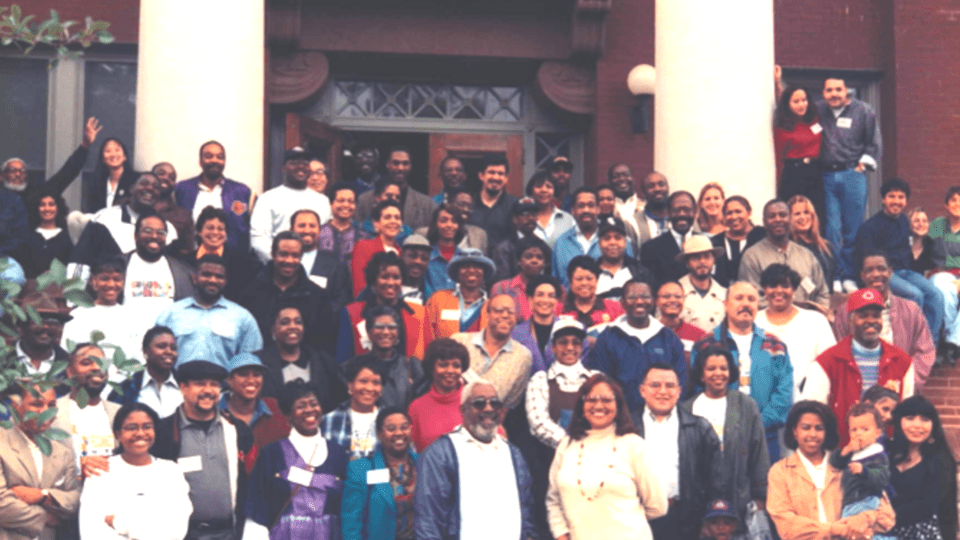 "As we surface from the worst pandemic in 100 years, the importance of community has never felt so palpable," write Andrew Farias '21, Sachin Patel '00 and Lingerr Senghor '11 in an email to Carleton's Multicultural Alumni Network (MCAN). "Over the past few years, human connection has increasingly become fragmented by fear, isolation and grief. However, each time we see bright smiles, supportive gestures and helping hands, we are reminded of what makes our Carleton Multicultural Community so special. It's a core belief that building a bigger table, allowing more voices to be heard and 'doing the work' pay dividends in a world that is often divisive."
Farias, Patel and Senghor are part of the alumni volunteer planning committee for The Gathering, a reunion event dedicated to bringing BIPOC alumni back to campus for a weekend of reconnection. Established in 1996, The Gathering brought laughter, tears, remembering and reconnecting to campus in 2000, 2004 and 2008 as well.
Carls now have the opportunity to join each other again this fall, Sept. 30 to Oct. 2, for a fifth reunion of The Gathering, which they can register for online. The planning committee is excited to be part of an event dedicated to creating a welcoming and affirming experience for Carls, bringing together old friends and providing the opportunity to make new ones across class years.
"The sheer number of new alums in comparison to the last reunion in 2008 will be fun," says Maya Theus '00, who has attended every Gathering since it started in 1996. "I dare not understate the excitement of meeting younger alums, even if some of them were born the year I graduated!"
The weekend will begin Friday morning with a convocation address from poet Aimee Nezhukumatathil and conclude Sunday morning with a farewell brunch and opportunities for reflection on the weekend's events. Additional schedule highlights include a multicultural block party and cultural organization fair with current students, co-sponsored by the Office of Intercultural life (OIL), and updates on Carleton's Community Plan for Inclusion, Diversity and Equity (IDE). The full schedule is available on the MCAN website.
The Gathering's theme this year is "Rest, Reconciliation, Revival," a theme that the planning committee describes as "both evergreen and strongly relevant right now." The committee wants to acknowledge how hard the last few years have been in particular, from the COVID-19 pandemic, to painful racial reckoning, to the recent overturn of Roe v. Wade, to the ever-growing climate crisis. Many of these things aren't new to people who were already marginalized, and the committee wants to name this as well.
"I'm interested to see how this Gathering fits with larger issues in this country," says Theus. "I feel that earlier Gatherings were very inward looking, as they should have been. However, I think it's now impossible to not acknowledge what it means to be a BIPOC at Carleton at this point in history. How do we reconcile our identities in this place of privilege in relation to the larger world?"
Committee members are hopeful that they and other attendees can get some well-deserved rest during The Gathering; that they can reflect on their bevy of experiences at Carleton and in the world; that they can hear how the college is working to make changes and improve its inclusion, diversity and equity; that they can heal; and that they will leave revived and energized.
"My reunion was canceled due to the pandemic in 2020, so I've really enjoyed the opportunity to meet monthly with fellow Carls in order to help plan the Gathering," says Theus. "One of the great things about being a Carl is the connectedness I feel with other alums, no matter the year. While we're always striving towards improvement, whether it be issues of IDE, facilities or academics, there is, for me at least, an underlying, basic Carleton feeling that ties us all together. After the past two years, being connected is most welcome."
For planning purposes, the committee asks that they receive all registrations by Sept. 1. For questions about registration or the weekend, contact Alumni Relations at alumni-office@carleton.edu or 800-729-2586.
---
Alumni on The Gathering planning committee: Love Anani '07, Samir Bhala '12, Shalin Carranza '20, Terra Cole Brown '00, Kirstin Cook '15, Mallika Dargan '19, Andrew Farias '21, Ricky Garcia '21, Domineke Danielle Green '02, Isaac Martinez '18, William Matsuzaki '99, Elizabeth McKune '70, Todd Olson '97, Joy Onyeanu '21, Sachin Patel '00, Lingerr Senghor '11, Alicia Telle '23, Maya Theus '00 and Zhuoli Zhang '21
Staff on The Gathering planning committee: Todd Campbell Jr. '16, associate chaplain for Christian and interfaith life; Anita Fisher Egge '94, director of the Alumni Annual Fund; Renee Faulkner, director of intercultural life; Krista Herbstrith P'24, associate director of alumni relations; and Michael Thompson '96, director of alumni relations