Ragamala Dance Company's "Sacred Earth"
Aparna Ramaswamy '97, Ashwini Ramaswamy '03 explore interconnectedness between emotions and environments.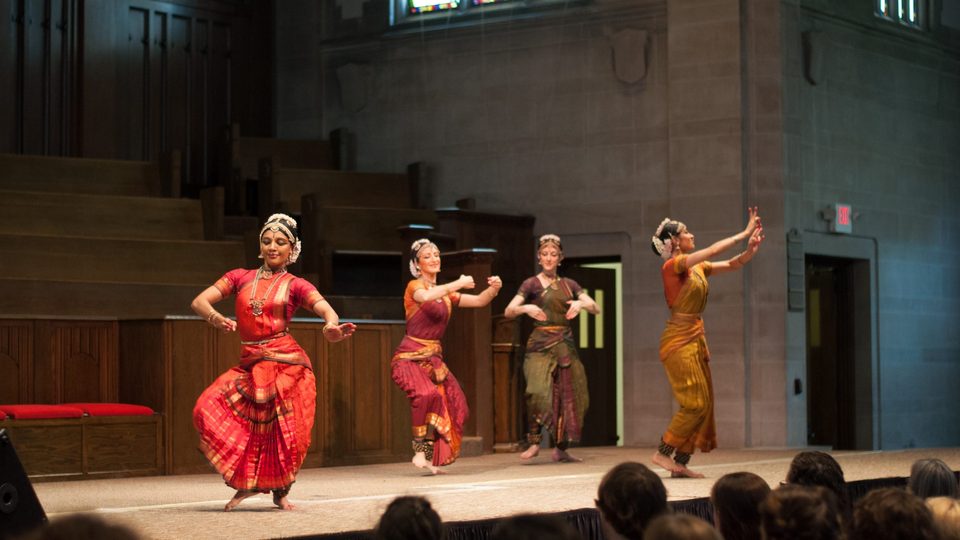 Aparna Ramaswamy '97 and Ashwini Ramaswamy '03 return to Carleton with Ragamala Dance Company to present Sacred Earth.
In Sacred Earth, choreographers Ranee Ramaswamy and Aparna Ramaswamy explore the interconnectedness between human emotions and the environments that shape them. Performed with live music, the dancers create a sacred space to honor the divinity in the natural world and the sustenance we derive from it.
Inspired by the philosophies behind the ephemeral arts of kolam and Warli painting and the Tamil Sangam literature of India, Sacred Earth is Ranee and Aparna Ramaswamy's singular vision of the beautiful, fragile relationship between nature and man.
Under the direction of Bharatanatyam choreographers/ dancers Ranee Ramaswamy and Aparna Ramaswamy, Ragamala Dance Company draws from the myth and spirituality of South India to make contemporary dance landscapes that dwell in opposition—secular and spiritual life, inner and outer worlds, human and natural concerns, rhythm and stillness—to find the transcendence that lies in between.