Profiles in Teaching: Susan Jaret McKinstry on the Dynamism of a Classroom
"I love the idea that, as a professor, I am always reminded of what I don't know as well as what I do know," Jaret McKinstry said.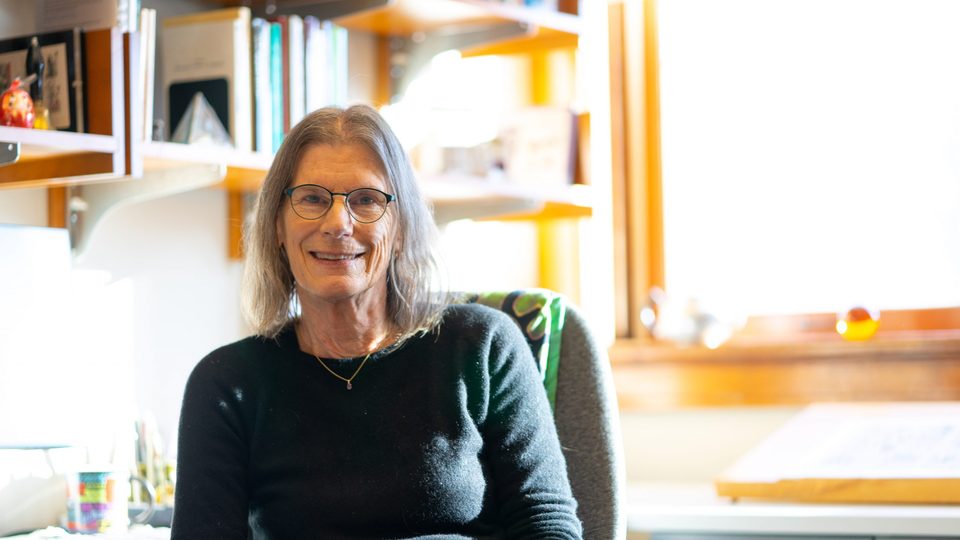 Susan Jaret McKinstry's office is, like any good English professor's, full of books. To my right, I spot a volume on the Pre-Raphaelites, a 19th Century artists' group, who are the subject of much of Jaret McKinstry's research and the topic of a class she's teaching this term.
Jaret McKinstry sits across from me at her desk, and we launch into conversation. We start talking about the classes she is currently teaching: in addition to the Pre-Raphaelites course, she is also teaching a course on news writing.
Jaret McKinstry's first teaching experiences happened during college, when a professor secretly signed her up for a teaching assistant position.
"I'm a first-generation college student, and I was really shy in college," Jaret McKinstry said. "There was a professor who mentored me, and he decided he was going to make me talk. So, he signed me up as his TA and forged my signature on the form because he knew that I wouldn't do it [on my own]."
"I didn't fall in love with teaching because of me, I fell in love with teaching because of the students," she added. "It doesn't matter how many times I've read something—students always point out something I never noticed before, and my head explodes."
Jaret McKinstry's classes are full of energy and discussion, and she is constantly learning new things and sharing them with her students.
"I remain deeply excited about the possibilities of what can happen in a class. It's a very dynamic feeling," Jaret McKinstry said. "I love the idea that, as a professor, I am always reminded of what I don't know as well as what I do know."
Jaret McKinstry has been at Carleton since 1982, and in her early days she taught a variety of new and experimental classes.
"I realized that my first years at Carleton were spent inventing courses in areas I had never heard of," she said. "Although I am a British scholar and not an Americanist, one of my favorite courses to teach was an English and Media Studies course called The American Image in Fiction and Film: 1920s–Present. At Carleton, I've been able to get really intellectually excited about things and then turn those ideas into courses."
Integrating Research and Teaching
As we talked more about her research, it became clear that Jaret McKinstry's intellectual interests and course topics frequently overlap.
"Teaching can feel like a creative partnership, and there's something lovely about being in the same challenging territory [with students]," Jaret Mckinstry said. "Often at universities, people talk about their teaching and their research as two completely different sides of their professional lives. At Carleton, I've been insistent on pulling the two together, and I feel lucky that I've been able to do that. Without that [integration], I think that the two sides of my life would feel very flat."
Jaret McKinstry often draws on her research and her work as a poet in her teaching. We talked about her long-term research into the Pre-Raphaelites, and she grew increasingly passionate as she described the type of artistic community formed by the group. A collective of writers and artists, the Pre-Raphaelites were a radical group of thinkers who first came together in college to discuss various types of art. This sense of collaboration and creative community embodied by the Pre-Raphaelites seems to also permeate much of Jaret McKinstry's work.
"Last year, I was the director of the Humanities Center Faculty Research Seminar, which covered the topic 'Art Matters,'" she said. "Along with a group of really interesting colleagues from across the college, we thought about the ways that art matters both materially and culturally, and why it's so powerful."
Interdisciplinary work weaves its way into nearly every aspect of Jaret McKinstry's professional life. In her classes, she often partners with professors across departments to expose her students to a wide range of assignments, and in her own projects, she gleans insight from people in many different disciplines.
"[Working with colleagues in the Faculty Research Seminar] was a very inventive and exciting opportunity to hear the questions people asked from their own disciplinary perspectives—questions that I wasn't even thinking about," she said.
As we wrapped up our conversation, Jaret McKinstry mentioned some of her current reading. She reads often, both to keep updated on current work in her field and for her own enjoyment. In the midst of a Minnesota winter, she shared a reminder that art has the power to transport as well as transform.