Profiles in Teaching: Lin Winton on passion, exploration and sometimes just winging it
Winton has lived a life of expanding interests and opportunities. As director of Carleton's Quantitative Resource Center, she continues to grow personally and professionally.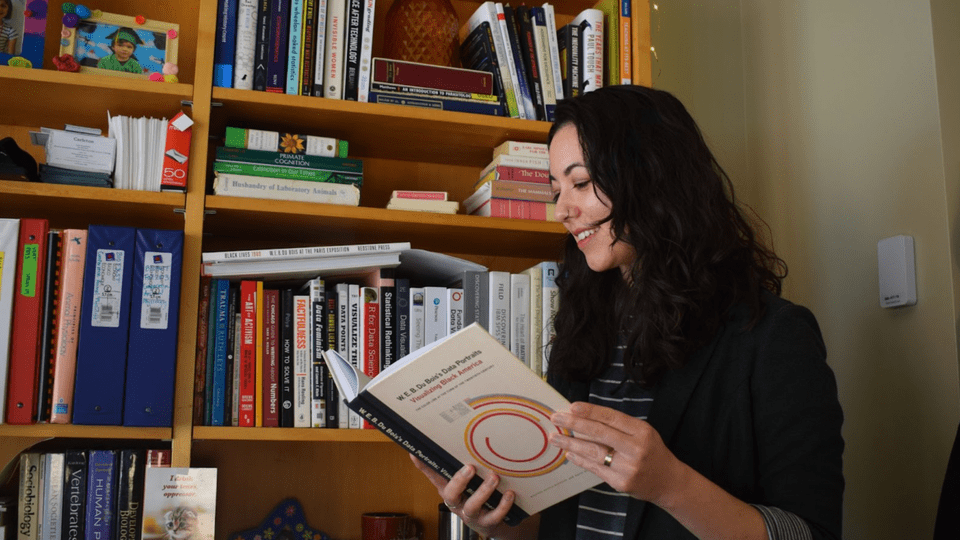 Director of the Quantitative Resource Center and Lecturer in Biology Lin Winton's wide-ranging bookshelf has writing by W.E.B. Du Bois, microbiology textbooks and data-driven activist works like "Factfulness" and "Damned Lies and Statistics." With her background and training in biology, Winton didn't think that social justice, education and organizing her own tutoring program would all somehow combine to become part of her career—until she came to Carleton.
Winton's scientific aspirations started at nine years old with a Jurassic Park obsession.
"I tried becoming a dinosaur kid," Winton said. "That didn't really take… But what I really liked about [Jurassic Park] was the fieldwork. I loved the idea of being outside and dusty."
Raised by a mathematician father and a nurse-turned-professor mother, Winton always felt drawn to science and numbers.
"My dad saw how interested I was in science," she said, "and he had heard about this new thing called genetic engineering and thought it was the wave of the future. So it was decided—I would become a genetic engineer without really any understanding of what that meant."
At 26, Winton obtained a Ph.D. in molecular biology from the University of Texas–Austin. During her time in graduate school, however, she realized she could have pursued the "fieldwork routes" she admired as a child. And thus, her commitment to exploration began.
"It wasn't until after grad school… that I started becoming exposed to experiences that were very different from mine," she said. One of these experiences was at her first job: a learning management tech system with a "ragtag bunch of grad students" at UT–Austin.
"We were all very young. We were spending probably too much time together," Winton laughed. "But as part of that job, I could teach a class [at UT–Austin] at the same time. I really enjoyed the teaching part of it."
That position was temporary, though, so Winton began looking for jobs that offered more stability. She ended up as a learning specialist working with UT–Austin students on academic probation.
"[In my team], I was working with some amazing people doing really incredible things," Winton said. "But no one had the bandwidth to be systematically assessing whether the programs they were running were doing what they hoped they were doing. I wanted to know whether our programs were working and started poking around for data."
By working outside her job description, Winton was offered new positions and began expanding her career scope.
"None of this has been strategic," she said. "None of this has been intentional networking. I'm not saying those things aren't useful, but they have not been a part of my path. My path has really been trying new things."
During Winton's time as quantitative director at UT–Austin, she read many papers and materials being published by Carleton faculty and staff as part of their innovative Quantitative Inquiry, Reasoning and Knowledge (QuIRK) initiative. The college was one of the national leaders in quantitative reasoning requirements at the time, so when a quantitative director spot became available at Carleton, Winton decided to apply.
"I was so excited and intimidated at the idea of working at the place where I felt a lot of this stuff began," Winton said. "It seemed like a dream come true."
The job came with starting Carleton's Quantitative Resource Center (QRC)—which now provides a renowned tutoring program on campus—"from the ground up," along with lecturing in biology, data visualization and social justice. Winton considers her position at Carleton to be a never-ending "growth process."
"Carleton has no shortage of exciting things that you can take on, and people who are interested in collaborating with you," she said. "That is maybe my favorite thing about being here."
Winton's advice for the Carls she teaches and interacts with every day stems directly from her professional experience: Follow your own path.
"There were so many unnecessary barriers along my way because of things that I thought I should be, or should be doing," she said. "Smart people do this, smart people don't do that. Scientists are like this, scientists aren't like that. The list goes on and on… But you can choose. There is no package for guaranteed success."
"I think students hobble themselves all the time because of some idea they have of who they're supposed to be, instead of paying attention to who they actually are," Winton concluded. "It's impossible to make everyone happy. So [ask yourself]: What do I want to do?"