Professors collaborate to make music—and have fun
Dan Groll, associate professor of philosophy at Carleton, and Louis Epstein, professor of music at St. Olaf College, released their children's album, "Louis and Dan & the Invisible Band," on Feb. 22.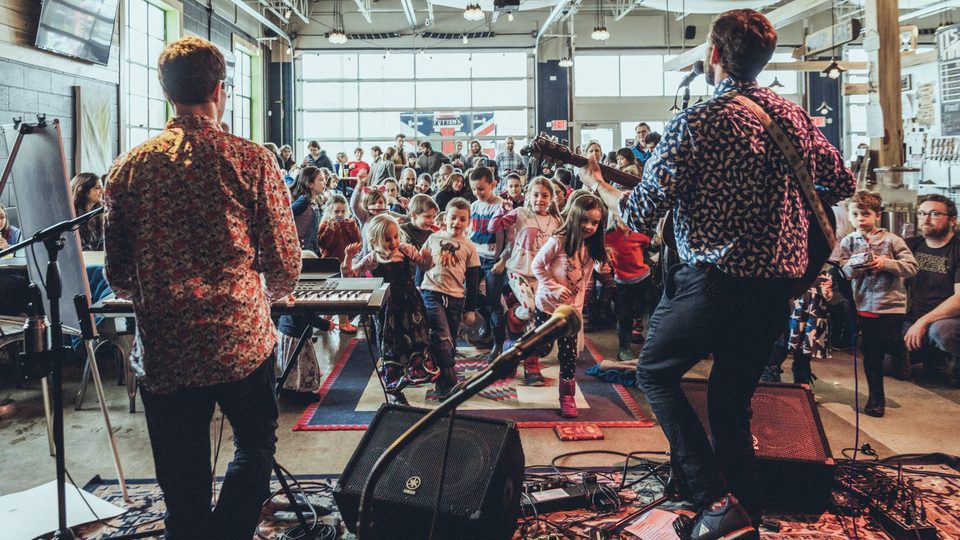 Louis Epstein and Dan Groll live across the street from each other in Northfield. Both are type-A husbands, fathers, professors and dog-owners, and they share a similar sense of humor. The similarities all came together on Feb. 22, when the two released their children's album, "Louis and Dan & the Invisible Band."
Their musical collaboration began when Groll—associate professor of philosophy at Carleton— heard recordings of parodies of patriotic songs that Epstein—professor of music at St. Olaf College—wrote for Cannon Valley Indivisible events. Groll contacted Epstein about making an album together. Both had already been writing children's music independently who entertain and teach their own kids.
"I really love the idea of my kids being able to hear my voice— being able to hear me sing to (and in some cases about) them—when I'm gone," Groll said.
As parents, the two regularly draw on inspiration from their kids.
"They'll say something funny or we'll pitch an idea to them, and our interactions with them help us craft songs that will be meaningful to not just our kids, but also other kids and their parents," Epstein said.
In the creative process, Groll prefers to come up with the music before exploring lyrics.
"I will often try to write something that sounds like something I like," he said."Not because I want to copy it—I know that when I'm done with it, it won't sound like the thing that inspired it—but because I like it. Something will just strike me and off I'll go."
After hearing his birder mother-in-law mention the Jabiru bird, Groll thought, "What a great name for a bird and what a great set of sounds to sing."
"It kind of punches off the tongue in a way that is very satisfying," he said. "So, a song was born."
When deciding on a song's content, Epstein said they will often start with broad ideas "and then messages sometimes get attached (or not) depending on where the lyrics go."
"We're interested in writing silly songs, uplifting songs, politically charged songs, songs about gratitude, songs with a moral lesson—and that means no matter what we start writing, it will fit one of those categories and be worth finishing and performing," he said.
The two try to avoid what Groll calls the "cloying didacticism" of much kids' music by being silly, whimsical and slightly off-kilter, honest and touching. They strive to make people laugh, which they accomplish through jokes and twisting words, or through themes from something ordinary to something wry.
"Perhaps most importantly, we want the music to be compelling—something that will make you tap your foot or sway or want to sing again and again," Groll said.
Groll, who is also a member of the indie rock band The Counterfactuals, finds writing kids' music "enjoyable, in part because a kind of 'frank melodicism' and what I guess I would call 'sing-songy' harmonic progressions are absolutely fair game in a way that they're not for indie rock," he said. "Another aspect of writing kids' music that is different than writing indie rock: the words have to make sense."
"I'd just emphasize how much fun we have doing this," Epstein added. "It's a much more relaxed, joy-filled musical project than almost any other I've worked on. Some of that has to do with the audience we're writing for, but a lot of it has to do with how well suited we are to collaboration. In short, we're having fun, and we hope our listeners can hear that sense of relaxed enjoyment in our songs."
"Louis and Dan & the Invisible Band" can be streamed on all major music streaming services. To request a CD, email louisdan@louisdaninvisible.com. To learn more, visit their website.