Owen Jenkins, Carleton College Professor of English, Dies
Owen Jenkins, the Helen F. Lewis Professor Emeritus of English at Carleton College, passed away on Sunday, Oct. 6. He was 74.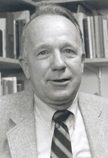 Owen Jenkins, the Helen F. Lewis Professor Emeritus of English at Carleton College, passed away on Sunday, Oct. 6. He was 74.
"Owen Jenkins was a legendary professor, held in awe and loved by generations of students, and cherished by his colleagues," said Constance Walker, professor of English. "Few in Carleton's history have taught longer or better: for 48 years at the College he demanded, inspired, and exemplified excellence. Even as he untangled his students' prose, he enriched their lives, teaching not only the arts of rhetoric and fiction, but also the importance of honesty, rigor, courage, and generosity. All of us in the English department feel his loss deeply."
Jenkins earned his bachelor's and master of arts degrees in English and history from the University of Chicago. He taught English at the Georgia Institute of Technology before attending Cornell University, where he earned his Ph.D. in only two years. He has insisted that his real education began in 1954, however, when he came to Carleton to teach.
During his years at Carleton, Jenkins became a renowned teacher of 18th Century literature, literary criticism and rhetoric. Jenkins was highly respected for his precision, wit, and very high standards as a teacher of literature, and he often cited his philosophy for teaching writing: "You only write as well as you are expected to." He was named the first Helen F. Lewis Professor of English in 1992, and retired from full-time teaching in 1997. Jenkins was a dedicated teacher, and much of his scholarly activity was directed toward his teaching. For his course in literary criticism, he compiled the equivalent of a variorum edition of Aristotle's "Poetics," as well as an extensive "Bibliography of the History of Criticism," both meticulously updated each time he taught the course. For his advanced writing classes he created a scholarly commentary on Aristotle's "Rhetoric" that he distributed to students and colleagues over many years. The reading and teaching of Jane Austen was a special delight both for him and for the many generations of students who took his yearly seminar. For three decades, he diligently screened scholarly publications and ordered literary texts for Gould Library at Carleton.
Professor Jenkins spent the final five years of his life in the Northfield area, never straying far from Carleton's campus or the hearts of its students, who testified by the hundreds upon the occasion of his retirement as to his profound and lasting effect on their lives.
Jenkins is survived by his wife, Barbara, sons Paul, Hugh and Clay, daughter Carol, and three grandchildren.
A memorial service will be held at 10 a.m. on Saturday, Nov. 16, in Skinner Memorial Chapel at Carleton College.