Opening Convocation celebrates start of 2023–24 academic year at Carleton
Guest speaker Dr. Kellie Carter Jackson of Wellesley College joined President Alison Byerly and new chaplain Schuyler Vogel '07 in welcoming students, faculty, and staff to campus.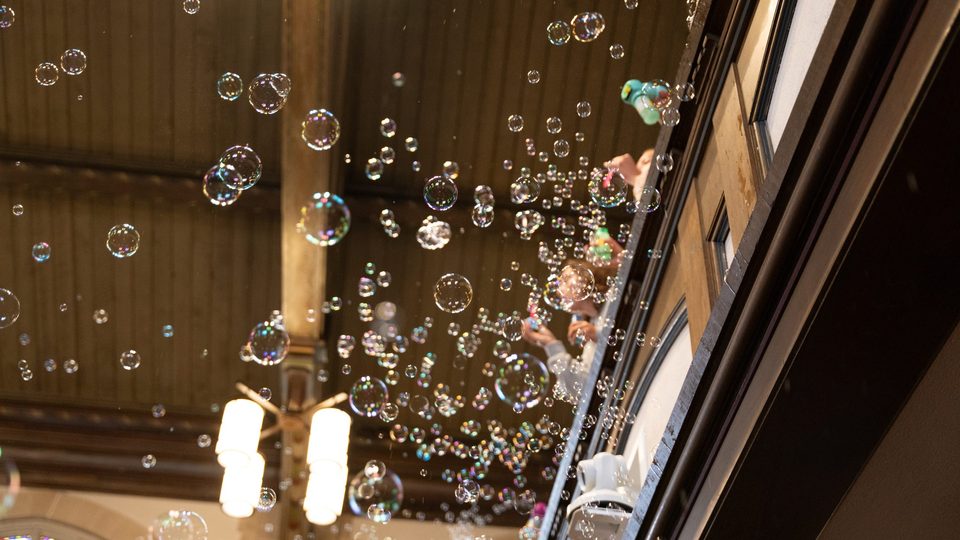 After concluding the Class of 2027's New Student Week, the Carleton campus community gathered to celebrate the start of the new academic year and recognize students on the dean's list with Opening Convocation on September 11, 2023. Skinner Chapel was packed with students, faculty, and staff as the traditional Bubble Brigade oversaw the event from the Chapel balcony.
New college chaplain Schuyler Vogel '07 kicked off the welcoming remarks with a rousing speech about how happy he was to be back on campus to help ensure that Carleton "lives into its best self."
"With the hardness of the world, we need places like Carleton now more than ever," he said. "As Carls, we receive two gifts from our education here. The tools to bring our values to life, and the enduring belief that that is even possible, because we see the roots of it here first… We are not just a college, but a community."
President Alison Byerly followed Vogel and began her remarks with a focus on the tradition of convocation itself.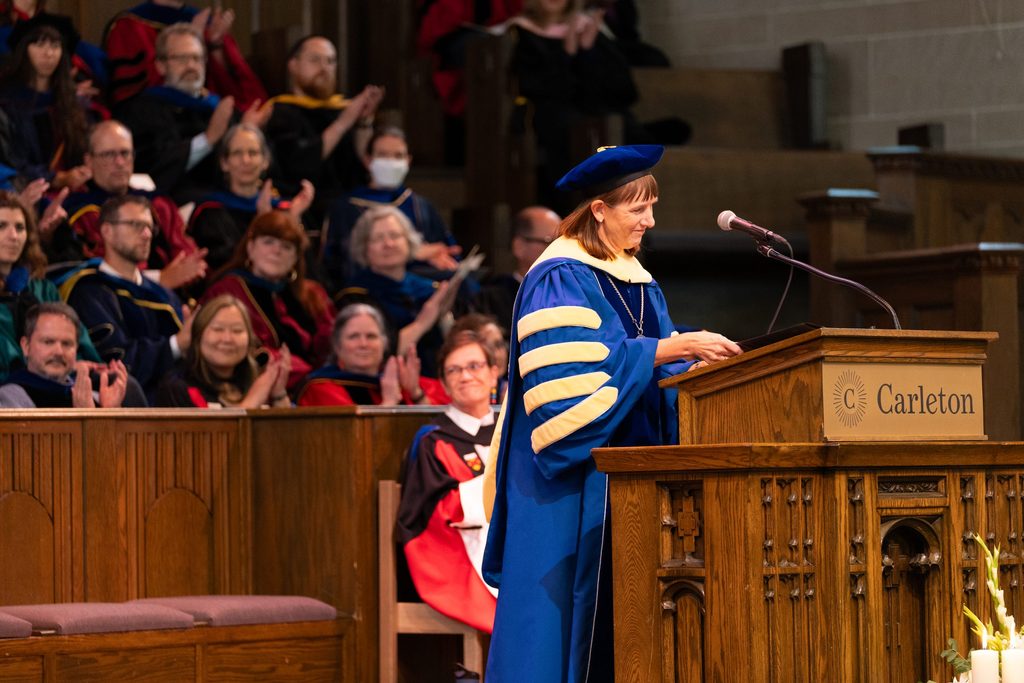 "Many colleges open the year with a ceremonial convocation that provides an opportunity for students, faculty, and staff to gather and reflect on their shared commitment to academic inquiry and community," she said. "At Carleton, however, convocation is a weekly occurrence. We have set aside time in the college calendar every Friday to create opportunities for the entire community to gather and hear a talk or program that provides a shared basis for intellectual exchange and ongoing dialogue. Carleton's continuing commitment to creating this shared space for discussion is a core aspect of its identity as a place that values open intellectual inquiry and robust debate."
Next up onstage was this year's featured Opening Convocation speaker, Dr. Kellie Carter Jackson, Michael and Denise Kellen '68 Associate Professor of Africana Studies at Wellesley College. In her address, Carter Jackson spoke on historical and current Black American culture and how it is intertwined with two of the most valuable tools in her toolkit "for surviving, navigating, and even thriving in the world": refusal and joy.
"Refusal is a forceful no," Carter Jackson said. "It is a no that is packed full of energy and meaning. Refusal sets the terms for how humanity should be understood and treated. It is a barrier that prevents oppressed people from being consumed… Refusal is Black culture. It is our anthem, a mantra, a way of being. Refusal is present in the novelty and genius of our vernacular; in the newspapers and literature we created to tell our stories; in the drum, banjo, and bass that permeate our music; in the vocals that refuse to be timid, diluted, or replicated. It is present also in our willingness to welcome, forgive, be hospitable, and care."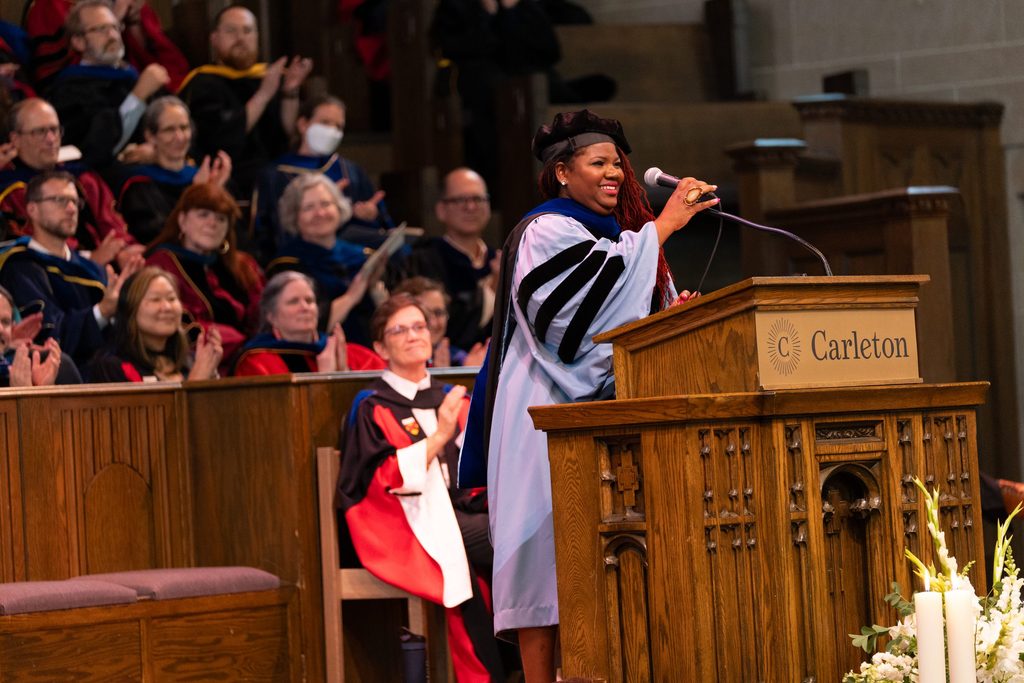 "Refusal, for me, is also a key component to joy," Carter Jackson continued. "I see joy as one of the most potent tools of revolutionary work toward liberation. Joy is the ultimate expression of humanity… The bulk of Black life is made from joy. Joy is not the denial of pain, trauma, or death, but the hope that comes with activism, resistance, and refusal. Joy is a haven… Love, hope, humor, and pleasure are all a part of joy. The joy of laughter, food, dance, dress or adornment, rhetoric, play, art, can be employed to dispel and destroy lies, erasure, harm, and violence."
Carter Jackson concluded her remarks with a personal story of joy through music that she experienced with her six-year-old daughter, and connected it to her conviction—which she hopes Carls have, too—that nothing big or small can be tackled without first believing it is possible.
"Students, my friends. You don't have to swallow the ocean or build a city in a day," she said. "Not everything has to be complicated. As you take your classes and prepare for lives of leadership and service, think about the small but powerful ways you can refuse and/or find joy to combat violent systems."
Byerly joined Carter Jackson in celebrating a theme of growth and progress. She concluded her convocation remarks with a metaphor comparing Carleton to a bur oak on campus, which used to grow on the slope between Boliou and Lower Lyman. Wood was recently saved from it for use in future Carleton buildings and art projects.
"At Carleton, we cherish the traditions and structures that have grown up, like that old oak, over many generations," said Byerly. "At the same time, we understand that these structures must evolve over time, and that our enduring goals and aspirations will take on new life in new forms. We have to be ready to plant the seeds of our future today. I believe that one of Carleton's greatest strengths, in fact, is the energy we devote as a community to change, improvement, and renewal. I am so delighted to welcome our newest class to join us on this journey of growth and transformation, and am deeply grateful to our faculty and staff for making this journey possible. Best wishes to all of you for a wonderful start to the year ahead."
Read Byerly's full remarks on the President's Office website. A recording of Opening Convocation will be archived on the Carleton Convocations website.
---
Erica Helgerud '20 is the news and social media manager for Carleton College.