Northfield debuts new food shelf with help from Carleton students and staff
Carleton students, faculty and staff have been working for years to provide the college's neighbors with access to healthy food.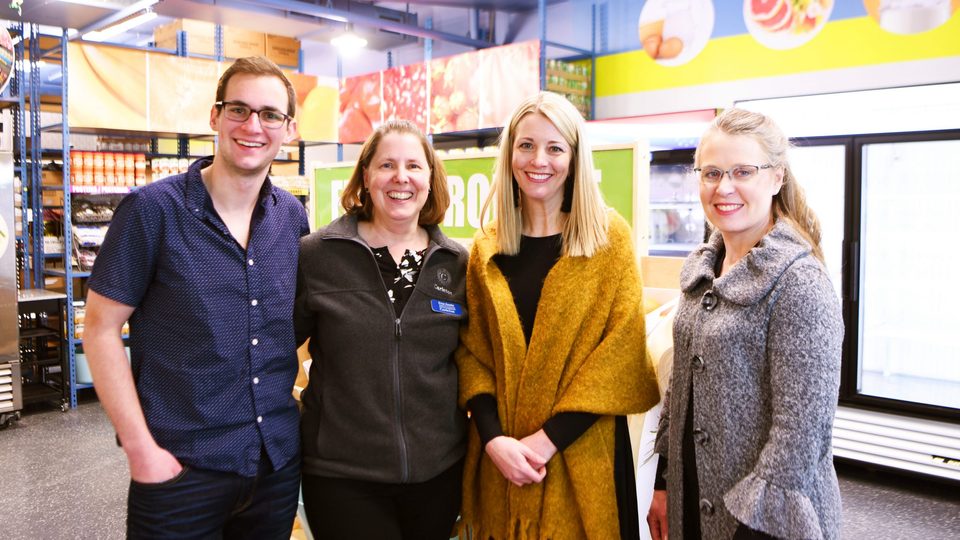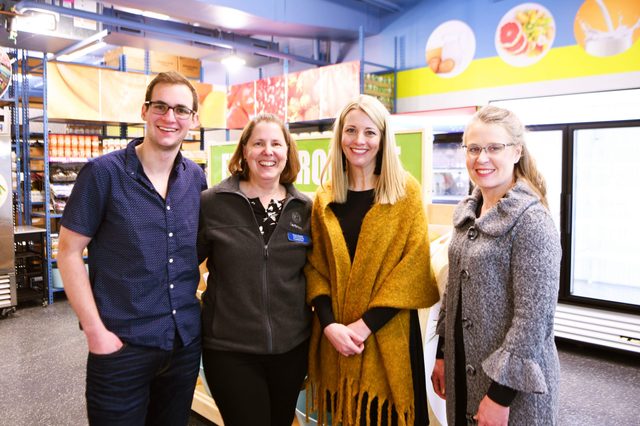 When the Northfield Community Action Center revealed its new and improved food shelf on Feb. 27, Carleton's Erica Zweifel and Jonah Kan '19 were right there in the room, beaming.
Zweifel, the program director for Carleton's Center for Community and Civic Engagement (CCCE), has been on the frontlines of years of passionate work by Carleton students, faculty and staff—and countless others in the Northfield community—to provide the college's neighbors with access to healthy food. The grand reopening of the Northfield Food Shelf, now a SuperShelf site, was just the latest in that effort.
The event revealed an expansive walk-in cooler—a $54,000 expense funded by a grant from the Minnesota Pollution Control Agency that was awarded thanks to the work of Zweifel and Sustainability Program Coordinator Alex Miller, along with other staff in their offices, in partnership with the city of Northfield. The cooler increases the food shelf's capacity to store food recovered from Carleton's dining halls and local retailers, minimizing food waste and providing more healthy options to the patrons of the food shelf.
The CCCE offers a wide array of opportunities for students to deepen their learning, broaden their knowledge and create reciprocal partnerships by engaging with local, national and global communities. Kan began giving his time to the food shelf during his first year at Carleton, ultimately working his way up to the position of food fellow in the CCCE. As a fellow, Kan coordinates food-related volunteer programs at Carleton, engages students in food-related causes and drives, and works with community partners to determine how the college can better serve their needs.
But Kan isn't the only student-advocate who stepped up to support the food shelf. Carleton's engagement was heavily influenced by Natalie Jacobson '18, who held a leadership role in the college's Food Recovery Network as a student and focused her senior comps on "Bridging the Gap Between Food Abundance and Food Scarcity in Northfield, Minnesota." Carleton student-athletes were also generous with their time as the food shelf reinvented itself. Members of the football, women's track and field, women's cross country and water polo teams all volunteered to help improve the space.