No Impact Carleton: Students and Staff Compete for Two Weeks to Reduce Waste
As part of this year's annual Climate Action Week, 22 teams comprised of Carleton students and staff participated in the No Impact Challenge.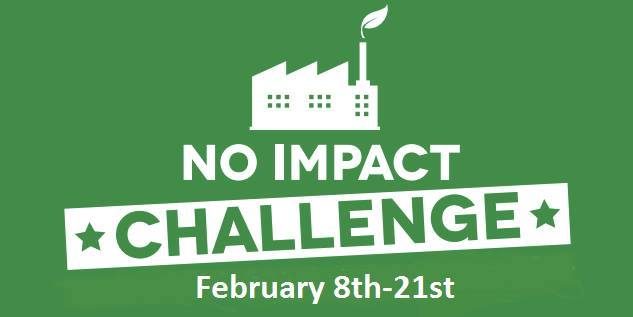 As part of this year's annual Climate Action Week, 22 teams comprised of Carleton students and staff participated in the No Impact Challenge. The challenge was organized by the Sustainability at Carleton group and lasted two weeks.
Inspired by the documentary film "No Impact Man," which follows a family on their journey to live as environmentally-conscious as possible for an entire year, Carleton students created teams with anyone in the Carleton community—friends, floor or housemates, club members, etc. Each individual on the team made a personal commitment to reduce the waste they generated. These commitments ranged from avoiding food with packaging or any non-reusable waste, to simply switching from to-go cups in the dining hall to a reusable mug. The teams competed against each other to generate the least amount of waste throughout the two weeks.
To keep track of the amount of waste being produced, each team member collected their non-food waste in a bag that they carried around throughout the week. Teams attended periodic weigh-ins in Sayles Hill to track the waste generated over time.
The annual Climate Action Week kicked off with tabling by sustainability groups from the College and community, as well as a talk by J. Drake Hamilton, science policy director of Fresh Energy, a Minnesota organization dedicated to supporting practical strategies to reduce global warming and advance clean energy and transportation. Hamilton spoke about how we can promote using energy that ensures our well-being and the role we have as individuals in caring for the environment.
As Climate Action week continued, students attended talks, events, and discussions across campus. A friendly rivalry even emerged between two teams, representing Farm House and CANOE House, two of the interest houses on campus tailored towards students with an interest in sustainability and the intimate connection between humans and the environment. Ultimately, CANOE house was victorious, coming in second place behind the first place Avro team. Prizes were awarded to the top three teams, with the Grand Prize being a grove of trees planted in the group's name from Trees for Change.
The CCCE (Center for Community and Civic Engagement) team, finished in 18th place but took the challenge to heart. Staff leader Kelly Scheuerman, was adamant about making every possible change she could and inspiring her team to follow suit. Kelly sent encouraging emails including links to inspiring YouTube videos to motivate her team to continue their efforts.
Claire Kelloway '16 (Minnetonka, Minn.), member and student leader of the CCCE team, relayed her sentiments after the first day of the challenge.
"The first day was really easy, I didn't generate any waste except a paper towel and now I've started carrying a handkerchief. But now I'm partway through the second day and I've generated a lot of waste! I used up a house yogurt this morning, so now I'm carrying around that big container. It makes me wonder how accurate this challenge is, because in a lot of ways I've already produced waste by buying packaged goods; it's just a matter of time before they run out and then any non-reusable components become 'waste.' I've been trying to avoid using the last bit of something so that I'm not stuck with another empty container, but I realize that's not the point of the challenge. It's about thinking how you can avoid that packaging in the first place."
Claire's realization about how much forethought is required to avoid waste was a common sentiment across the CCCE team. Nathan Rockey'16 (Corvalis, Ore.) recognized very quickly into the challenge how much waste he was collecting by using the to-go cups in the dining hall for his coffee every morning. A friend on his team offered him a reusable mug and immediately upon making the switch, Nathan noticed a difference in the amount of waste he was collecting. This was a simple, realistic change that other Carleton students could easily make to reduce their waste immensely.
Kelly made even more drastic changes to her daily life during the challenge. She began requesting that her sandwiches and other foods be placed in her hand when she was eating out. She commented on how this was relatively easy to do at Carleton, where people understood what the challenge was. However, when she went on business trips outside of the campus, she would notice people staring in awe and confusion.
These side glances made her realize how much of our waste is produced by the need to be polite. A worker at a fast food restaurant insisted that Kelly should take napkins and other utensils so she could comfortably enjoy her meal. Kelly, trying to avoid unnecessary waste, had to insist that she was fine without the accessories. This simple action made Kelly realize how the way we look at food and our daily lives as a capitalist society must be changed in order to effectively change the amount of waste we produce.
Kelly and Nathan, along with Naomi Borowsky '18 (Hopkins, Minn.), another CCCE student participating in the challenge, began to understand the larger implications of the challenge after just a week of participation. Kelly commented on the social class issue that is hidden within our production of waste. Most people don't think twice about throwing out a napkin or paper towel because it doesn't end up anywhere near them. Out of sight, out of mind seems to be the attitude of our society today. But for those who are less fortunate than us, waste can end up in landfills in their backyard or nearby environment and can directly impact their quality of life. To realize that your actions, even actions as simple as taking a napkin from the dispenser at a restaurant, can directly affect others and the environment as a whole, was a profound moment for the CCCE team.
Despite the difficulties that the challenge presented, Kelly and the other CCCE members firmly believe that they will continue being conscious of their actions now that the two-week challenge has ended. For Nathan, it means continuing to use his reusable cup for coffee from the dining hall. For Kelly, it means asking for her sandwiches in her hand, despite the strange looks she receives. For the CCCE team as a whole, it means more than just adding waste to a small bag and weighing it every day. It means being aware of your actions and the knowledge that what you do matters.
To learn more about how to be sustainable at Carleton and reduce your waste, visit the Sustainability at Carleton webpage at go.carleton.edu/sustainability.
Team standings from the 2016 No Impact Challenge:
(weights listed are all in kg and represent the team's total waste weight from the two weeks)
1st: Avro: 0.23kg (3 people) Team captain: Ankita Verma '17 (Brookfield, Wisc.)
2nd: Canoe House: .2865kg (12 people) Team captain: Bex Klafter '18 (New York)
3rd: 2nd Musser: 0.3 (1 person)- Team captain: Noah Feldman '19 (Winston Salem, NC)
4th: Two Hue and Friends: .3256
5th: We Want a Star Named After Us: .3275
6th: Concave Elastic: .353
7th: Hot Muss: .425
8th: Tango-Faced Environmentalists: 0.44
9th: Awesome Sauce: 0.4454
10th: Divest Carleton: 0.46
11th: SAP Biophilics: 0.47
12th: 2nd Myers!!!: .5028
13th: Soft Waste: 0.52
14th: FARM HOUSE!: .5999
15th: Business Office Ladies: 0.6385
16th: Team Forks: 0.76
17th: Team Jacob: 0.78
18th: CCCE: 0.8325
19th: Team Edward: 0.8916
20th: Free Radicals: 1.085
21nd: Rare Wilde Women: 1.09233
22nd: Jayne P: 1.32