New artwork by Carleton faculty on display at Perlman Teaching Museum
Professors Kelly Connole, Jade Hoyer '07, Eleanor Jensen '01, David Lefkowitz '85, Stephen Mohring, Danny Saathoff and Xavier Tavera are featured in the exhibit.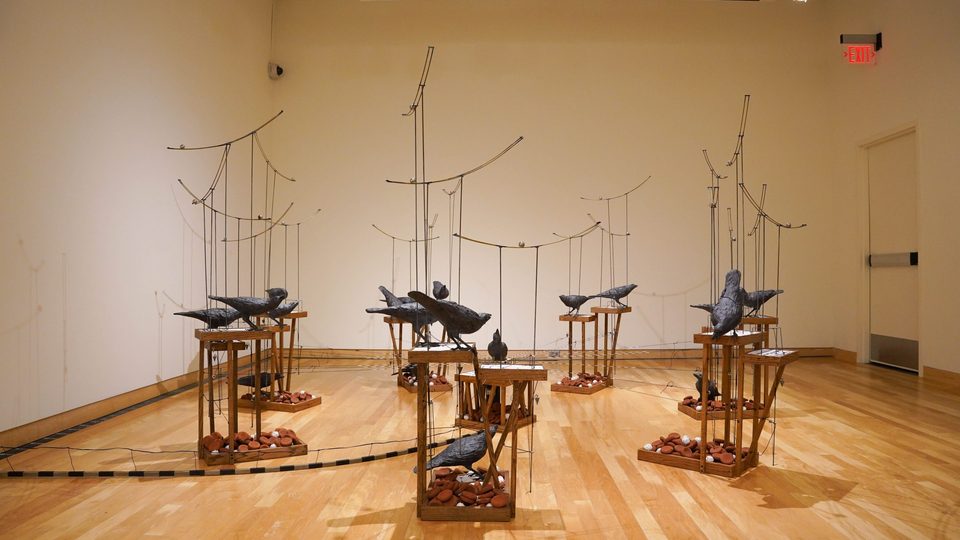 After entering the newest exhibit at the Perlman Teaching Museum in the Weitz Center, I was greeted by a variety of art differing vastly in size, medium and subject matter. A towering print of a nurse, a shimmering piece of golden driftwood dominating the floor, an array of ceramic cups fit for the palm of one's hand. The underlying current connecting them all is not evident by the works alone, but can be found in their creators. Uniting this art, and these artists, is Carleton—the exhibit presents work by Carleton faculty members Kelly Connole, Jade Hoyer '07, Eleanor Jensen '01, David Lefkowitz '85, Stephen Mohring, Danny Saathoff and Xavier Tavera.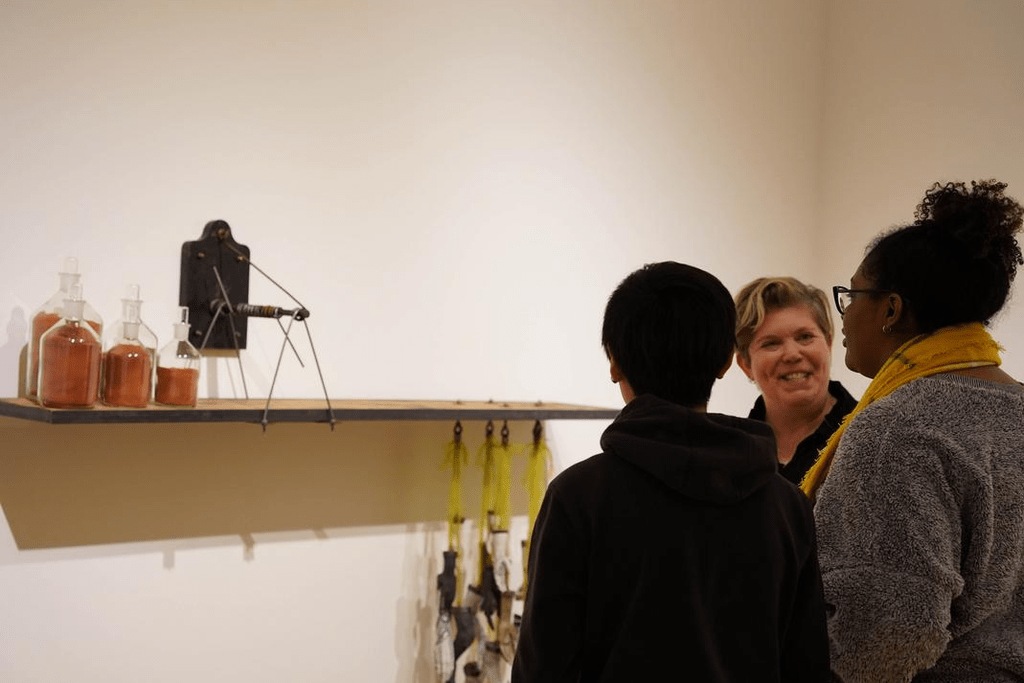 While displaying all new work, the concept behind the exhibit upholds an old tradition at the college. A defining feature of the Carleton experience is the tight-knit feeling of community found not only between students, but between students and faculty. From office hours to home dinners, students have the opportunity to deeply connect with their professors at Carleton, learning from them even beyond the classroom. The Perlman showcase purposefully builds upon this quintessential Carleton feature with its introductory statement, mentioning that "the museum stages an exhibit such as this periodically so that Carleton students have an opportunity to see their instructors' work at some point during their four years at the college."
Some faculty directly incorporated their time as professors into their work. Multiple artists expressed their experience of striking a proper balance between the demands of teaching art skillfully, while still nurturing the creative spirit unique to each student. Art is an intimate, personal process, yet the development of traditional skills can pave the way for greater success in artistic self-expression.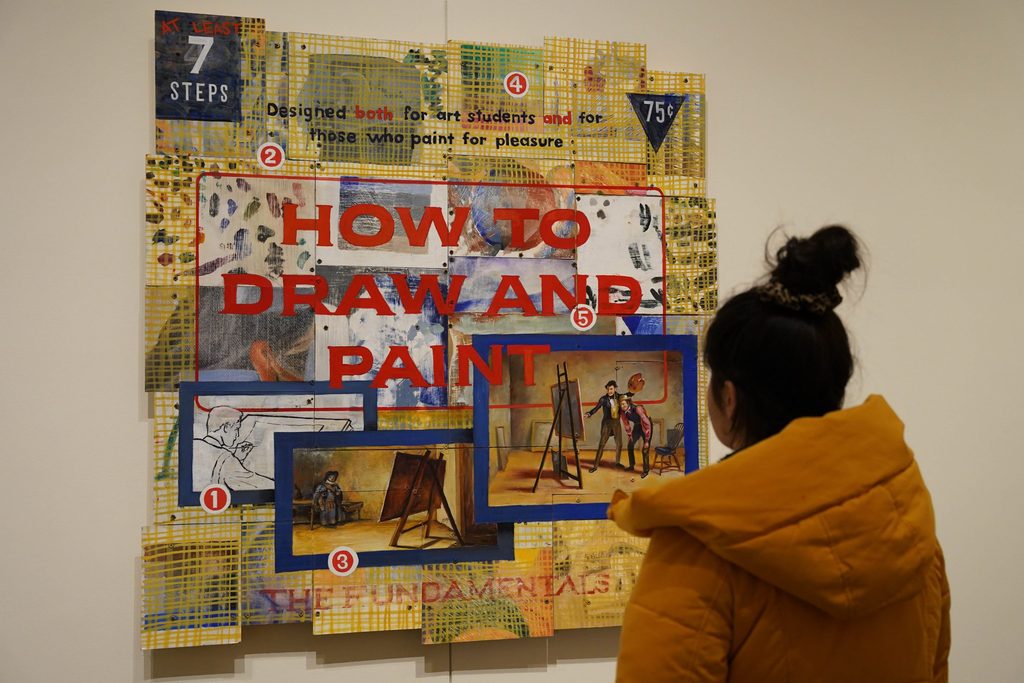 David Lefkowitz, a professor at Carleton since 1997, reflected on this in his artist statement: "As an art professor, I am immersed in the paradoxical task of helping students develop into artists. Art teachers struggle to find a balance between the introduction of strategies and systems designed to impart knowledge about artmaking and the encouragement of experimentation." 
In his work, Lefkowitz captured this sentiment through large "didactic" oil paintings which boldly present visuals from drawing manuals. Titles of these paintings include "How to Draw and Paint," "Theory (hovering) over Praxis" and "Color System Challenge." A deeper meaning is found in the physical foundation of these paintings as the work is superimposed on grounds made of discarded student exercises from beginning painting classes. The bridging of student and teacher experience is present in every aspect of Lefkowitz's work, even in the canvas.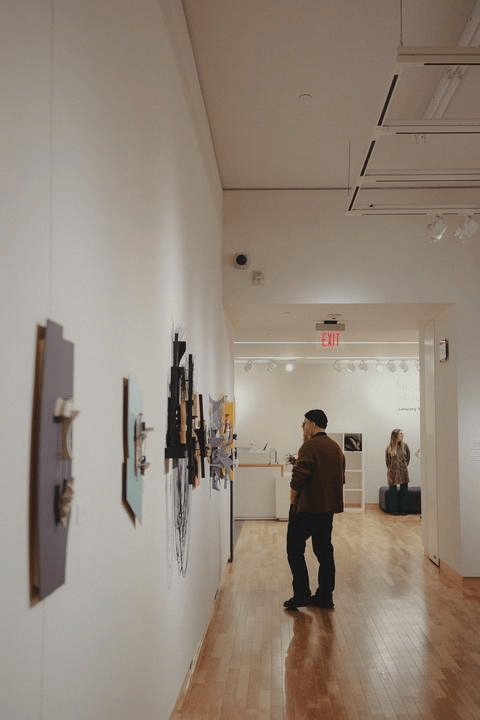 Danny Saathoff, a professor at Carleton since 2013, explored his experience as a member of Carleton's faculty through sculptural work. Saathoff focused on the experimental aspect of his teaching, writing, "As both an artist and educator, I often find myself distracted by new processes and avenues of exploration. This leads me down the rabbit hole of YouTube and internet searches, followed by hours of actual experimentation, some successful and some not. I am a contemporary jewelry artist first and my sculpture is an extension of the jewelry; however, my curiosity has led me to the fabrication of such items as kitchen utensils, light fixtures and boats."
Kitchen utensils can indeed be found in the exhibit through his copper, brass, tin, leather and wood work titled "Utensils," which greets guests in the entrance way. Another work included at the Perlman is a stunning sculptural jewelry piece. Framed by a tall, thin black backdrop, white shards and pearls are grouped together to form an arc. Turning to the artist's statement, I realized why I felt as if I'd seen it before. The piece, titled "Dissent: A tribute to RBG," pays homage to the late Supreme Court Justice Ruth Bader Ginsburg's iconic dissent collar that she wore with her official black robe when she presented dissenting opinions in court. The rest of Saathoff's pieces on display are similar, small and intricate sculptures, though the feelings they evoke are wide-ranging. From one with a bright salmon-colored backdrop titled "Layers of Courage," to a striking ovoid black sculpture titled "Gerrymandered," there is something for all museum-goers to consider and enjoy in Saathoff's work.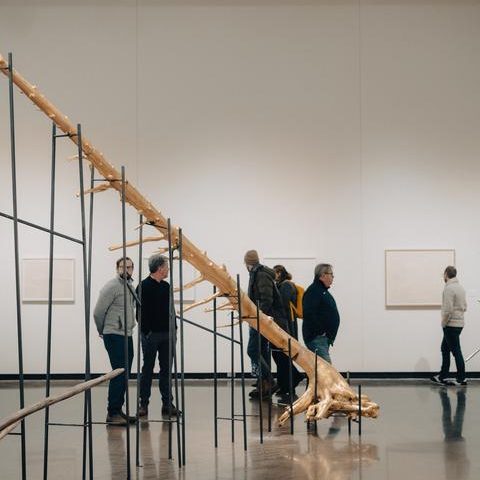 Another artist offers a different perspective of Carleton, one not of their experience as a professor, but simply as a person in awe of the beautiful nature in the college's Cowling Arboretum. Stephen Mohring, a professor at Carleton since 1998, is the creator of the large installation in the middle of the exhibit space consisting of logs coated with a metallic finish. Through his woodworking at Carleton, Mohring feels a special link to the Arb and relishes when students form their own appreciation for the area as well, writing that "witnessing students become aware of the beauty and wonder in the materials we so often take for granted (or see as transactional) continues to be a privilege." Mohring also reflected in his artist statement on how the process of coating each branch in metal leaf deepened his appreciation for the Arb. Describing the transformation as "driftwood to divinity," Mohring found that not only was the wood transformed into art, but he was transformed by the process of creating it.
"In this slow undertaking I wanted to honor these trees," he said, "to spend time with every square inch of their surface, to remind myself in their resurrection of my own transience."
The themes present in the exhibited work at the Perlman often stretch beyond the artists' identities as Carleton professors as well. With two of my professors presenting work of their own, it was exciting to see a side of them I was unfamiliar with, even in the very mediums they have educated me on—walking through the exhibit, I felt a blend of the known with the unknown.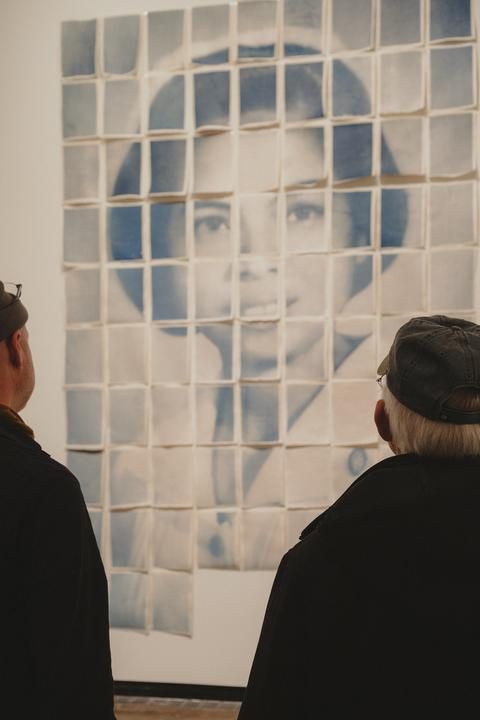 My current printmaking professor, Jade Hoyer, started teaching at Carleton in 2022. A towering portrait of her mother immediately demanded my attention upon entering the gallery space. Titled "Thank you / Salamat," the piece consists of many small prints placed together on the wall to form Hoyer's mother in her nurse's uniform. Hoyer provided context for the piece and a connection to the pandemic through her artist statement, writing, "My mom, like many Filipina women in the United States, is a nurse. At the onset of the COVID-19 pandemic in 2020, my mom treated COVID-positive patients before we had access to vaccines." A thoughtful tribute to her mother and the community of nurses who bravely carried us through the pandemic, even the amount of prints used in this piece hold meaning.
"The 84 sheets of paper in the work represent the number of Filipino and FILAM [Filipino American] identifying registered nurses who lost their lives to COVID-19," Hoyer said.
Like so many of the pieces in the Perlman exhibit, the subtle details and thoughtfulness in Hoyer's work educated me in multiple ways. With each piece I examined, I learned more about the artist and thought about how I could successfully use precision and thoughtfulness in my own creative process to achieve more layers of meaning.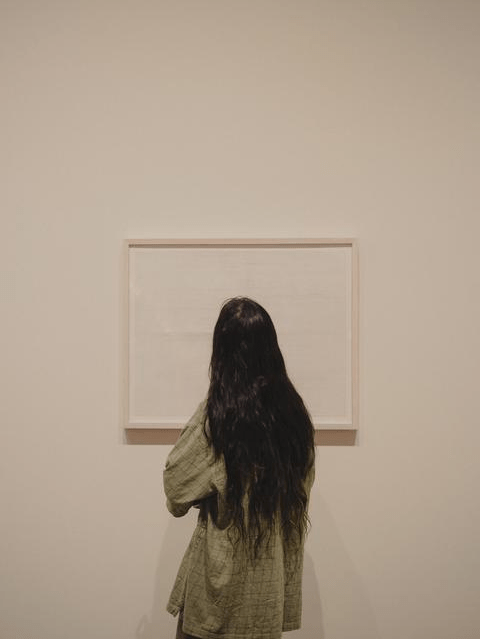 Eleanor Jenson, my field drawing teacher and a professor at Carleton since 2011, is displaying a series of delicate prints in the exhibit. Her prints depict vertical soil samples taken from prairies in western Minnesota. Thin, subtle lines quiver across the canvas and careful inspection reveals the layers of lines that fill the page. Not only depicting literal layers of soil, Jenson wrote that the process consisted of "a layering of material, growth and comprehension." She also reflected on the artistic process as a whole, writing, "My starting point for creative work is drawing in the field from observation; it helps me think about how we see and understand the places in which we live. Printmaking allows me to experiment with how a place can then be translated into an abstract image."
Many professors expressed in their artist statements a desire to inspire conversation through their work. Xavier Tavera, a professor at Carleton since 2021, produced large inkjet prints titled "Bullets I, II, III, IV" for the exhibit. The photographs depict bullets, distorted from impact and taken from homes in South Minneapolis, in magnifying detail. Every minute scratch, crinkle and scrape can be seen with the naked eye. In his statement, Tavera explained that the motivation behind his work was "to spark dialogue about deeper problems in South Minneapolis and for that matter, in the rest of the country."
Despite the macabre subject, Tavera is optimistic about what these conversations can accomplish, writing that "hopefully the conversation veers to a relevant aspect of the way we live today. Hopefully through better communication about these difficult topics we can find genuine compassion towards each other."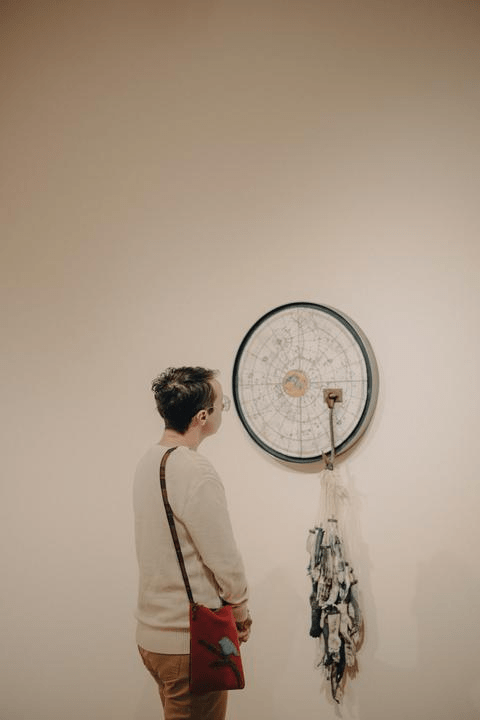 Kelly Connole, a professor at Carleton since 2004, is displaying multimedia pieces, including works titled "30 Deaths/Labor" and "Blood Balance." The former is a circular astrological map from which a blunt metal hook protrudes. An assortment of small clay hands, roughly painted black and white, hang from strings tied to the hook. The latter, "Blood Balance," is also strung with hands hanging from bright green yarn. These hands, however, are attached to a long wooden platform, reminiscent of a scale. On the opposite side of the platform sit a collection of jars in varying sizes, filled with locally sourced clay dust of a vivid burnt orange color.
Encouraging reflection of heavy themes such as race, death and time, Connole wrote in her artist statement, "I look for ways to hold the beauty of the natural world, kindness and love alongside the brutality of genocide, the impending climate crisis and the uncomfortable work of being human… With visual language as my mother tongue, I rely on symbolism and metaphor to tell stories of resilience, balance and fragility."
The combined efforts of Connole and Saathoff seen in their piece titled "Keeping Time" are a major draw of the Perlman exhibit. Connole's strings, clay and other elements common to her work are present and striking, and Saathoff's sculptural prowess all but hypnotized me. Their large apparatus is a feat in engineering as parts move through an endless cycle said to explore "time on a human and an astrological scale." Metal balls sway in thin metal arches as they rise and fall like deep breaths being taken and subsequently exhaled. Crows form small murders upon wooden platforms that serve as the base for each metal arc. The bases are filled with clay sculptures of red and white blood cells. Seven platforms in total congregate to form a circle around the engine, which propels all the moving parts through strings attached at crucial intervals. The fascinating work is made from wood, clay, paper, copper, brass, steel, porcelain, string and electrical elements.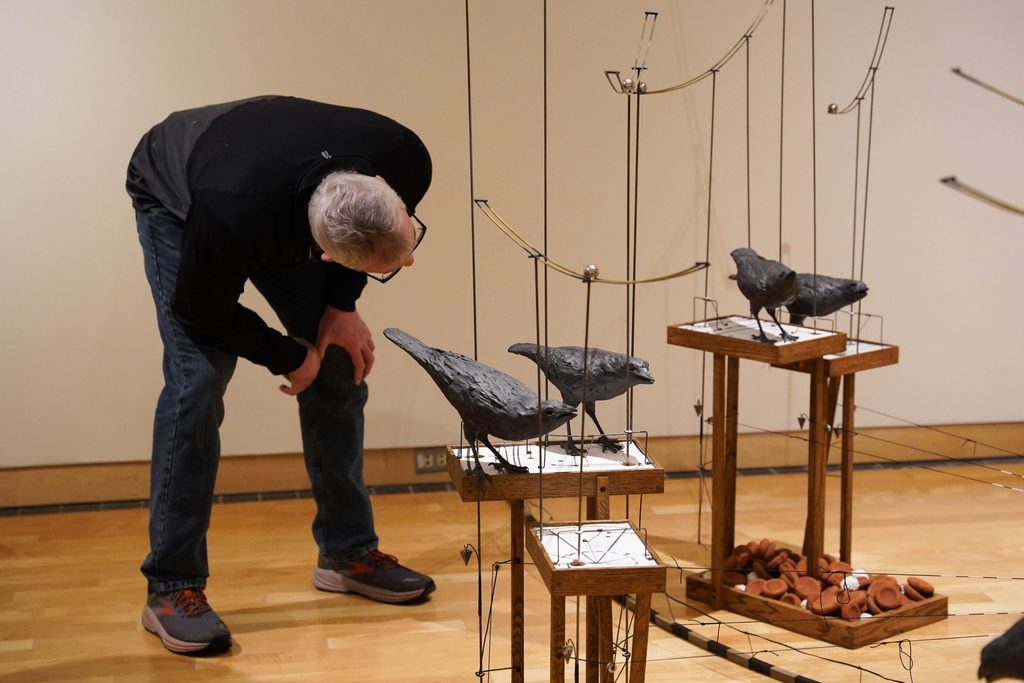 The Perlman's opening reception on Jan. 12 fostered an atmosphere where I could appreciate in real time the very conversations these works were meant to evoke. As the Carleton community celebrated these artists, I heard questions, answers and general musings in their bustling discussions. Students pondered the art together, heads turned in toward each other, and also had the opportunity to talk directly with the artists about their work, forming pools of rapt intrigue throughout the exhibit.
To engage further with their work, the artists are hosting a series of gallery talks. Lefkowitz and Tavera kicked off the series on Jan. 31, and will be followed by Mohring and Hoyer on Feb. 21 at 12 p.m., and by Jensen, Connole and Saathoff on April 11 at 12 p.m. The exhibit runs until April 16 at the Perlman Teaching Museum.