Justin London receives Lifetime Achievement Award from the Society for Music Perception and Cognition
Justin London is the Andrew W. Mellon professor of music, cognitive science and the humanities at Carleton.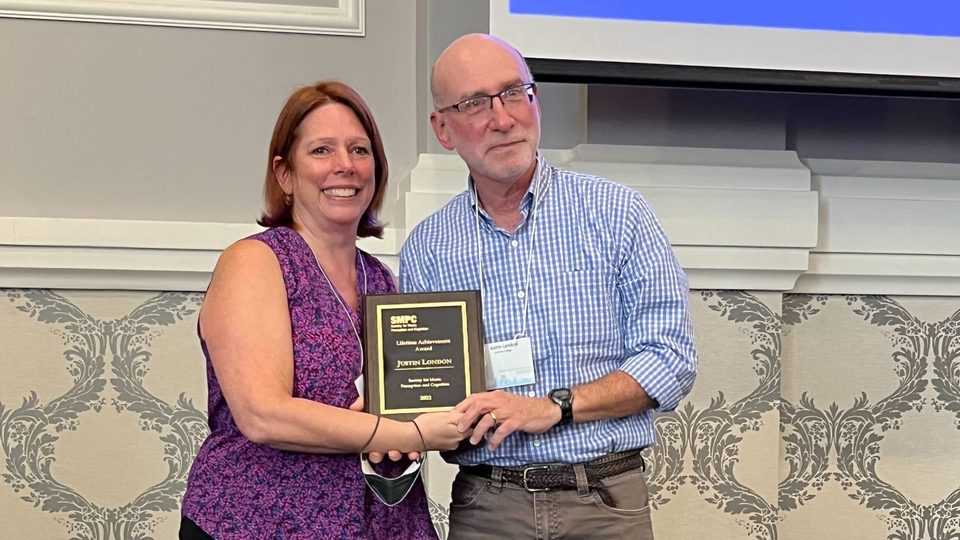 Justin London, Andrew W. Mellon professor of music, cognitive science and the humanities at Carleton, has received the Lifetime Achievement Award from the Society for Music Perception and Cognition (SMPC). It was presented to him by Leigh VanHandel, associate professor of music theory at the University of British Columbia, at the SMPC 2022 Conference in Portland, Ore. on Aug. 4. The award honors London's hard work and excellence in the field and grants him honorary lifetime membership within the society.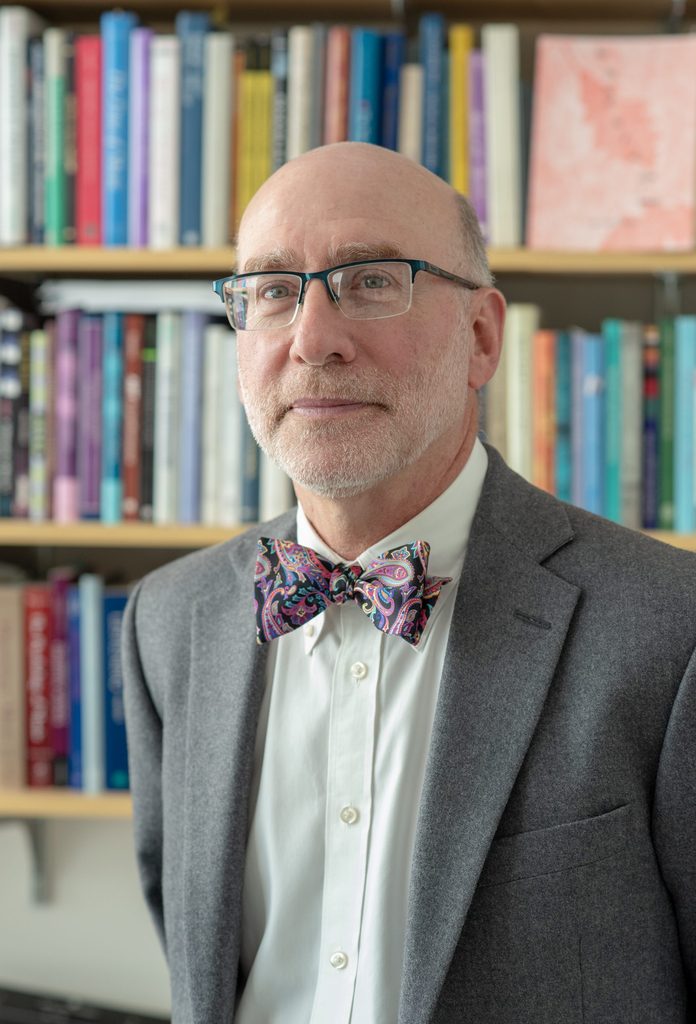 "Justin London's research combining music theory and music cognition opened the door for many music theorists to recognize how the disciplines overlap, and to help us find a home in music cognition," wrote VanHandel in her nomination letter. "His interdisciplinary work on rhythm and meter built interest in an area that previously received very little attention and is now flourishing. His book 'Hearing in Time' is a seminal text in both disciplines, and he has been a patient and generous mentor, sharing his time and knowledge, as well as his bow ties, with many."
In another nomination letter, Christopher White, assistant professor of music theory at University of Massachusetts Amherst, wrote, "For the record, Justin London is one of the most annoying readers to be assigned in a peer review. His responses are long and thorough, he provides a small library's worth of new citations with which to engage, and he is not shy about shining a spotlight on any methodological or logical soft-spots he sees… The worst part about these annoying hurdles and obstacles is that they invariably make the project stronger, more compelling and just better science. But perhaps Justin's most enduring achievement has been his support and mentoring of younger scholars. Personally, I have learned more from Justin than from any other senior scholar since graduating and beginning my career… He brings with him a combination of generosity, knowledge and high standards because he deeply believes in the field and in those of us who are following behind him. I see no one who deserves an SMPC achievement award more than Justin London."
London was "deeply honored and humbled by this award," and thanked SMPC in his acceptance speech for making possible the collaborations and scholarly exchange which led to the achievements the award seeks to highlight.
"When I first received the news of my award, I wrote back to the awards committee that I was 'gobsmacked,'" said London. "The awardees are chosen by a process of peer nomination, so I am especially grateful that a number of my colleagues saw fit to nominate me for this award. Moreover, as a researcher and teacher, one is always trying to live up to the high standards set by one's own mentors. A number of my mentors had also received this award, so I was especially pleased that my colleagues felt that I was worthy of their company—and that I had met their standards."
SMPC is North America's premiere professional organization for research in music psychology, music neuroscience and empirical studies of the human experience of music. In coordination with its sister societies in Europe (ESCOM) and Asia (APSCOM), SMPC hosts annual national and biennial international meetings and works to promote the field within the biological and social sciences. London served as SMPC's president for 2017-18.
For more information on London's research and teaching, visit his website.
---
Erica Helgerud '20 is the news and social media manager for Carleton College.