Jahmaine Renzo Yambing '22 receives prestigious Goldwater Scholarship
Yambing is one of 410 college students who received the scholarship from a pool of over 5,000 applications recognizing their outstanding academic achievements in science, technology, engineering and mathematics.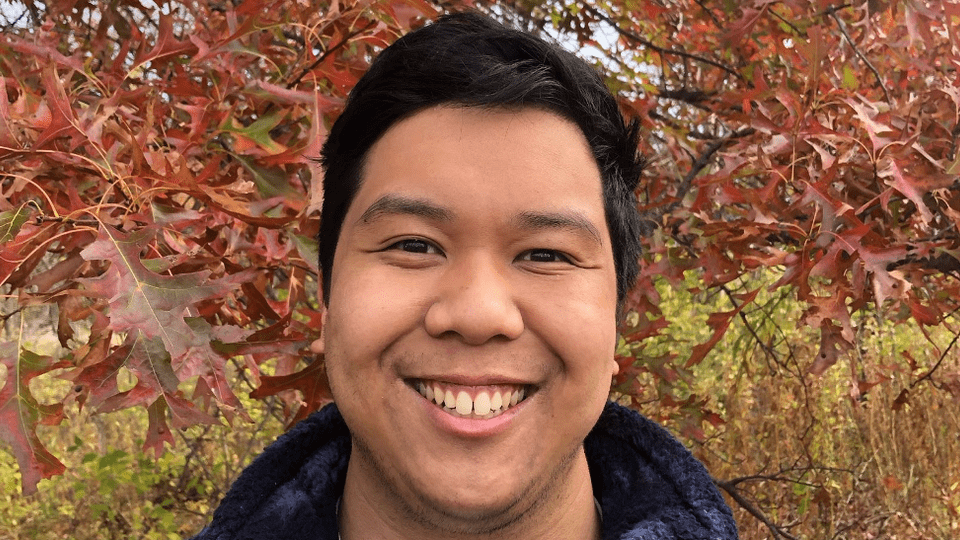 Geology major Jahmaine Renzo (Jaren) Yambing '22 from Rosemount, MN, has been awarded the Goldwater Scholarship for outstanding academic achievements in science, technology, engineering and mathematics.
Established by Congress in 1989 to honor the memory of Senator Barry Goldwater, the scholarship awards up to $7,500 a year to undergraduate sophomores and juniors across the nation. Students first participate in an inter-school competition to get nominated for the nation-wide pool of applicants. This year, 410 college students received the scholarship from a pool of over 5,000 applications nominated by 438 academic institutions.
For the centerpiece of the application — a three-page research paper on the applicant's field of study — Yambing wrote a proposal for research on carbon sequestration that he will conduct this summer with Carleton assistant geology professor Dan Maxbauer. Yambing will help pilot a new project in the agricultural fields of Carleton's arboretum applying silicate rock dust to soils in order to increase the rate of chemical weathering reactions which sequester carbon.
"I'm really interested in climate and human impacts on the environment," Yambing said. "What interests me is the application of geological principles to solve real-world issues of climate."
In addition to this research proposal, Yambing's previous research experience helped strengthen his application. Last summer, Yambing participated in a virtual Research Experience for Undergraduates (REU) at the American Museum of Natural History (AMNH). He worked with Dr. Nathalie Goodkin to investigate the stability of the North Atlantic Oscillation Tripole through Coral Sr/Ca proxies. Yambing explained that just as trees have rings that record seasons and the different conditions they lived in, corals behave similarly and can therefore be useful for understanding climate patterns.
Prior to working at the AMNH, Yambing participated in two externships over the winter breaks of 2018 and 2019 at the University of Minnesota Hobbie Lab run by Carleton alum Sarah Hobbie '86. This was Yambing's first taste of research and gave him the opportunity to work in a lab researching mycorrhizal fungi, which lives in the soil, and study how it interacts with the different nutrient pools in its environment. As part of this experience, Yambing was able to visit the Cedar Creek Ecosystem Science Reserve, which allowed him to experience the practical application of his research.
"A lot of times in science you might feel disconnected from the work you are trying to do, but it really wasn't until I visited that forest that I had a real sense of place and grounding about what my work comes from," Yambing said.
On campus, Yambing also works at the Carleton GIS lab under supervisor Wei-Hsin Fu on a variety of geospatial projects. In particular, he has enjoyed working on projects that give him a better spatial understanding of Carleton and the wider Northfield community such as mapping an area of Carleton's arboretum burned by a wildfire and partnering with the CCCE and local food shelf to map food insecurity in Rice County.
Alongside his interest in research, Yambing's application also covered his desire to become a professor. Yambing was first exposed to teaching in high school when he taught elementary students Chinese and created curricula. The summer after his first year at Carleton, Yambing taught in STEM for the first time as a teaching assistant with Carleton's Summer Quantitative Reasoning Institute (SQRI) program, which invites high school students to Carleton to learn about science. At SQRI, Yambing worked as a teaching assistant for professor Maxbauer, which helped spark their partnership and Yambing's interest in higher education.
"That was really critical in my development as a future scientist and teacher," Yambing said. "It was what really made me realize this is what I want to do when I grow up."
Since his experience at SQRI, Yambing has worked as a teaching assistant for several of professor Maxbauer's classes, including Carbon & Climate, Paleoclimate, and Intro to Climate.
"There is a really nice balance, especially at a liberal arts institution, between feeling the direct impacts of helping a student in real time but then also researching," Yambing said. "Wanting to better yourself and other people is something that is really part of education, and that is what I want to do. I feel that as a teacher you also re-learn a lot of things, and it gets ingrained in your brain more and more, which I think is really great."
Yambing said he is proud of having received the Goldwater Scholarship and excited to represent the field of geology, which is underrepresented in these big awards.
"I feel like geosciences might be a bit less appreciated because it's so interdisciplinary," Yambing said. "I think that's what makes it really interesting and important to understand. I feel very honored that I can represent not only our college and all the identities I have, but also the field."