International Festival celebrates multiculturalism on campus
Festivities showcase cuisines, exhibits and performances of international and domestic minority cultures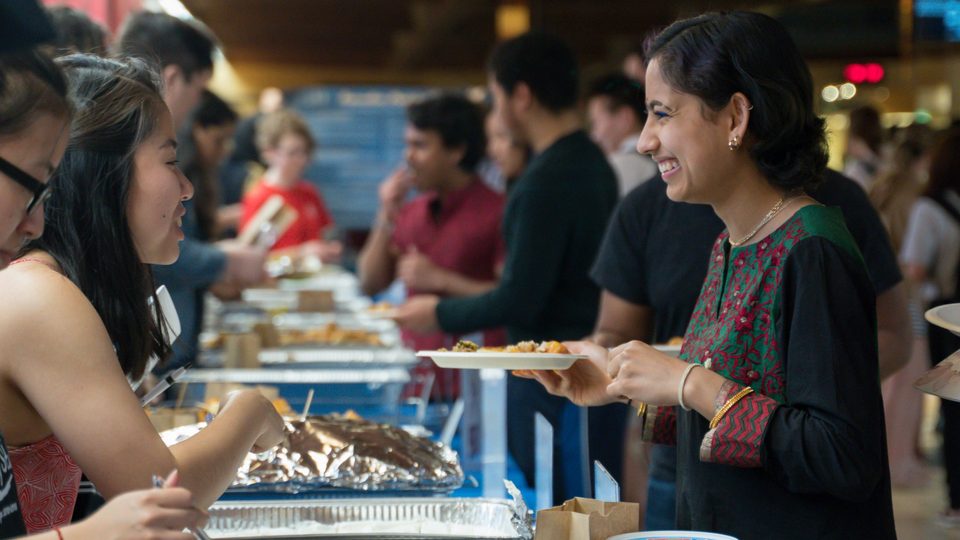 With more than 13 cultures represented and over 70 students involved, the 2019 International Festival, held May 4 and hosted by the Office of Intercultural and International Life (OIIL), attracted 433 festival-goers—one of the highest turnouts in the event's history.
Dubbed "Cultural Kaleidoscope: Celebrating Multiculturalism at Carleton," the festival featured food, music, activities and performances by students and student-groups representing various cultures on campus. The event serves as a platform for multicultural people to showcase their culture and talents to the Carleton community, and to celebrate diversity as the community continues to move toward inclusivity.
"The International Festival is the biggest event OIIL supports," said Brisa Zubia '05, director of OIIL. "[We] coordinate with student cultural groups in an effort to shine a light on the rich cultural diversity there is on campus and celebrate while exchanging cultural food and performance."
Performances
Performances included a traditional Indian dance, a Japanese comedy sketch, a Native American prayer recital, and K-Pop and J-Pop dances, amongst others.
One such performance was the traditional Soran Bushi dance by the Japanese Circle. Originating among fishermen in Northern Japan, the Soran Bushi dance was choreographed to imitate movements in the fishing process, such as ocean waves, pulling ropes and throwing fishnets.
For the performers, preparing the dance provided an opportunity to socialize and have fun with students with similar cultural backgrounds.
"I definitely had a lot of fun dancing as a group with all the members of Japanese Circle," said Hiromichi Ueda '21 (Japan).
For many in the audience, the performances provided glimpses into unfamiliar cultures.
"I think it's so cool that we get to experience these traditions," said Emily Christiansen '22 (Minneapolis). "We don't get this type of thing too often in Minnesota."
"I think that the performance is important in introducing a rather traditional part of Japanese culture as people tend to be familiar with anime and movie-related aspect of the culture," Ueda added. "The costume of blue Happi (a traditional short-sleeve coat worn for festivals) and Hachimaki (a stylized headband) especially provides a good sense of Japanese festive atmosphere, and the coordinated dance in addition to the uniform outfit present the virtue of a cooperative collective."
Celebrating domestic minority groups
Despite the name "International Festival," the event also involved various domestic minority groups, including domestic people of color and the LGBTQ+ community.
"The title can be misleading to some, but the celebration of personalities, talents, interests and so many other characteristics are at the core of the festival," said Mike Hodges, assistant director of OIIL.
The QTPOC (Queer, Questioning, and Trans People Of Color) group's spoken word performance is one such example. Through the telling of their unique narratives, group members attempted to give visibility and voice to the often neglected experience at the crossroads of two minority identities.
Kevin Tran, one of the leaders of QTPOC, said, "These excerpts are not representative of QTPOCs as a whole, but we wanted to provide a glimpse into our unheard narrative."
Cultural exhibit stalls
This year for the first time, the International Festival incorporated "cultural exhibit stalls"— spaces where organizations could share fragments of their cultures in a creative and interactive way. Visitors experienced German culture, Indian Henna arts and Chinese calligraphy in these stalls.
Visitors to the Chinese calligraphy stall painted traditional natural landscapes onto folding fans. Traditional Chinese art largely focuses on nature scenes and features different materials (Xuan paper, ink brush and pigments) and brush strokes than Western painting.
"Creating cultural art is a great gateway to traditional Chinese culture," Yingying Wang '19 (China) said. "Chinese calligraphy is one of the oldest continuous artistic traditions and is still practiced today. I was happy to see many students interested in participating in [our stall]."
The cultural stalls also offered opportunities for reconnecting with one's own culture.
"I did mostly acrylic painting and oil painting before, but I definitely feel the need to learn the traditional art of my culture," Wang added.
Senior reflections
For one senior, the success of this event evoked bittersweet emotions. Bonny Lee '19 (Indonesia) poured his heart into the success of his final International Festival—an event he has been involved with since his first year on campus. This year, in addition to leading the planning committee and serving as one of the MCs for the event, Lee worked with the sound engineers, helped with the Korean Student Association cookout and performed two acts: a song with his band the Cold Rice Party and a dance with KRUSH, one of Carleton's K-Pop dance groups.
"Being an international student, the International Festival has always been especially important because it is a grand celebration where I can showcase little bits and pieces of my culture and in which everyone at Carleton is welcome and involved," he said.
"I think this year, the fact that I took part in preparing and organizing the event also gave it another layer of emotion," he added. "When we were finishing up with soundcheck and a queue started to form at the ticket booth, I thought to myself, 'Oh my God, it is really happening. Our baby, our little baby. It is all coming together.'"
Lee emphasized that the success of this festival was in large part due to the efforts of his colleagues on the planning committee and OIIL.
"Huge shout-out to the International Festival Planning Committee, and also to Shamir [Kansakar '14] and Mike [Hodges] from OIIL for all their help," he said. "Without them, truly nothing was possible."
In fact, it was the planning committee that brought a few major changes to this year's International Festival that they believe contributed to the event's success.
The group moved the festival to the Sayles Great Space (it was previously held in the Weitz Center for Creativity and the Great Hall), worked closely with Bon Appetit to feature cuisine from various cultures in the dining halls in the week leading up to the event, and introduced stalls for cultural exhibits. Moved by the festive mood and the event's success, committee members could not contain their excitement.
"I'm so happy that all of our planning came to fruition," planning committee member Ankit Sanghi '21 (India) said. "I'm so, so hyped!"
Win Wen Ooi '22 (Malaysia), another committee member, added, "We're really flexing our cultural diversity today."
Hodges said he believes the International Festival will continue to change and grow.
"[The festival] will continue to evolve because of the world in which we live in," he said. "As the country and world continues to be more diverse, so will Carleton."