Innovation Scholars cohort from Carleton presents research for Mayo Clinic
Carls studying biology and economics united to bridge the gap between scientific breakthroughs and entrepreneurship.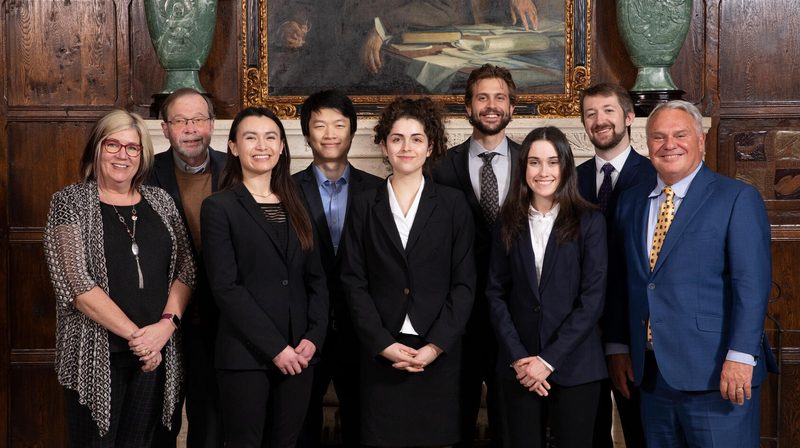 On March 3, 2023, Carleton's cohort of Innovation Scholars visited Mayo Clinic in Rochester, Minn. to present research they'd been working on since October 2022. Led by Matthew Skoglund, an MBA graduate student from the University of St. Thomas, Carleton's team consisted of Olivia Corbo '24 (economics major, French minor), Kevin Phung '23 (computer science and economics double major), Caroline Saksena '23 (biology major, neuroscience minor) and Neda Tehrani '23 (biology and studio art double major). The team's campus mentors included Assistant Professor of Economics Ethan Struby, Professor of Biology Matt Rand, Herman and Gertrude Mosier Stark Professor of Biology and the Natural Sciences Debby Walser-Kuntz and Visiting Scholar in Economics Bruce Dalgaard, along with Administrative Assistant in Economics Sara Nielsen, who also serves as coordinator for the program.
The Innovation Scholars Program is nationally recognized for its experiential approach to learning that engages teams of liberal arts students in the complex processes of translational medicine, taking an idea "from the bench to the bedside." Tehrani, for example, expressed how her "favorite aspect of the program was how interdisciplinary it was." This unique opportunity, exclusive to students from Minnesota private colleges and universities, is supported by participating colleges and universities along with project partners Mayo Clinic and Medical Alley.
Each school team, made up of four undergraduate students and led by a master's level graduate student, has three main objectives: "To assist Mayo Clinic's Office of Intellectual Property in the evaluation of new product submissions by Mayo inventors; to provide research internship opportunities for undergraduate science and business students; and to provide leadership development for graduate students."
Nielsen noted how this program serves as a "great opportunity for students of different disciplines to work together." Students also further expanded their critical thinking skills by embarking with minimal structure, as they aren't given too much information about the project and must do their own research.
From the end of October to early March, Corbo, Phung, Saksena and Tehrani invested over 150 hours each into the team project, earning themselves a $1,500 stipend. The schedule was intense, with students also logging significant hours over Carleton's six week winter break. The College's trimester system puts seniors' comps deadline within a week of the final due date for the Mayo Clinic research paper, so students become very adept at "juggling a lot of balls," according to Nielsen.
A testament to this, Tehrani shared how "organization and planning" were skills she grew to "deeply value" through the project. She described how she developed these skills from the support system ingrained in the structure of the program.
"Our MBA team leader, Matthew, started each meeting with a clear agenda in mind," Tehrani said. "Early on, he established a timeline for project completion. He kept us on track and ensured our communication was open at all times. Now that I've participated in this program, I feel more prepared to work on extended projects and apply the same organizational and communicative skills."
October 27, 2022 marked orientation for this year's cohort at the Mayo Clinic, where they received an overview of the program; reviewed roles, responsibilities and best practices; and met with their team and Mayo Project Manager. The group also had the opportunity to meet with physicians for over an hour, discuss with researchers the desired output of the project, tour the lab space and gain a deeper understanding of Mayo's philosophy.
What makes this program particularly intriguing is the real-world problems students tackle. Not limited to textbooks and lab assignments, Innovation Scholars "engage in real time" on projects identified by Mayo Clinic and early-stage biomedical companies from Medical Alley, analyzing innovations submitted by researchers and making recommendations on next steps. Projects contain actual challenges associated with development and commercialization of innovations in healthcare.
"[The team] felt comfortable with the challenge presented by Innovation Scholars, because it involved the same critical thinking and problem solving techniques we use in class," Tehrani said. "Science professors at Carleton love to connect class material to real world applications, and that familiarity definitely helped us through the research process."
The small group brought together a vast array of majors and minors—with a focus on biology and economics—making it easy to hone their interdisciplinary perspectives. The students also made sure to foster a collaborative community and supported each other at every step of the process.
"Though economics and biology may seem like two fairly distinct departments," Tehrani said, "we were constantly sharing information and helping each other."
"The economics students didn't know much about the medical side [and] the biology students didn't know about patenting and business plans [at the beginning of the project]," Nielsen added. "By the end, they are all very familiar with all aspects of the project." Their various backgrounds, when brought together, allowed them to successfully explore the "intersection of science, healthcare and entrepreneurship" found when focusing on "challenges associated with commercialization of healthcare innovations, products and ideas."
Because Innovation Scholars engage with modern topics, their projects evolve each year with the ever-changing landscape of healthcare innovation. This time around, Carleton's team worked on a biomedical tech transfer project originated from Mayo Clinic, with a focus on an innovative treatment for congenital disorders of glycosylation.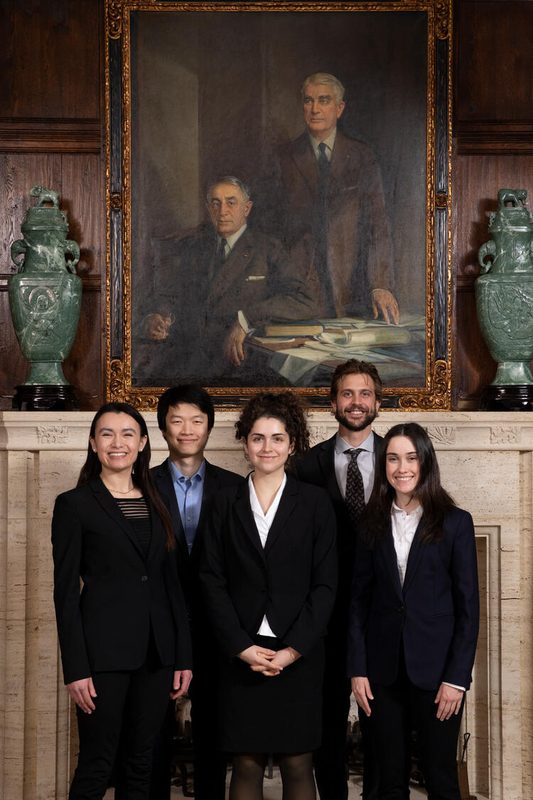 "This year's project was heavily rooted in biochemistry," Tehrani said. "I spent a lot of time going back to concepts I'd learned from biology courses, especially biochemistry, cell biology and genetics. Because the goal of Innovation Scholars is to determine the most appropriate next step for a technology—beyond the laboratory—we spent a lot of time reading scientific papers to figure out what was possible for our group's technology."
The hard work of Corbo, Phung, Saksena and Tehrani culminated in a presentation to Mayo Clinic licensing managers and innovators of a final recommendation in the form of a business plan. All three of the researchers whose work directly inspired the team's project were at the presentation and shared feedback with the team, including that they were "quite amazed at the presentation." The team also benefited from hearing presentations from other teams of Innovation Scholars.
Nielsen reflected that the most rewarding aspect is seeing the students evolve during their time in the program.
"I see these teams at the very beginning when they don't know a lot or have a lot of direction," she said. "They come back in January with their first oral presentation and by the second or third presentation, it is amazing to watch them grow."