Impossible Germany: Speaking German as a Career Tool
The German Department & the Career Center hosted a session on the importance of speaking foreign languages.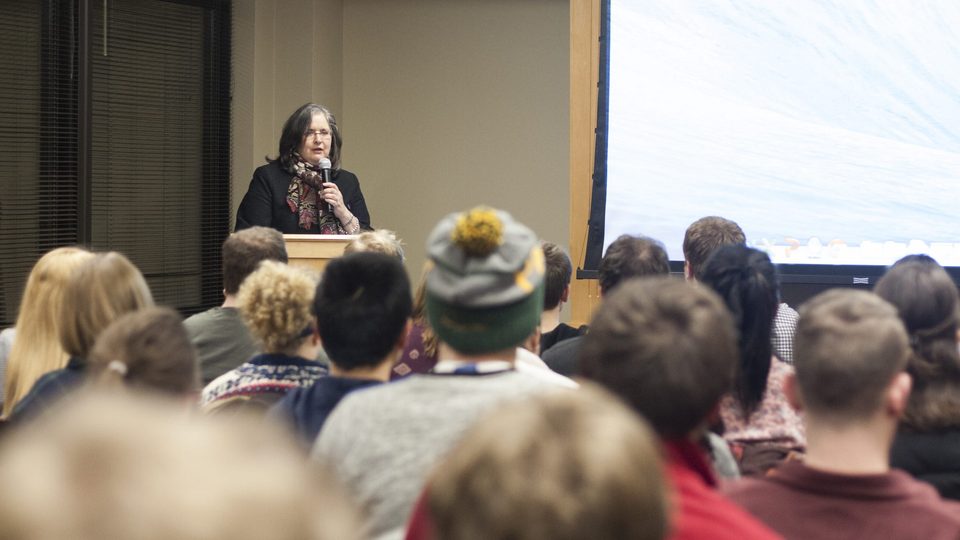 "You can't access a culture except through language, but you can't access a language without its culture. You have to have both." – Christa Tiefenbacher-Hudson
Impossible Germany, an event sponsored by the German department and Career Center, gave students a glimpse into the vast array of career possibilities that learning a language, specifically German, opens up. Christa Tiefenbacher-Hudson, the honorary consul of the Federal Republic of Germany, and Carleton alums Diane Bell '85 and Eric Schwarzkopf '82, shared their experiences in Germany and their views on the strong economic value of learning the German language.
Christa Tiefenbacher-Hudson, a native of Germany, is co-founder and managing director of TripleInk, a multilingual marketing communications company in Minneapolis. Tiefenbacher-Hudson works to promote German and American relations and was a founding member of the Midwest chapter of the Germany-American chamber of commerce. A knowledgeable and passionate proponent of the German language and its relation to America, Tiefenbacher-Hudson shared her story of how speaking German can propel a career. Consult Hudson began by discussing the importance of language in connecting people:
"Learning German is important for the connection between our two countries: Germany and the United States. This connection, and these trans-atlantic relations go back many hundreds of years. German immigrants came to this country before there was a United States of America, and the United States of America helped shape modern Germany…."
Tiefenbacher-Hudson stressed the importance of language in careers, highlighting Germany's role in international business and technology. International business and trade is the bedrock of the German economy, and Germany is host to some of the largest trade fairs in the world. Every April, Hanover hosts a trade fair where companies from all around the world sign millions, if not billions, of dollars of contracts. Tiefenbacher-Hudson discussed the importance of being bi-lingual in international relations like these:
"While English is one of the official languages, the American business people usually speak only English. Can you imagine how many conversations, and thereby, how many deals, they may be missing out on? Language connects people, and that's why it's so important for people who are engaged in international relations, whether it be business, cultural, or political, to learn other languages. It gives you much greater insights into what motivates your international partners and how they think. When you study German at a college like Carleton, you will surely take a holistic approach to learning the language, one that encompasses both the language and the culture."
Tiefenbacher-Hudson highlighted the abundance of opportunities available in Germany's booming economy, along with its established relationship with the United States. Whether you are considering a career in business, science and technology, or cultural entrepreneurship, affiliates of German companies create over 10,400 high-paying jobs in Minnesota alone.
Carleton alum Diane Bell '85, a German-American, continued Tiefenbacher-Hudson's description of the opportunities that learning German can create in your future career. Bell studied German at Carleton and minored in Spanish. She continued her studies of German after graduation with a Fulbright scholarship, with which she studied the vast array of German dialects. Bell currently works as principal of the Bell Marketing Group in Minneapolis.
As a German major at Carleton, Bell was often asked what she was expecting to do with her major after college. An experience studying abroad in German sparked Bell's interest in how language connects people and how everyone has slightly different ways of speaking, even within the same language. Bell took an industry job with Honeywell after completing her Fulbright year. She states that she was hired for the job primarily because of her German knowledge, demonstrating the attainability of the 10,400 jobs that Consult Hudson stated are available to you in Minnesota, if you know German.
Bell conveyed the utility of knowing German, discussing how German had opened up several career opportunities for her. Not only did German provide an entry into careers, but the careers that she chose helped her German as well:
"My German became very sophisticated at a business level and I learned a couple lessons. The first lesson: all business is global. You have to think global, but act local…It's all about expanding your toolbox so that you're more marketable. If you speak German, you'll be indispensable."
The last speaker of the night, Carleton alum Eric Schwarzkopf '82, is currently a senior engineer at MTS systems. Schwarzkopf calls himself a "fancy blacksmith" and discussed the presence of German in his work and the economic value it has at MTS. Schwarzkopf echoed both Bell and Hudson in describing the importance of knowing another language, specifically German, when determining your future career:
"It gives you credibility if you speak the local language. I'm not fluent in German. At Carleton, I just wanted to get my language requirement finished and get out. I knew I was good at math and science. But I soon realized that I didn't just want to be a scientist, I wanted to touch a bit of everything and work in between things. At MTS, I work between marketing, development, sales, and post-sale servicing. I have a finger in each of those pots."
The flexibility and diversity of Schwarzkopf's skills make him a critical part of MTS and a vital part of the workforce. Schwarzkopf represents how students at Carleton, and in general, can return to their language and use it to their advantage when looking for employment. He credits his knowledge for German as helping him be a necessary commodity within the workplace.
The event showcased and presented learning German as a career tool, providing inspiration and motivation to the students at Carleton to get out there and learn a language. If you are interested in studying German at Carleton, visit the German Department website. Follow the links on the homepage for information about classes offered at Carleton, along with study abroad programs in Germany.