Gus Holley '20 wins top honors for his musical performance in China
Gus Holley '20, a rising junior at Carleton College from Moorhead, Minnesota, became the first foreigner ever to win the gold medal at the Liao Yuan Cup International Pipa Competition,…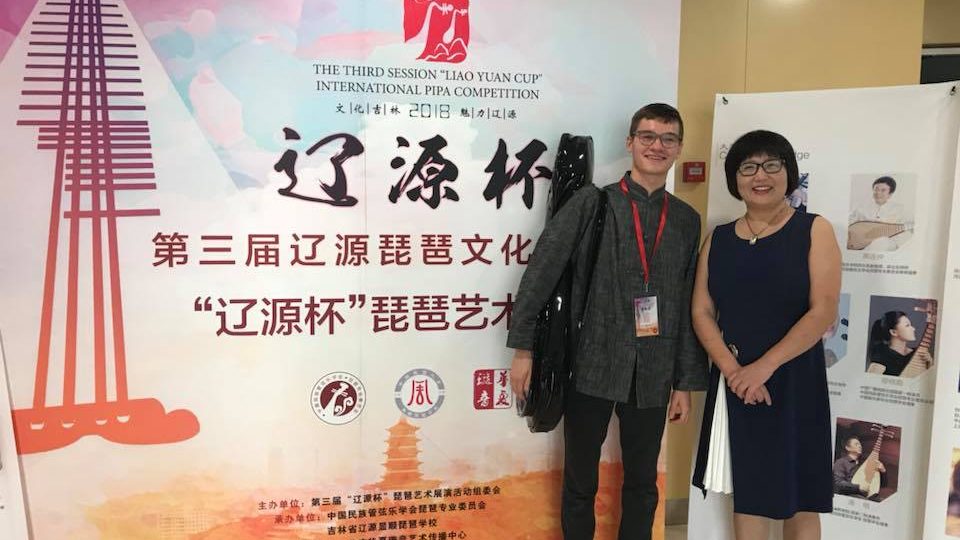 Gus Holley '20, a rising junior at Carleton College from Moorhead, Minnesota, became the first foreigner ever to win the gold medal at the Liao Yuan Cup International Pipa Competition, considered one of the most important pipa performance competitions in China. Over two thousand pipa players came from all over China to compete in Beijing, with Holley taking top honors among non-professional performers.
The pipa is traditional Chinese plucked string instrument, sometimes called a Chinese lute.
Majoring in both Asian Studies and Music, Holley is also a member of Carleton's award-winning Chinese Music Ensemble, directed by Gao Hong, a world-class pipa player and composer and Senior Lecturer in Chinese Musical Instruments at the college.
Gao Hong, along with Holley and fellow students Lia Spencer '18 (North Mankato, Minn.) and Yiqing Yu '21 (China), spent two months this summer in Quanzhou, China, thanks to the support of the ASIANetwork's Freeman Student-Fellows Program.
Centered on a research trip to China, their project was designed to document how musicians in the city of Quanzhou maintain and preserve nanyin, a genre of Chinese classical music local to the Fujian province. Working with Gao, the three student participants had the opportunity to improve their Chinese language skills, further develop their musical abilities, transcribe music, interview the local people working to preserve nanyin, and develop a website to document the project. And in Gus' case, also take top honors in an international musical performance competition!