Fred Hagstrom's 'January 6' artist's book placed in Smithsonian American Art and Portrait Gallery Library
Hagstrom is Rae Schupack Nathan Professor of Art, emeritus at Carleton and created the artist's book around the congressional testimony of four police officers who fought against the January 6, 2021 insurrection at the U.S. Capitol.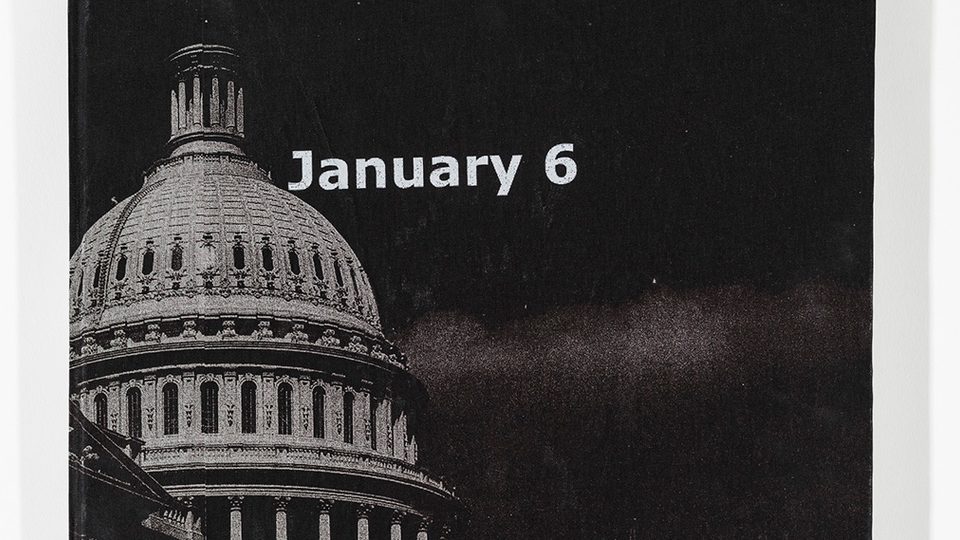 The main element an artist needs to create a great artist's book is a great text, according to Fred Hagstrom, Rae Schupack Nathan Professor of Art, emeritus—and after he heard the congressional testimony of four police officers who fought against the January 6, 2021 insurrection at the U.S. Capitol, he knew he had one.
Published by Strong Silent Type Press in 2021, Hagstrom's "January 6" features excerpts from the powerful accounts of four police officers—Harry Dunn and Aquilino Gonell of the U.S. Capitol Police, and Michael Fanone and Daniel Hodges of the Washington, D.C. Metropolitan Police—given before the January 6 Committee on July 27, 2021. Iconic photographs taken on January 6 accompany every excerpt, courtesy of the Getty archive.
Hagstrom was particularly moved by Gonell's testimony, so when he completed his 22-edition run of his artist's book, he sent a copy to the officer. After receiving it, Gonell asked Hagstrom to send personal copies to the other three officers and had the idea to gather all of them together to sign an additional copy to send back to Hagstrom. Realizing how special that particular piece of art had become, Hagstrom knew he "wanted the signed copy to go to a significant collection." His art dealers came through, and it was purchased by the Smithsonian to be placed in its American Art and Portrait Gallery Library in Washington, D.C.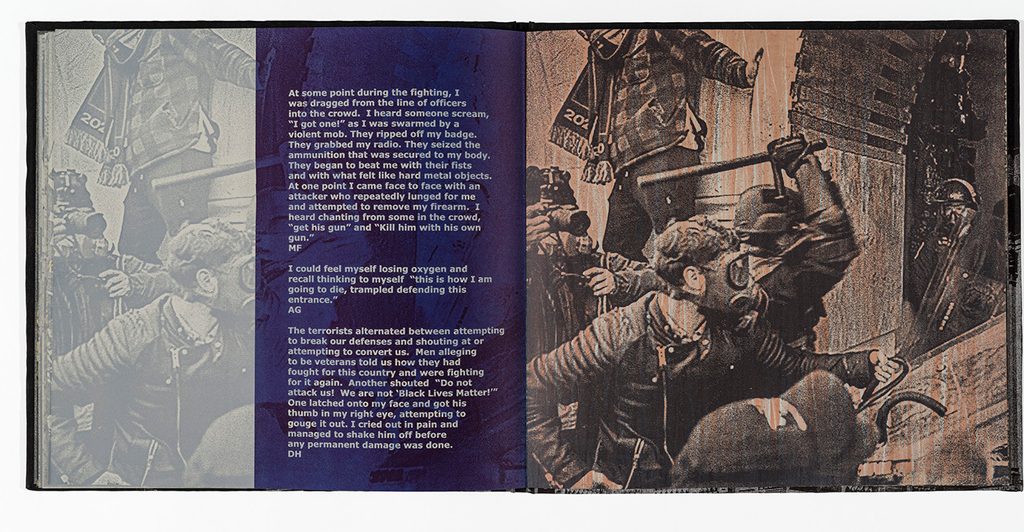 Hagstrom and Gonell became pen pals of a sort through the creation of the artist's book, which Hagstrom found "particularly rewarding," since it's unusual to have such a personal relationship with the people interacting with his art. Although, even when he doesn't have that experience, he still sees his art as a form of personal connection.
"I look at these books like they're a kind of intimacy across space and time," Hagstrom said. "Somebody I don't know has got one of my books open somewhere and they're paying attention to things that I found or said or made. I don't know that it's happening in the moment, because they're like messages in bottles, right? But it is happening, and I really like that."
Hagstrom came to Carleton in 1984 primarily to teach printmaking, and artist's books are an extension of that art form for him. For those without much experience in printmaking, Hagstrom suggests thinking about making an artist's book as analogous to making a movie, because it's an extended process of telling someone's story.
"The rhythm of the book, which is the interplay between text and image, is really important," Hagstrom said, "but just as important is the cover, because that is your entrance to the book. Then when you first open it, there's the glue-in page, which clues you into the ideas of the book before you even start reading… I recently gave a talk at the University of Tennessee, and I was telling the students that some artists can do really potent political stuff in a single image. I can't do that very well; I think it comes off as cliche. But if I have an extended form, like a book, especially if I can use people's words, then I think I can do something that has a little more depth."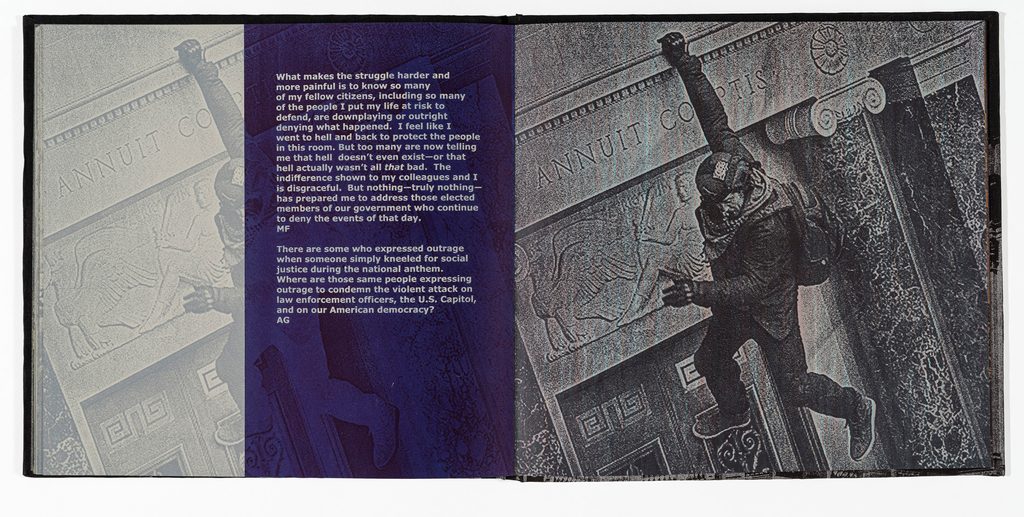 Hagstrom's "January 6" certainly has that depth. He quotes the officers directly as they make clear how much they endured during that day, and after. They also make the point that people should be held accountable for having prompted or participated in the events.
"Despite being outnumbered, we did our job," one piece of testimony reads. "Every member of the House of Representatives, Senator, and staff member made it home safely. Sadly, as a result of that day, we lost officers—some really good officers. We are not asking for medals or even recognition. We simply want accountability and justice. For most people, January 6 happened for a few hours that day. But for those of us who were in the thick of it, it has not ended."
"January 6" isn't the only artist's book from Hagstrom that focuses on social or political issues, even if it is his first to reside in the Smithsonian. "Deeply Honored," his artist's book about Carleton alum Frank Shigemura '45, was his first to feature that particular kind of commentary.
"That book is really important to me, because a lot of Carleton people don't know the Frank Shigemura story very well," Hagstrom said. "In creating the book, I kind of became the caretaker of that story."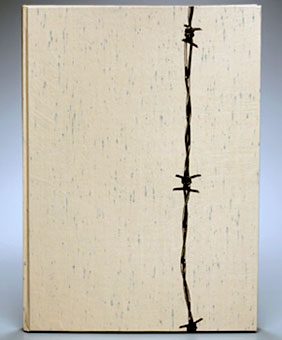 Shigemura came to Carleton thanks indirectly to John Nason, who graduated from Carleton in 1929 and became Carleton's president in 1962. Between those years, while he was Swarthmore's president during the height of World War II, he helped found the National Japanese American Student Relocation Council (NJASRC), which compelled colleges in the Midwest and East to offer scholarships to Japanese American students in order to help them escape federal internment camps. Carleton brought in 12 students from that program, the first being Shigemura, who tried to enlist in the military to fight in World War II while he was a student. The local draft board, however, wouldn't take him because he was Japanese, so one of the Carleton deans at the time spent the whole academic year writing "progressively nastier letters" to the army to get him in, according to Hagstrom. Shigemura finally did get to enlist thanks to the efforts of that dean, and ended up serving honorably in the 442nd before being killed in that regiment's most famous battle.
After the war ended, Carleton created a remembrance booklet honoring the 54 Carls who died in World War II, and sent it to their families. Mrs. Shigemura wrote back to the school expressing her deep appreciation and her desire to pay for the publication of more copies. She started sending money to Carleton every year, eventually establishing enough to make the Shigemura Scholarship, which still exists today.
"President Gould then discovered that the Shigemuras were living in almost complete poverty in a one room apartment with no furniture and giving all their money to Carleton," Hagstrom said, "so he wrote these letters trying to talk them out of any more donations. Eventually Nason becomes president of Carleton—and of course he's the reason Shigemura even got to go to Carleton in the first place—and he gets this letter from a lawyer that says, 'Mrs. Shigemura wants to make a final bequest to the school, but she doesn't have any money. What do I do?' It's like a movie, right? It's this fantastic story that not enough people know about."
Although "Deeply Honored" mainly concerns a man and his mother who both passed away long before Hagstrom knew their names, it inspired a similar personal connection for him to the one sparked by "January 6." After "Deeply Honored" was published, Hagstrom gave a talk about it in Seattle, and every Shigemura relative who could attend did so. He also met a different Japanese American family through his work on the book, the Kashinos, whom he is still in touch with and who inspired another artist's book on the horror of Japanese incarceration in the U.S. titled "Returning Home."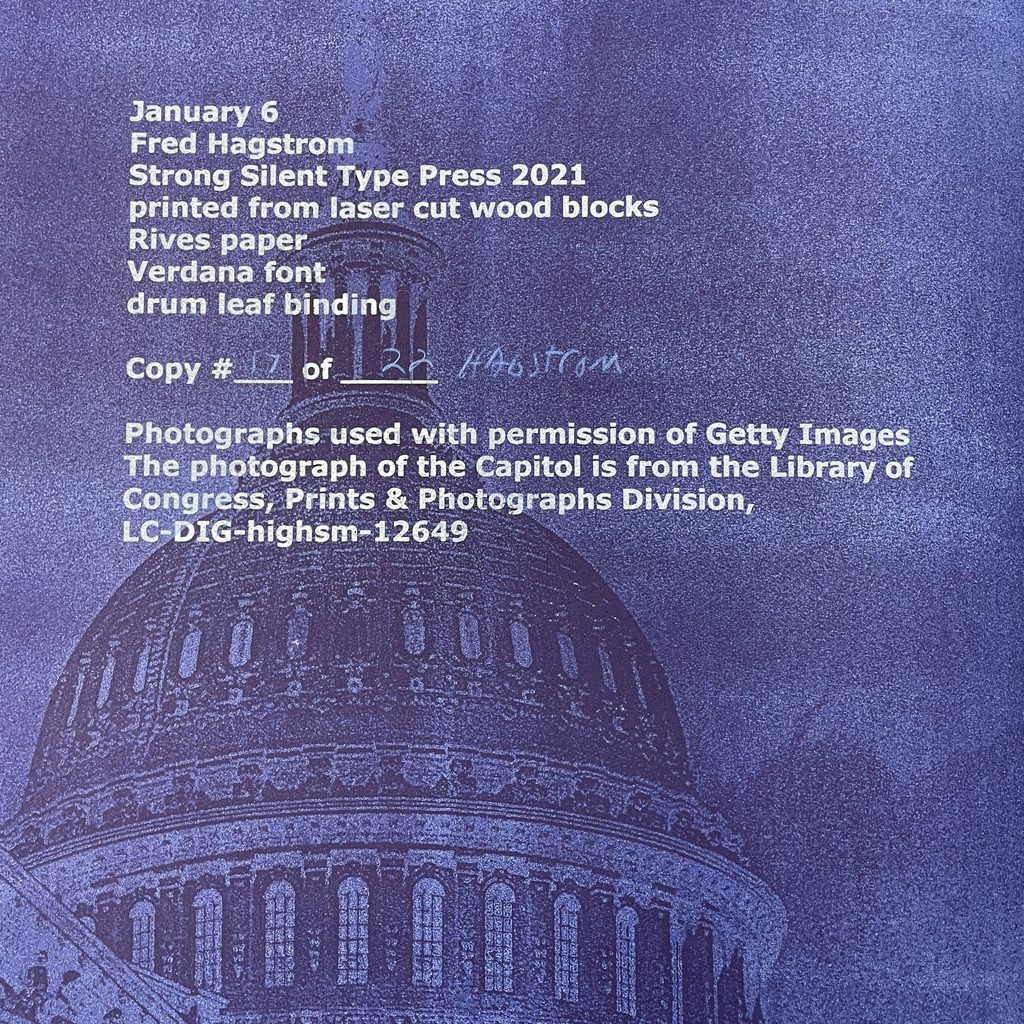 "I'm very appreciative of my years at Carleton," Hagstrom said. "I had good colleagues and I enjoyed all of my time with Carleton students. The off-campus trips I led [to the South Pacific] were also special to me. I had never traveled much before I got the job, and then all of a sudden, I was having these amazing international experiences, which inspired more artist's books on nuclear testing in the Pacific and the Marshall Islands. Carleton opened the doors to a lot of things for me, and now I'm working on more books about nuclear testing since I'm living in New Mexico [post-retirement]. It's been a great experience."
To see "January 6," "Deeply Honored," or "Returning Home," Carleton community members can make an appointment to visit Gould Library Special Collections, which has a copy of each artist's book. Contact the Special Collections team to make an appointment.
---
Erica Helgerud '20 is the news and social media manager for Carleton College.