Four Carleton Ultimate Frisbee Teams Advance to Nationals
The popular club sport on campus sends 118 Carls to compete at nationals this month.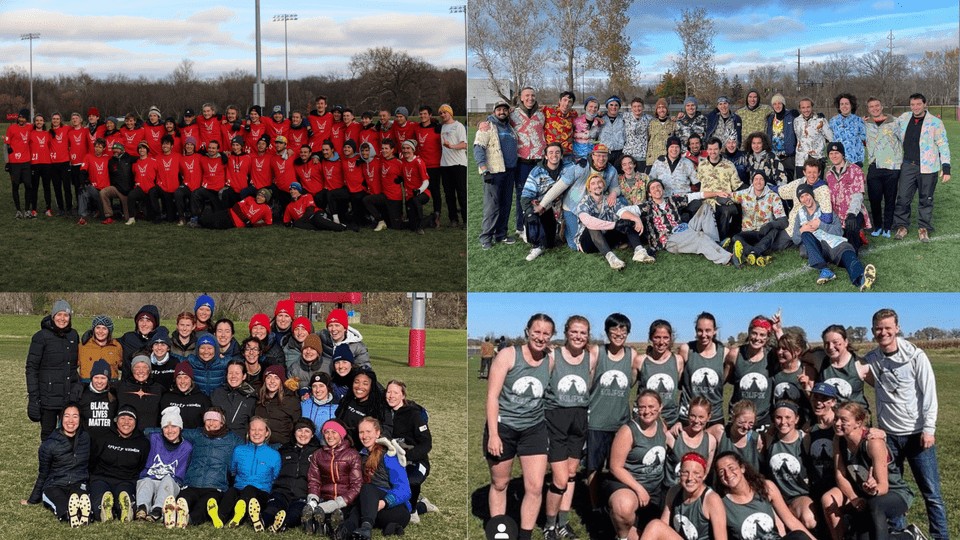 Norco, Calif., will be taken over by Carls at the Division I and Division III USA Ultimate College Championships on Dec. 17–20, 2021. Carleton is the only college or university in the country sending four teams, totaling about 5 percent of the student body, to the West Coast competition. 
"This is the first year, in a long time, all four teams have qualified the same year, and that's huge," Kate Lanier '22, member of Syzygy, said. "Plus, D-I and D-III aren't usually held in the same location, so the fact that we're all going to be there in the same place, on the same weekend, is something we're all really excited for."
"This whole Ultimate series is super surreal," Noah Hanson '22, member of CUT, said. "I'm playing with pretty much everyone I've ever played Frisbee with at Carleton. It's so cool to have this experience with this team and have the opportunity to come back and play as a full, cohesive unit. When I was on the field at regionals, I couldn't believe this was all happening."
This year's event is permitting alumni participation from graduation years 2020 and 2021, since the past two spring championships were cancelled due to COVID-19. In total, Carleton has 35 alumni participating, creating the ultimate Ultimate teams, and giving the players a chance to make up for lost time.
"Carleton alums are so invested," Carly Campana '22, member of Syzygy, said. "We hold an alumni Ultimate weekend in the spring every year, and it's so much fun. And this year, when the alumni team members heard they could come back and play, all of them came back to play with us. They still feel connected, and they wanted to come back and give back to the team."
A storied history
Every new Carl begins their college experience with a Frisbee toss on the Bald Spot, but for many students, that's not their first experience with a disc. Competitive Ultimate has a long history at Carleton that spans decades and generations. Several current members of the four teams — D-I: Syzygy and CUT, and D-III: Eclipse and CHOP — are legacy players representing the same teams their parents played with during their time at Carleton.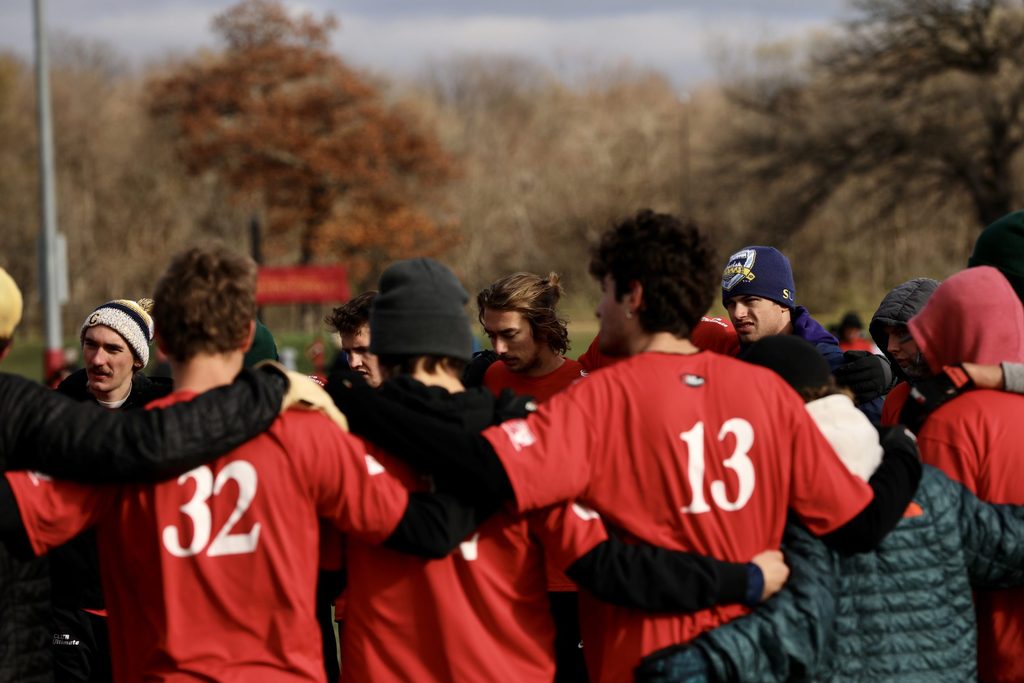 "I wouldn't be here at Carleton if it wasn't for Frisbee," CUT team member Jace Dean '23 said. "In the Ultimate community, Carleton is the place to be."
"It's a really great community on campus," Campana said. "All of the teams on campus are really close, which makes it exciting that we all get to do this together. After we qualified for nationals, we immediately ran over to watch CHOP play while CUT was qualifying at the same time. It's a funky little pocket of Carleton, but there are so many friendships between the teams."
"Carleton is a Frisbee school," Dean said. "From the first-year Frisbee toss to now, I know at least 10 guys on the team who came here for the Ultimate team. Even though it's a club sport, Carleton really supports us by giving us the resources, like field space and funding, to succeed."
"Besides it just being a great community on campus, there are actual family ties as well," Campana said. "We have a teammate, Brie, her dad played on CUT her mom played Syzygy, and her younger brother plays for CHOP now, as well — they're a full Frisbee family. There's a bunch of other Frisbee kids on the teams, too."
Sadly, the Carleton Ultimate community lost a member this summer. CUT is dedicating its season to late team member Aidan Price '24, who passed away suddenly in June.
"He was a huge part of our community and such a loving person," Hanson said. "We're constantly thinking about him this season."
Nationals in Norco
The teams will compete over four days near the Santa Ana mountains. CUT and Syzygy are among 40 D-I schools competing, while CHOP and Eclipse are among 32 D-III teams, all vying for the college championship.
"We are competitive and we want to do well," Lanier said. "But we also just want to be grateful that we get to play together and we get to have these alums back. It's so cool we're at nationals, but just being able to be together and play feels so much more valuable than how well we do. It's going to be so much fun."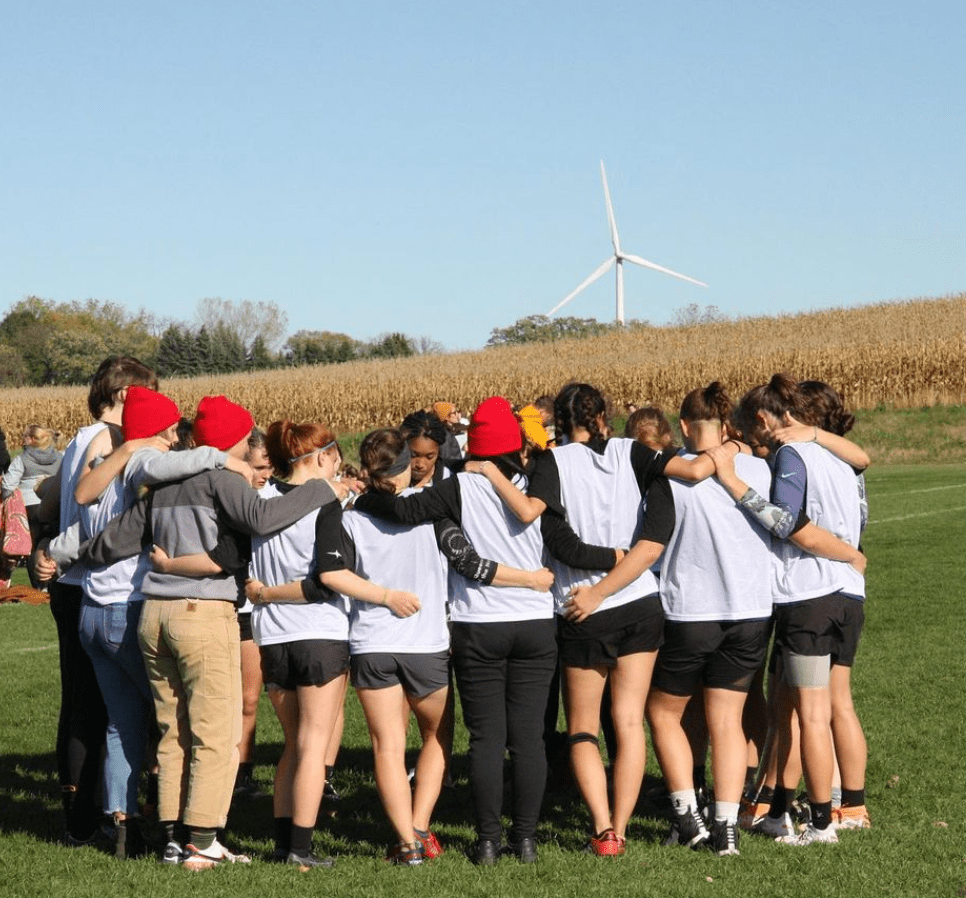 "I'm just so excited to go out there and leave it all on the field," Hanson said. "I've been waiting for this moment since my sophomore year. It's going to be one of the craziest nationals because people are so excited to get back. The energy is going to be other-worldly."
"It's been so exciting having the alumni reach out to us and be just as excited for us," Campana said. "People who played with us a few years ago and people who we never played with all the way back to the 80s cheering us on and even willing to fly out to California — it's just so bizarre."
The semifinals will be broadcast on Sunday Dec. 19, on ESPN3, and the finals will air on ESPNU on Monday, Dec. 20. Get updates and follow along with all four teams on Twitter and at USA Ultimate.