Erik Andrews '82 bikes across the country raising money for Appalachia Service Project
Andrews rode 3,351 miles across 10 states and raised $60,000 for ASP.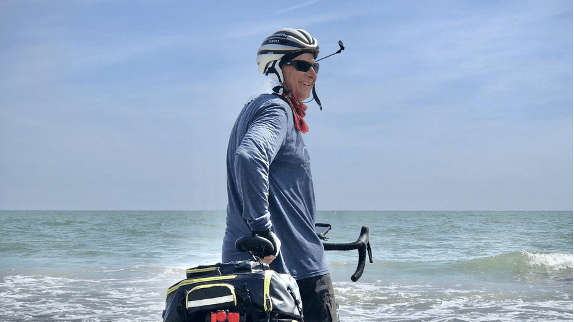 For the past 24 summers, Erik Andrews '82 has led groups of 40-60 high school students to volunteer with the Appalachia Service Project (ASP), helping make homes warmer, safer and dryer for Appalachian families. This summer, the COVID-19 pandemic canceled ASP's volunteer trips, which the organization relies on as a source of income.
"It changed everything," said Andrews, who instead decided to bike across the country to raise money for ASP. In total, he rode 3,351 miles across 10 states and raised $60,000 for ASP.
Andrews' interest in cycling began in high school and continued into spring term of his junior year at Carleton, when he spent a few months cycling around Europe before his summer off-campus studies program in Geneva, Switzerland. In the years that followed that experience, Andrews thought idealistically about another big backpacking cycling trip, but he never had the time or opportunity until the COVID-19 pandemic hit.
After training on his brother's bike for a few weeks, Andrews bought his own bike and rode it seriously for a month, doing simulations of his trip in preparation. On June 7, 2020—the day Andrews would otherwise have headed to Appalachia—he started biking from Vandenberg Air Force Base in California, on the first of what would be 60 rides. In order to connect himself to ASP over the course of the trip, Andrews decided to bike in his work boots. "It was a constant reminder of why I was doing it," he said.
Starting from California Andrews picked up historic US Route 66 near Santa Monica which he followed as far as Oklahoma City, before continuing east across the Mississippi River and across the country to Delaware. "There was a lot of uncertainty," he said. "I was looking to make the trip as low drama as possible." In planning routes, Andrews tried to select roads, inclines and distances he could handle, and he leaned heavily on other's experiences to plan his trip. In addition to help from the online cycling community, Andrews got advice from his college roommate David Majerus '82, who had ridden cross-country on a tandem bike with his wife in 2005. "I leaned on them for guidance, support, information," Andrews said. One piece of advice from Majerus that Andrews was very appreciative of was that "you don't have to have a plan for tomorrow. You only need a plan for today."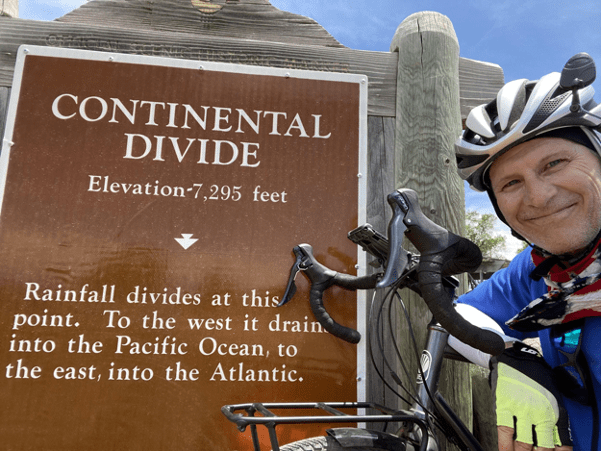 While he initially planned on camping, Andrews soon realized that most campgrounds were closed due to COVID-19. Consequently, he spent most nights with friends and family and in hotels along his route. "I started with an idealistic idea that I would be able to camp, but at the end of the day I was glad to have a shower and a bed to sleep in," Andrews said. Along the trip, Andrews had several ups and downs. The first few days along the California coast were "sea breezes and sunshine" with little elevation, however he was soon faced with the climb into the Sierra Nevada. "I was so nervous," he said, "but I did it." During the next climb into the Rockies to the continental divide, he felt more confident and stopped less frequently.
The next challenging stretch was in the Mojave Desert, where—due to lack of stopping points—Andrews had to ride 60 miles one day and 90 the next in 110-degree temperatures. The second day, Andrews woke up at sunrise only to realize that he had his first flat tire. As a result, his start time was delayed, and later in the day he got a second flat. "There was real stress that day," he said. "But you, know, I made it through, and that was another huge lift."
The third real challenge for Andrews was in Oklahoma, where he decided to take on a 90-mile day instead of a 45-mile day. When he started riding, the wind was in his face at around 25 miles per hour and "it never let up." Instead of ending the ride around 1 p.m. as he had hoped, Andrews ended up finishing at 7 p.m., easily his longest day on the road.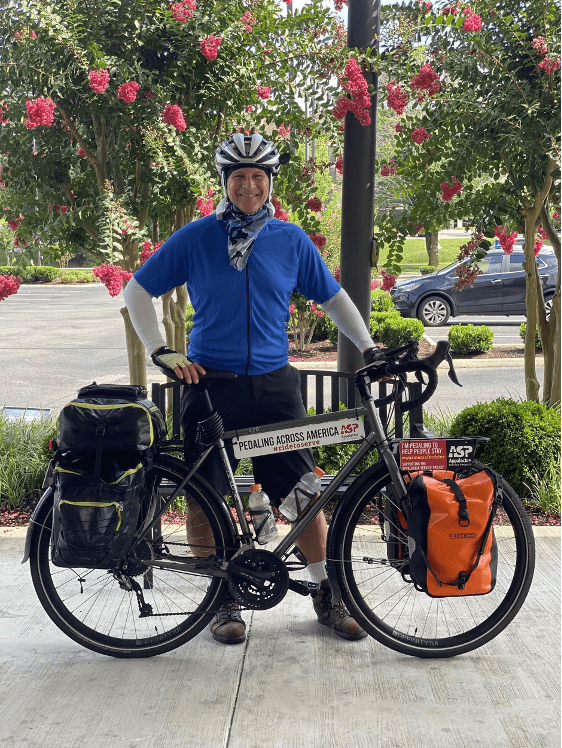 Eventually, Andrews reached Tennessee. "Tennessee turned out to be a very challenging but very rewarding state," he said. Before reaching the ASP headquarters in Johnson City, Andrews took the day off in Memphis and visited the National Civil Rights Museum, which he said is "a very special place." He then spent a few nights with his high school friend Steve Merrill in Nashville. Merrill, who works in media, realized that Andrews did not have any signage or information on his bike indicating that he was riding for ASP. "As an engineer, that's not the way I think," Andrews said. When he got to Nashville, Merrill had put together a placard to put on his bike and printed flyers for Andrews to hand out along his route. "It really changed some of the dynamics from Nashville on," Andrews said, as people then began asking him about ASP. Finally, he reached Johnson City, where he visited ASP's headquarters for the first time and talked to reporters about his ride.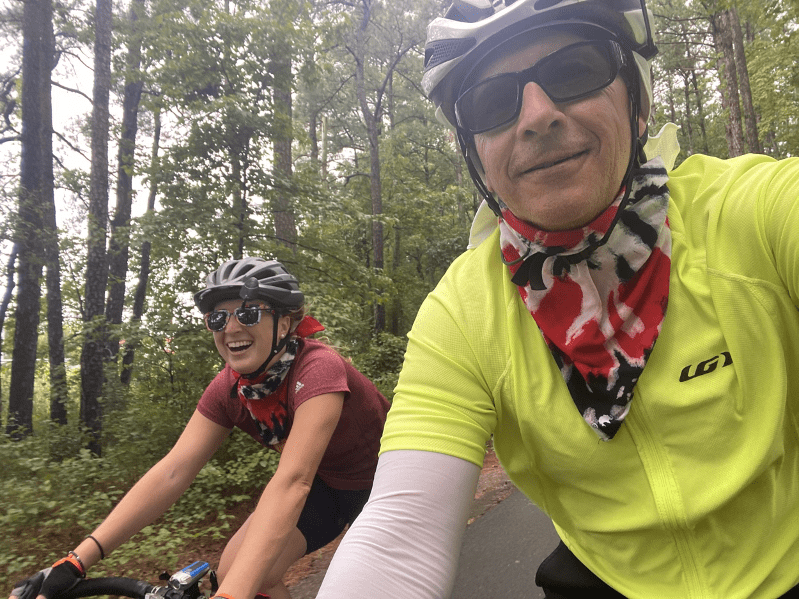 Andrews then rode into Virginia and loitered in D.C., where he visited friends and was featured in a broadcast on WRC-TV Channel 4 news as he rode across the National Mall. For the last leg of the trip to the coast, his daughter Sarah came along for the ride. "It was very special to have her riding along," Andrews said. "It was good, and it was emotional at the end." On Aug. 20, 2020, Andrews finished his ride in Rehoboth Beach, Delaware.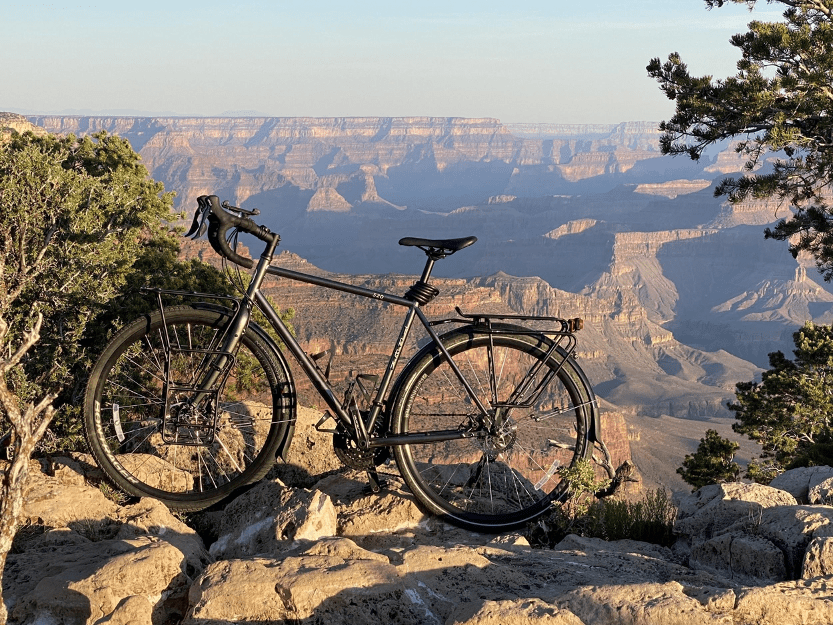 The pandemic changed several things about Andrews' experience, as he only saw two other people doing any bike-packing, and many museums and campgrounds were closed. Nevertheless, Andrews said, "there were some very special moments created by the fact that it was the summer of COVID, too." For example, he was able to visit the Grand Canyon without the usual throngs of tourists. He biked along the South Ring of the Canyon on a road open only to shuttle buses, which were not running due to the pandemic. "It was a really powerful experience," Andrews said, noting similar experiences in the Painted Desert and the Redpine Forest. "It was a very memorable time."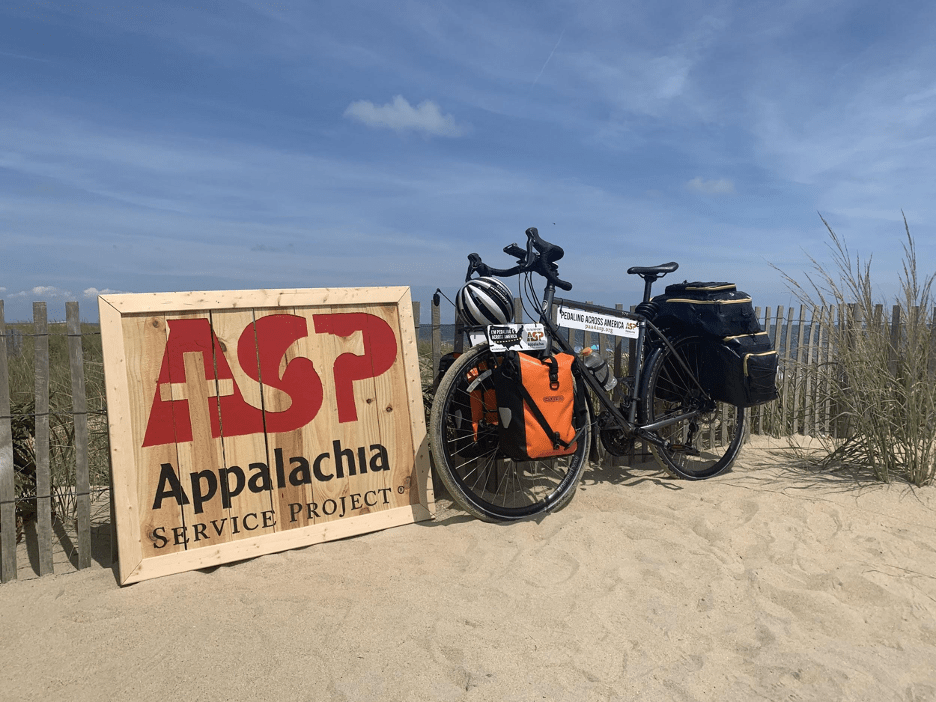 In total, Andrew received donations from 165 donors, including friends, family, the ASP community, and strangers. Donations occurred in bursts and really picked up after his visit with Merrill in Nashville and his visit to ASP headquarters in Johnson City. "The word was out that I was out on the road," he said. Andrews offered to match the first $10,000 of donations, and he received another $10,000 match, a $5,000 match and a $2,000 match that ultimately led to a final donation total of $60,000.
To learn more about Andrews' trip or to donate to ASP, visit his website.