Dani Kohen and students join collaborative research team funded by Department of Energy
Kohen and her chemistry students, Nathan Wang '26 and Henry Wolters '26, will begin their research this summer.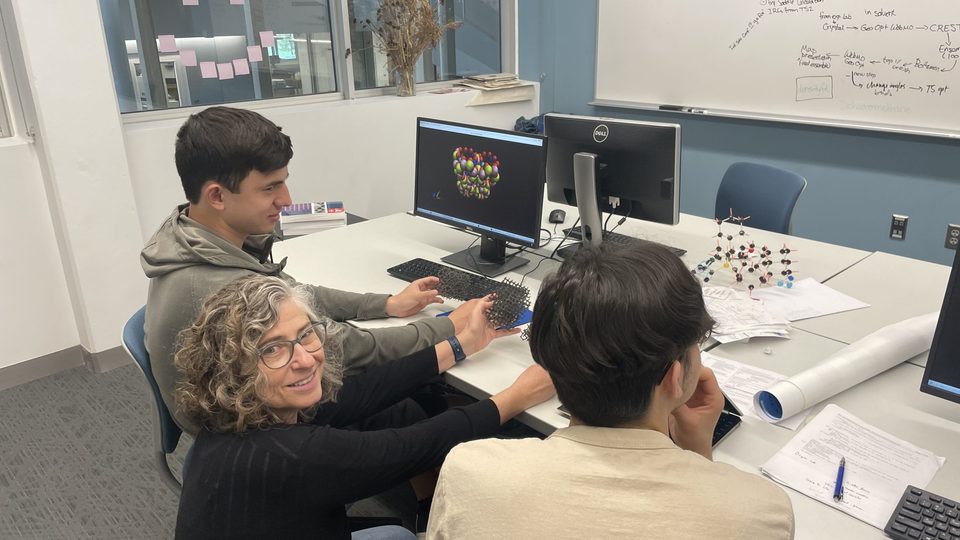 Dani Kohen, professor of chemistry, has joined a multi-institutional research team as part of a Department of Energy-funded project: "Development of Machine Learning and Molecular Simulation Approaches to Accelerate the Discovery of Porous Materials for Energy-Relevant Applications." Led by Ilja Siepmann of the University of Minnesota, the team also includes Alán Aspuru-Guzik of the University of Toronto, Haoyuan Chen of the University of Texas–Rio Grande and Randall Snurr of Northwestern University.
"Dani is on the front of a generational change among our faculty," Associate Director of the Grants Office Charlotte Whited said. "20 years ago, the number of faculty with active grant funding well beyond tenure was just a handful. Today, we're seeing more and more faculty continue pursuing grants well into the later phases of their careers. Dani's doing some really cool things!"
The research conducted by Kohen and her colleagues will be organized into four topic areas: Overarching Computational Tools, Machine Learning for Adsorption in Porous Materials, Selection of Working Pairs for Adsorption Cooling and Related Processes, and Understanding Mixture Effects and Materials Complexity on Adsorptive Separations. Methods developed in the first two areas will be applied to important energy problems in the latter two areas.
"The idea is to use computational methods like artificial intelligence (AI) to find better porous materials, basically," Kohen explained. "You can do all kinds of chemistry within the little holes in [these kinds of materials], and the materials can then be used to separate pollutants from air and water, make heating and cooling more energy-efficient, that kind of thing. We'll also be using our own knowledge and expertise to try and inform the AI in the first place."
Kohen's share of the research focuses on investigating the detailed physical chemistry behind the porous materials' capabilities, but she's also looking forward to learning more about the computational methods portion of the project.
"AI is a huge, important concept and this is my way into it," she said. "I don't need to be an expert on it here. I can bring what I am an expert on and then learn from others, which is exciting."
Kohen will begin her work this summer with the help of two Carleton students, Nathan Wang '26 and Henry Wolters '26. Their time as research assistants will also include traveling to the campus of one of Kohen's grant partners and working there for three weeks, in order to give them valuable research experience in an environment different from Carleton's.
"We don't do chemistry research without students," Kohen said. "They're totally instrumental. It'll be great to show them what research looks like on another campus, because that's a rare opportunity."
Kohen very much enjoys working on her research with students, especially over the summer.
"The summer students work a full 9-to-5," Kohen said, "but it doesn't feel like work all the time. There's constant laughter in the lab. The production of knowledge is a very social endeavor in the sciences and it's super cool to witness."
Kohen's project is the first time Carleton has received grant funding from the Department of Energy, which Kohen appreciates due to the unique opportunities it provides for her and her students.
"It's exciting to be part of this ecosystem now," Kohen said. "I've collaborated plenty, but I have never been part of something this big. Even just seeing the process of writing the grant proposal was interesting. I was in the same room as all these wonderful scientists… who I've known for 20 years, and I watched [the proposal] in real time go from totally disconnected to really jelling into something special. You could actually see the connections to something bigger than yourself as everyone worked together."
Primarily undergraduate institutions (PUIs) like Carleton are not often involved in this type of chemistry research, according to Kohen, but she's happy to meet the challenge it presents.
"When I go to conferences, for example, I'm always the only one from a PUI," Kohen said. "For this project, we'll have to spend some time figuring out how to do everything we need to do with two undergrads instead of with 30 postdocs, but we'll make it work."
Many postdocs will still be involved in the research through their appointments at Kohen's large university partners, and will thereby function as informal advisers for Carleton students who may be interested in their career paths. The postdocs will also in turn be able to rely on Kohen for advice and support, especially since some postdocs actively seek professorships at PUIs after their positions conclude. Kohen has enjoyed sharing her knowledge about working at a PUI with previous research partners and in passing at conferences; she's looking forward to fulfilling that role more officially.
"[This project] will be a cool way to let the postdocs know what this world is like," she said. "I can serve as a mentor for them in addition to my undergrads, and let them know what their job prospects could be at a place like Carleton. It's already been very rewarding to be part of this huge network, and I'm excited to really get going."
---
Erica Helgerud '20 is the news and social media manager for Carleton College.