CUT makes inspired run to another national title
Riding astonishing energy and consistency, CUT claimed its first USA Ultimate Division I Men's National Championship since 2011 and its fourth national title overall.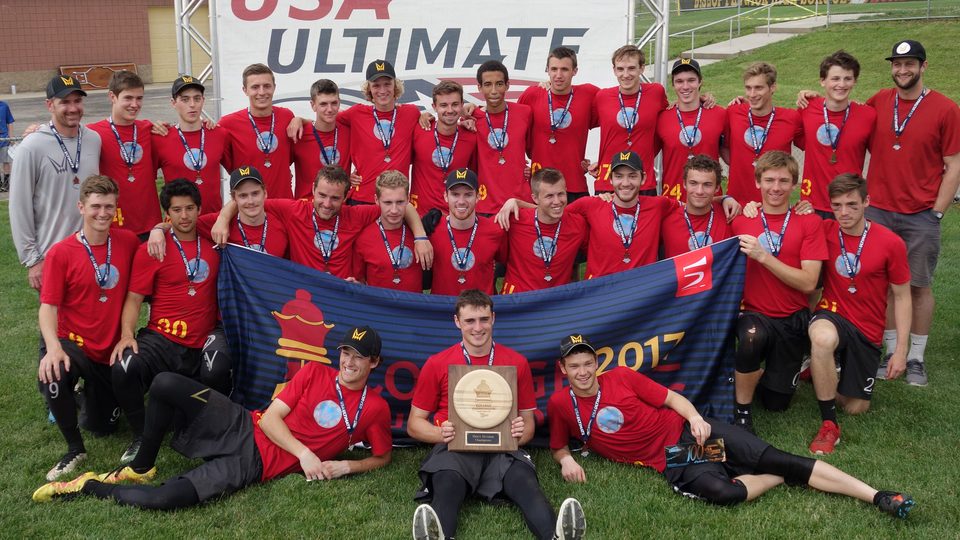 CUT (Carleton Ultimate Team) has long been a staple on the D1 men's college Ultimate scene, known for recruiting elite high school talent and building a team-oriented system. These past few years, though, they seem to have continually come up short, not making bracket play in 2016 and losing in the deciding game to go to nationals in 2015. With one of the best recruiting classes in the country, coupled with a new mental and strategic game plan, 2016-17 was the year all that would change.
In the fall CUT saw flashes of brilliance as they won all three of its tournaments and notched some marquee wins during regular-season tournaments. But late in many tournaments, it seemed that CUT couldn't quite put it together, losing to Florida, Oregon, and UMass in early elimination play. The squad clearly had the ability to win, but it was unclear whether they could win when it mattered most. Winning every game in sectionals and regionals, save for a chippy regional final against defending national champions Minnesota, CUT was riding high. When nationals pools were released, CUT liked the matchups.
Going into the tournament, there were several teams capable of coming away with the title. After a disappointing 15-10 loss to UNC-Chapel Hill on day one it was easy to count CUT out of this year's title run. However, a resounding win over Colorado to close pool play secured a slot in the championship bracket.
After putting away Michigan in a 15-10 win highlighted by an impressive performance from first-year Joe White '20 (Cincinnati), CUT was slotted against regional nemesis Minnesota. "Getting to play them instead of some other team that was more unknown and intimidating was a real blessing, even though they're so talented," said captain Sol Yanuck '18 (Chapel Hill, N.C.). "Our D line has great matchups with them, and though they took half, we really took control of the game when we started taking aggressive shots to our height advantages." After sealing a 12-10 victory, CUT's energy was at an all-time high.
Facing UMass in semifinals, CUT had their work cut out for them. Both teams were playing their best offensive games of the weekend. After CUT exploited UMass's match defense set by shooting downfield to big target Henry Fisher '18 (Durham, N.C.), UMass tried to slow CUT down with a zone defense. CUT's arsenal of talented throwers picked it apart and took control of the game. Holding a double game point and overcoming two would-be winning points that were called back on foul called, CUT punched it in for the winning point and a date in the finals against UNC-Wilmington.
In the final, Carleton's skill and depth of talent would shine. Within two minutes of play, CUT had secured a 3-1 lead that they would hold on to for the rest of the game. Carleton's depth allowed them to play much more consistently than UNC-Wilmington. When Wilmington would manage a hold against CUT's defense, they were able to put a fresh offensive line on the field to score right back. Carleton received the disc up 14-11 and hit two under cuts before putting the disc into star handler Alex Olson's '18 (Seattle) hands just shy of half field. Olson saw Fisher streaking downfield and closed out the game with an easy shot to the end zone, setting of a celebration by CUT and all their fans who made the trek to Ohio.
"It's really amazing to put CUT back at the top," said Yanuck. "I definitely feel like my generation has done its best to redefine CUT in a number of ways, be it strategically or socially, and we really think that those shifts are for the better. This success really validates those decisions. As the culture of the team evolves, it's nice to know that the alumni will have our backs no matter what, because success is a great way to keep them invested in the team."
Of the nine players with scores or assists in the finals, only one graduates. Though they're losing seven players, another crop of talented rookies and summer club plans for returners positions CUT for another year of success in 2018.