Constellation of the Commons brings student-faculty research partnership to rural Spain
Professor Palmar Alvarez-Blanco and Grace Wallace-Jackson '24 worked this summer on the Constellation of the Commons, an open access digital archive and ongoing ecological humanities research project.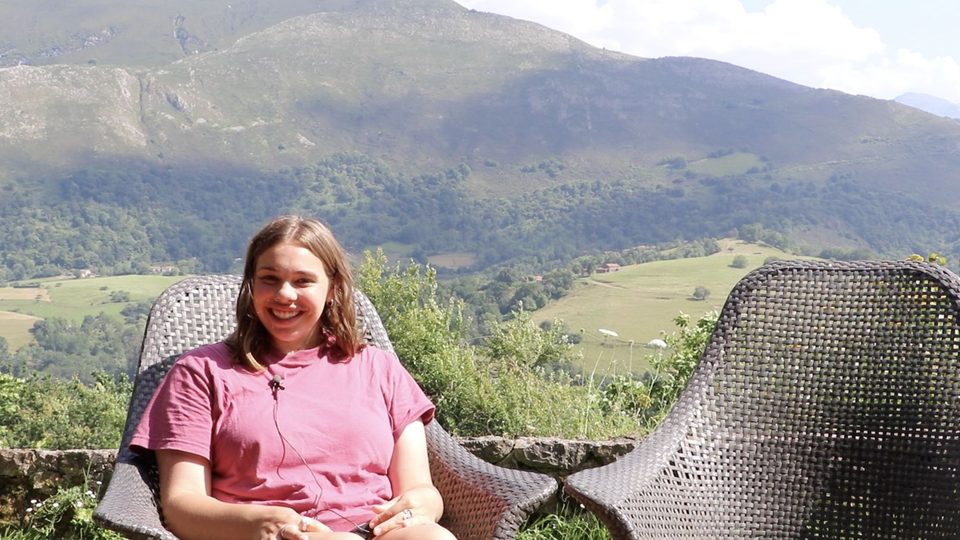 If not capitalism, then what?
That is the fundamental question Palmar Alvarez-Blanco, Broom Fellow for Public Scholarship and professor of Spanish, asked in her winter 2023 course: Culture, Capitalism and the Commons. As her primary text, she used the Constellation of the Commons / La Constelación de los Comunes, an open access digital archive and ongoing ecological humanities research project that has become a critical tool for political thinking and sociocultural analysis of contemporary Spain. Grace Wallace-Jackson '24, one of Alvarez-Blanco's students, says the course "changed [her] life" and inspired her to take part in a Student Research Partnership (SRP) through the Humanities Center with Alvarez-Blanco. Funded by the Humanities Center Trustee Endowed Research Fund, Alvarez-Blanco and Wallace-Jackson spent two weeks together this summer, traveling around rural agricultural villages in northern Spain and recording interviews for the Constellation.
"I developed an incredibly strong interest in the convergence of sustainability, human rights, civic engagement, and climate justice [in Alvarez-Blanco's course] that I had to explore further," Wallace-Jackson said. "I was incredibly lucky to have a professor like Palmar who allowed me to not only contribute to the Constellation through subtitling and translation, but who provided me the opportunity to assist her in the field and interview her contacts directly with my own questions. It's hard to put into words the profound gratitude I have to Palmar and Carleton for providing me with such a formative experience that propelled me into an area of study that I find personally and socially meaningful."
The Constellation currently contains more than 90 interviews with various experts, many of whom are part of self-managed "collectives of practice" in Spain that are reclaiming the system of the commons (the cultural and natural resources accessible to all members of a given society). Alvarez-Blanco defines these groups as citizen-organized collectives often positioned contrary to capitalism. In this context, capitalism is understood according to philosopher and professor Nancy Fraser's definition as "an institutionalized social order" that is defined by a matrix of domination and exploitation of human and non-human resources and by the structural tendency to eliminate obstacles that interfere with the perpetual accumulation of capital.
For Alvarez-Blanco, the Constellation is an informative tool and a repository of knowledge that connects social activism to research and teaching. All the content housed in the archive is offered under a creative commons license and is therefore not used for profit.
"The collection of testimonies could be thought of as 'good news' in the sense that it celebrates successes and feeds the engine of hope with stories of community and political engagement," Alvarez-Blanco said. "The urgency for solutions requires not only work for the legal, judicial, economic, and political fields, but also in the cultural realm. The Constellation is a modest contribution within a chorus of stories that point us towards a possible path, not without contradictions and obstacles."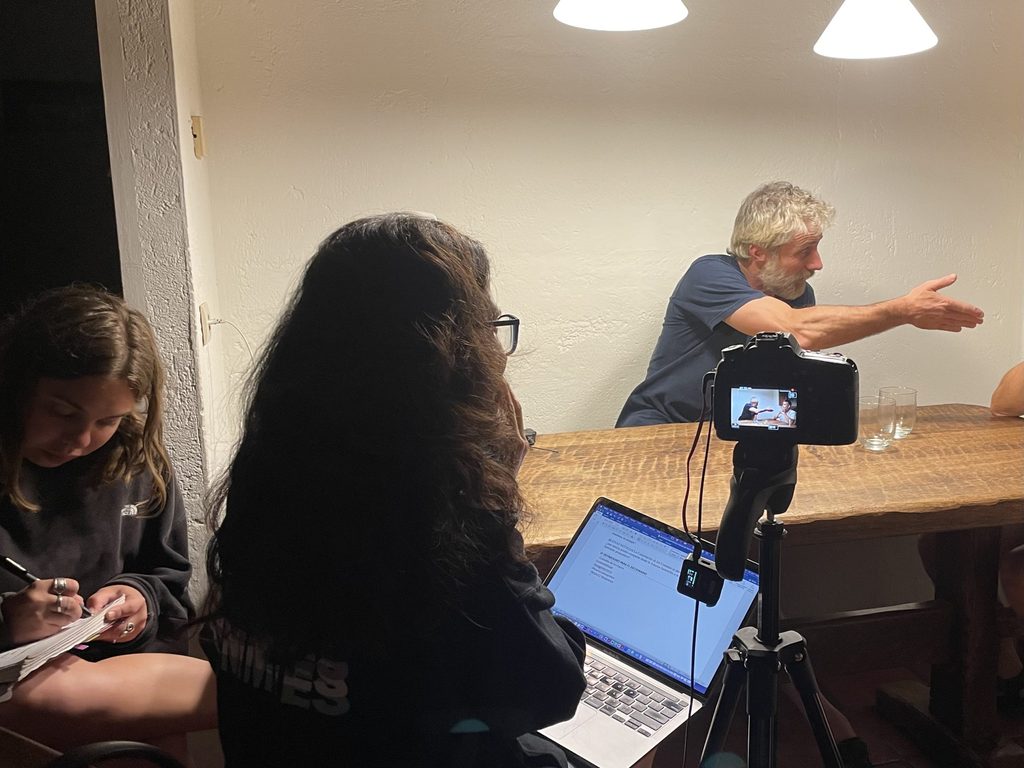 Alvarez-Blanco has been doing this work for seven years and now has a familiar routine. She splits everything into phases: research and interview prep, the actual interview (which usually lasts 4-5 hours), editing and storytelling, transcription, translation and subtitling, and uploading the final piece to the Constellation archive.
Wallace-Jackson joined this process in June, ultimately participating in, translating, and subtitling interviews with three different individuals in sustainable agricultural practices rooted in a commons-based approach. Apart from those three interviews, most of her and Alvarez-Blanco's days in Spain were spent researching and learning the historical context of the geography, cultural practices, and economic investments of each village they visited.
"We engaged in powerful, hours-long conversations with people that expanded beyond our interview topics and provided additional insight into the reality of life in a self-managed territory that relies on communal land to sustain itself," Wallace-Jackson said. "I was also able to ask questions about ways to create community across racial, economic, cultural, religious, and other boundaries, and how to productively and respectfully manage conflict."
"It has been truly gratifying to share the entire process in Spain with a student who utilized the materials from the Constellation project in my course," Alvarez-Blanco added. "I firmly believe that this journey has not only given Grace the chance to experience firsthand what it takes to conduct a research project of this kind, but it also has enabled her to deepen her understanding of a subject that directly concerns her. The conversations that Grace and I have had during this journey were impossible to replicate in the traditional classroom setting. It's been heartwarming to witness Grace's reactions to each of her discoveries. Embarking on this research journey with someone who is eager to learn is a good reminder of the purpose of my role as educator and researcher."
The Constellation has garnered significant attention in Spain, with features in national media outlets such as Radio Television Española, CTXT, El Salto, Nexe, Frontera D, and Economistas sin Fronteras, but Alvarez-Blanco and Wallace-Jackson value the personal relationships they've formed through the project even more.
"My favorite part of our trip was the connections I made with the many dedicated people we interviewed, and those in their communities," Wallace-Jackson said. "Everyone was so friendly and willing to help us not only understand their lifestyle, but also connect us to their land and community. One of the most surreal moments for me was when I first visited a small mountain village in Asturias. I was in awe at the vitality of the cows and horses running in the pastures. I saw the largest lemon trees, tomato plants, and kiwi bushes in my life. I was finally able to observe a lifestyle and communal practice that I have been researching for months and consider to be my passion. There were many similar, awestruck moments in my trip that I am still processing."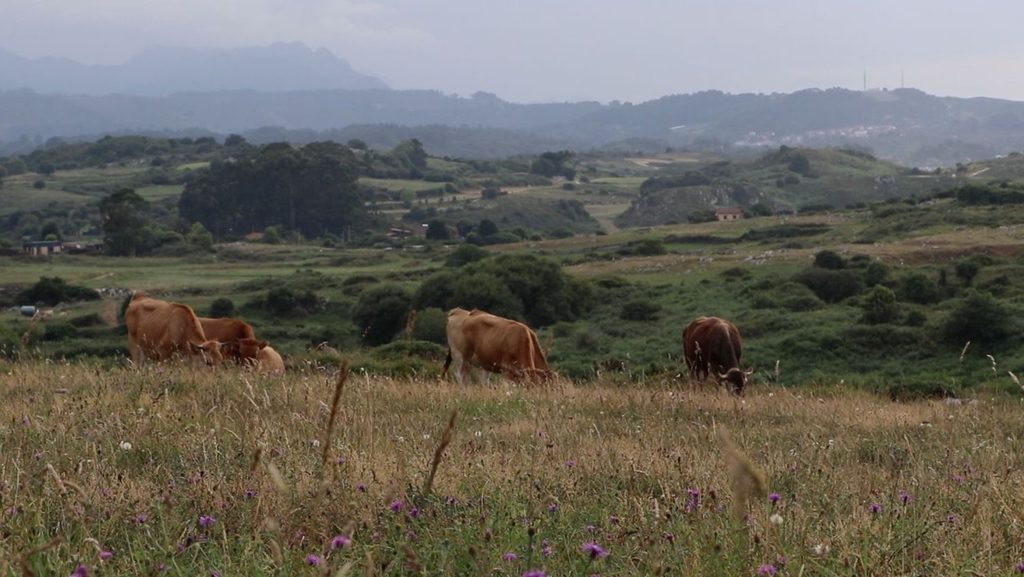 Wallace-Jackson especially appreciated the opportunity to connect with people doing work that allows "the most actualized form of direct democracy" she has ever witnessed.
"I've not only deepened my understanding of the commons' culture and philosophy," Wallace-Jackson said, "I have a newfound hope for our future to know that there are so many people working tirelessly to change the broken, destructive, and exploitative systems that previously—and to my distress—seemed immutable."
Alvarez-Blanco spent the rest of the summer in various other locations in Spain doing further work on the project, and will present the second book of her research—"Oikonomía y acción ciudadana. Transitando sistemas con la Constelación de los comunes (2020-23)"—on Sept. 17. This particular book will include all three of the interviews she worked on with Wallace-Jackson.
Alvarez-Blanco and Wallace-Jackson plan to continue working together after Wallace-Jackson graduates from Carleton, but they aren't waiting until then to get started. In the meantime, the two are working to find sustainable solutions to connect Carleton students with the Northfield farming community, and hope to create open spaces to share experiences, knowledge, and support in order to foster equitable, ecological, and sustainable local development.
---
Erica Helgerud '20 is the news and social media manager for Carleton College.