Comps Insider: The English Colloquium
Class of 2023 English majors Elena Cebulash, Diana Kachman, Riley Madsen, Brodie Mutschler, Hannah Piper, Kota Shibui and Andriana Taratsas meet weekly as part of their work on the Colloquium, a collaborative comps option unique to the English department.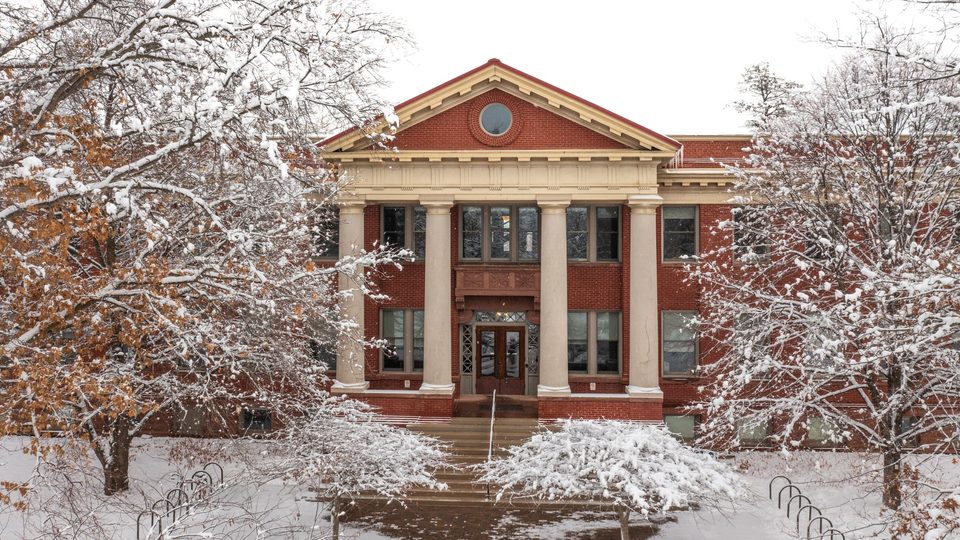 For this Comps Insider installment, I sat down with Elena Cebulash, Diana Kachman, Riley Madsen, Brodie Mutschler, Hannah Piper, Kota Shibui and Andriana Taratsas, all senior English majors. The group meets weekly as part of their work on the 2023 Colloquium, a comps option unique in its exclusivity to the English major and its collaborative nature. Arriving at a meeting earlier this term, I found the group already embroiled in a fierce discussion that started about the meat industry but quickly expanded to include American culture as a whole.
Before we tackle that main course, however, we'll begin with some appetizing background information.
BEN MORE: Starting off more broadly, what attracted you to the English major in the first place, and what about the department do you enjoy?
HANNAH PIPER: [When] COVID-19 hit… I had a hard time doing the classes online. I was really enjoying my English classes, though, and those translated pretty well over Zoom. And then I guess one thing led to another, and now I'm an English major!
ELENA CEBULASH: I also didn't come in as a prospective English major, which is kind of stupid because it was always my favorite class… I had this major crisis where I just wanted to keep on taking English classes and wanted to keep on reading and writing and talking, and I eventually just decided to stand up for that. It's been great!
BM: Tell me a little bit about the Colloquium option for English comps. What's the end goal of your meetings and what are they typically like?
ANDRIANA TARATSAS: Colloquium is basically a way to take what you've done with the English major so far, in terms of discussion-based classes and learning how to talk about literature, and do it on your own with a professor-curated list of books that we edited. The goal is to spot threads across different kinds of literature from different time periods by different writers.
We're studying American literature from the 1800s [but also] we're talking about more recent contemporary literature. We've read [Margaret Atwood's] "The Handmaid's Tale." We've also read [Ruth Ozeki's] "My Year of Meats," which is more obscure. So in each meeting now, we're trying to wrap our heads around what the books are about and how they might relate to other things we've read so far.
EC: In a general sense, what we do as English majors when talking about a book is we overview the entire work and its themes, but we also go in depth to create parallels between different pieces of the work, with other works and within the work itself. A cannibalism of the mind, if you will. [laughs]
BM: So, if I'm hearing this right, you're discussing a list of books surrounding a certain topic.
EC: It's not just taking a list of books and running with it. We're designing our own syllabus based off of [the list], recommending additions and cutting books from that, and designing our own proposal and our own class, then running it.
We act as the professor and the student in a really interesting way, kind of like an elevation of what we do in regular classes. [The Colloquium comps option] requires you to debate, to read closely, to listen. And it requires you to do everything you do in every other English class. It's kind of like the Olympics of the English major!
AT: Exactly. I'll also add that, whereas most English classes have specific topics like Gothic literature or Jane Austen, we're covering a wide array of books, so there's an added challenge of figuring out what the connecting pieces are.
BM: Once the Colloquium meetings are over, what is the end product going to look like?
EC: There will be 20 pages of written work [per person]. We work together to peer edit, discuss and do the class, but our comps projects that we'll present on are individual papers.
BM: What book were you talking about today?
AT: "My Year of Meats." It's an early novel by Ruth Ozeki that's predominantly about two characters: a Japanese-American woman named Jane and a Japanese woman named Akiko. Jane is trying to film a television show for Japanese audiences called "My American Wife," which has a crew going around the U.S. searching for these "perfect" American wives and mothers [and their] trademark meat recipes.
Their goal is to film them making their signature meat recipe so that they can then promote the meat industry to their Japanese audiences. The book explores topics about life—like the lives of humans versus animals. So we were talking about reproduction today, which is a really big piece of the novel. We were also talking about dynamics in terms of gender and race and cross-cultural interactions—all of those are big parts of the book as well.
BM: Is there a general topic that your readings revolve around, or are you finding that out as you go?
EC: Our topic this year is titled "Off the Page."
HP: The list is of books that involve social change, which is an incredibly broad umbrella that includes most books you could think of. Our goal is to find different threads, connect these stories and have fun with it!
EC: Kofi [Owusu, Marjorie Crabb Garbisch professor of the liberal arts and professor of English] always says to "find a way of mapping out the novel and rearrange it to make it make sense for you." I once interrogated him on that, because I thought he wanted us to actually rearrange the books' chapters, and he was like, "This is just my way of saying 'write about whatever you want.'"
I [would frame this] literature as activism. That's my way of thinking about [this topic]—that this literature is activism when it is in communication with social change, or [when it has made] its way into the veins of society and becomes referenced within other conversations.
BM: Finally, what has been your favorite part of Colloquium so far?
Kota Shibui: I like that it's very informal, like the lunch meetings and film screenings we've done. I enjoy the food, too!
---
After drafting and peer-reviewing their individual essays this term, Cebulash, Kachman, Madsen, Mutschler, Piper, Shibui and Taratsas will present their findings as a group next term alongside other English majors at the department's annual Comps Symposium.