Comps Insider: Devised Theater
We recently spoke to Alexandra Pozniak '18, a theater and English major from Waunakee, Wisconsin about her Comps project, which focused on devised theater.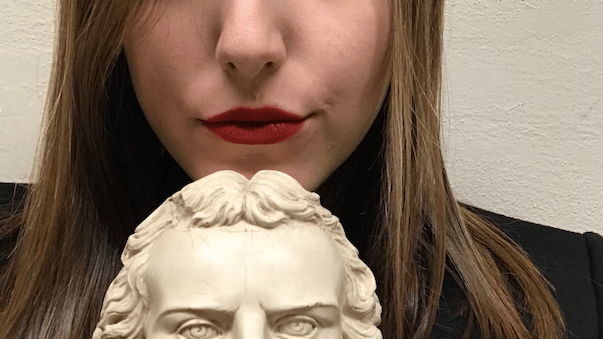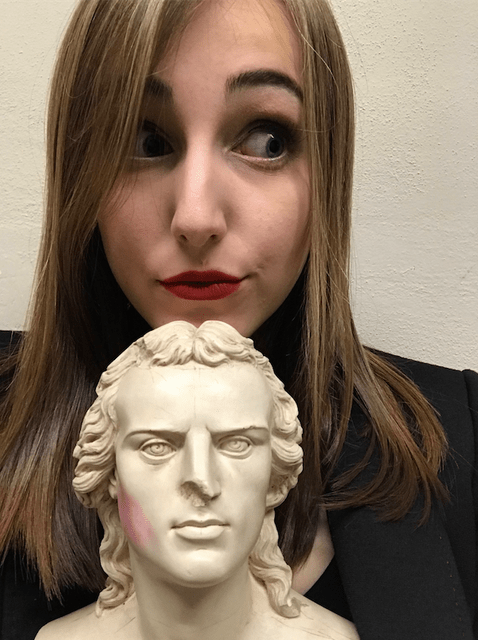 Tell us about your comps.
I am a Theatre/English double major but for the sake of brevity I will stick to describing my theatre comps.
At this point in the process, my Comps is titled "flip" but it changes every ten minutes, in the end the title will be whatever pops into my head, in the print services office, when I make posters.
What is your comps topic?
The theatre Comps at Carleton is unique: students are given free rein to create any type of theatre piece they please. You can direct, act, write a script, etc. For my comps, I am devising a solo piece. I have never heard a concise definition of "devised theatre," but I like to think of it as an amalgamation of conventionally linear processes required to make traditional theatre. For example, in one rehearsal my team and I can write a scene completely comprised of quotes gathered from peers, or we could create a movement piece based on a lighting scheme the designer brings in.
Devised theatre is like recess for theatre makers, an opportunity to play. This freedom allows me to approach subjects in a new, atypical way, so I chose to tackle a subject that has haunted me through my academic career: perfection. At Carleton everyone seeks perfection, or at least appears to, especially when it comes to their comps. Ideally, a comps will beautifully encapsulate everything one has learned in their respective subjects, but is this feasible, and what do we sacrifice in this impossible pursuit?
For my comps, I'm dissecting this craving for perfection at Carleton — in my own life, and in the world of theatre. My overused elevator pitch is, "I'm comparing performed perfection with achieved perfection and examining the effort we put into the appearance of a perfect life." But as I continue devising material, that elevator pitch sounds a little too perfect to me.
Why did you choose your comps topic?
Before I chose my topic, I knew I wanted to devise. However, devising around a theme requires thorough knowledge prior to rehearsal, especially when working on your own or with a small group. This was my road block; I'm not a master of anything. I know plenty about a privileged life living in the Midwest, attending school in the Midwest, and generally observing the Midwest, but I don't know a single person who would enjoy such a mundane piece of theatre.
I spent three months of my junior fall searching for an interesting topic that could inspire an hour of material. When a friend of mine asked why I was spending so much time working on my comps topic a year and a half before I would begin rehearsal I knew I had found my topic; "Because I want it to be perfect."
What was the most interesting article/or piece of information that you found while researching your comps?
I have collected some fascinating articles about toxic perfectionism in politics and social media, but the most interesting thing I have discovered devising this piece is how closely my insecurities around imperfection mirror those of my peers. After sharing my current introductory scene with a member of my tech team, she pulled out her journal and pointed to three identical anecdotes from her time at Carleton. This sounds like a thinly veiled attempt at self-flattery — perhaps it is — but for now in order to preserve some privacy for that friend, I can only promise those anecdotes were oddly specific.
What was your comps process like?
The process began with choosing both the form and theme of my comps, the former proving much easier than the latter. Once I had settled on a devised piece around the theme of perfection, I spent every day from junior winter to senior winter jotting down each encounter, thought, and conversation relating to my comps.
Devised theatre involves merciless editing, so it is essential to start with plenty of material from which you can carve out a show. This shaping process has proved surprisingly entertaining as I look back on both the anxieties of the last year and the ridiculous schemes of a naïve junior. Some of my favorites include performing at 4am, forcing the audience to stand for the duration of the performance, and surreptitiously facetiming acquaintances from Facebook and projecting their faces for the audience to see… I may keep that one.
The devised process, due to its recent conception, remains elusive. There exists very little writing on the subject which means I can structure rehearsals as I please. I intend to use the feasible ideas from my journal as well as techniques and exercises I learned in the devised theatre class to generate the scenes that will function as the building blocks for the final product.
In the end, the most crucial aspect of my rehearsal process will be collaboration. I have gathered a team of six brilliant women who I've worked with in the past. They range from first years to alums, from designers to directors. I trust this team to shape the show in ways I could not accomplish alone.
Why do you think it was valuable for you to write a comps?
Creating this Comps has allowed me to distil my favorite parts of the last four years into one longform performance. It is a unique opportunity to take massive risks in a safe environment. Especially in the art world, there is the ever-present struggle of whether to create provocative art or commodifiable art. During this process I don't have to worry about that and I am grateful for the chance to see what kind of theatre I can create when uninhibited by "real world" pressures.
Will you expand on your comps in any way?
The thing I love most about devised theatre is its malleability, which makes it easy to adapt and revise. I would love to continue working on this show, adding what I learn about my own relationship to perfection. Last winter I saw a one man show that he devised in undergrad, revised, and toured though Europe. So, that would be nice.