Commencement 2019: 459 graduates receive bachelor's degrees, alumnus receives honorary doctorate
Four hundred and fifty-nine graduates were conferred the degree of Bachelor of Arts from Carleton College on Saturday, June 15, 2019, the culmination of four years of study in the liberal arts. An honorary Doctor of Humane Letters was bestowed upon former U.S. Ambassador Jimmy Kolker '70.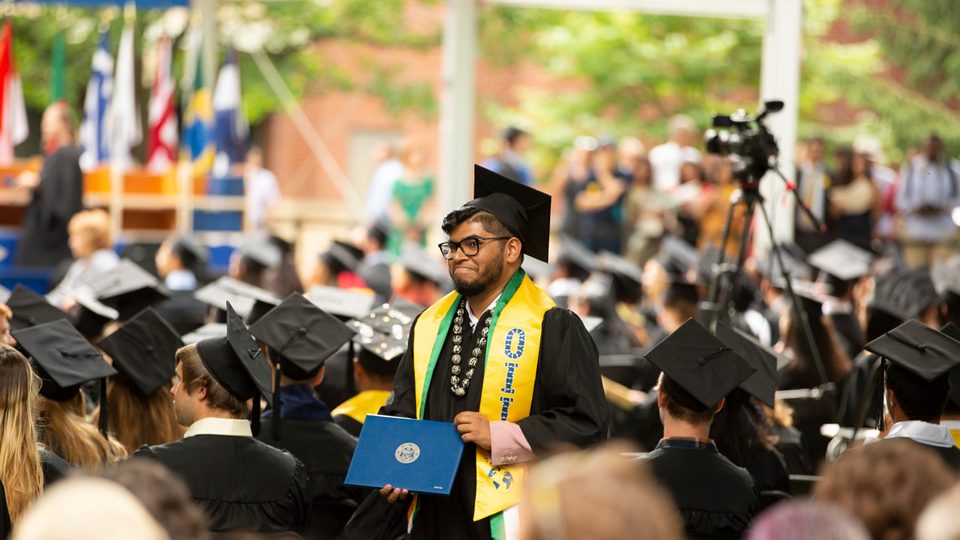 Four hundred and fifty-nine graduates were conferred the degree of Bachelor of Arts from Carleton College on Saturday, June 15, 2019, the culmination of four years of study in the liberal arts. An honorary Doctor of Humane Letters was bestowed upon former U.S. Ambassador Jimmy Kolker '70.
"Just as the Class of 2019 will together carry the spirit of intellectual humility in aspiring to live a good life and make a positive difference, Carleton and other great colleges and universities will also share this forthright devotion to improving the world through their graduates and the ideas their faculty generate," Carleton President Steven Poskanzer told the graduates. "Academic communities can be places of succor and encouragement and reaffirmation. So, do not be a stranger to your alma mater. Return often and draw upon it and those who are here."
Eleven graduated summa cum laude, the highest academic honor awarded by the college. The honor is awarded to students with a grade point average in the top 2% of their graduating class. The honorees are: Yitong Chen, Nathaniel Chew, Tristram Dodge, Zoe Harris, Jonah Kan, Zhi You Koh, Alief Moulana, Elliot Schwartz, Jacob Schwartz, Kiran Tomlinson and Daniel Tsui.
Offering remarks at the ceremony were Gifty Nwamaka Amos Nwankwo '19 (psychology and cross-cultural studies; Sugarland, Texas), Hebba A. Gouda '19 (physics and English creative writing; Carmel, New York) and Kolker.
Gifty Amos Nwankwo '19
Amos Nwankwo's remarks, "A Time to Reap," centered on identity.
"I am a woman worth knowing," Amos Nwankwo began her speech. "This is neither something I would have known, nor been able to declare over a microphone in such a setting, if not for the integral relationships not only with family and friends, but also and importantly here at Carleton."
She later said, "During my first year at Carleton, I was plagued with a deep sense of imposter syndrome. I felt surrounded by a sea of high achieving extremely intelligent people. Yet, I did not feel like I was one of them. You see, I am not a Smith or a Johnson or a William. My name is Gifty Nwamaka Amos Nwankwo. My name pulls up more red squiggles than a freshman A&I paper. I never expected people to know my name, much less pronounce it correctly."
Amos Nwankwo went on to encourage her classmates to appreciate all people in their lives. "Sometime within the last four years, we have all come in contact with a great Carl, one who has seen something in us, challenged us, or supported us… We have met future governors, debated with future lawyers, and glanced at future presidents. Cherish and nurture all who enter your life."
Hebba Gouda '19
Gouda focused her remarks, "Laugh with Me," on the importance of humor.
"I only have a few minutes so I'll be transparent: I am so uncomfortable up here," Gouda began. "I do not like public speaking. So, of course I decided to write and submit a completely voluntary commencement speech. Life is a conundrum, no?"
She shared how humor helped her cope with her early years living in a foreign country in which she didn't understand the language. Later, when she wasn't accepted into Carleton's improv comedy troupe Cujokra, she learned a lesson in failure. "I needed to learn that I could survive failure. Probably. In my case definitely, because I was trying to break into the low-stakes world of improv comedy, not perform open heart surgery on myself. I also learned that the only way to live even somewhat happily was through confidence in myself, from myself. External validation is nice, don't get me wrong, but it's not everything. It can't be everything."
Gouda wrapped up her remarks with advice to her peers. "I hope we let ourselves be proud of how hard we've worked and what we've gained, regardless of the outcome. I hope we accept that we sometimes might look silly. I'm sorry, I misspoke: we will look silly, but silly is underrated. I hope we take life at our own pace, not that of whatever voice lives inside of our heads that says we can't do it. Maybe that's cheesy but hey, my last name is literally Gouda. So, reach for the stars, throw in a cliché every now and then, and don't be afraid to improvise."
Jimmy Kolker '70
A distinguished global health diplomat, Kolker graduated from Carleton in 1970 and headed immediately to the African countries of Uganda, Chad and Ghana on a Watson Fellowship. He joined the U.S. Foreign Service in 1977 and held diplomatic positions in Mozambique, Zimbabwe, Sweden and the United Kingdom. During the 1990s, he was deputy chief of mission at the American embassies in Botswana and in Denmark. He was the U.S. ambassador to Burkina Faso from 1999-2002 and to Uganda from 2002-2005. He went on to serve as deputy U.S. global AIDS coordinator, chief of the HIV/AIDS section at UNICEF, deputy assistant secretary and then assistant secretary for global affairs in the U.S. Department of Health and Human Services. He retired from government in 2017.
"A diplomat he is indeed," Poskanzer said in introducing Kolker. "Jimmy Kolker is a professional of remarkable effectiveness, sensitivity, discernment and intelligence. He is a person of integrity, decency and honor. We are grateful both for his many contributions to our world, and that he is such a friend of this institution. His remarkable skills and life's work are grounded in the liberal arts education Carleton provides, and we are all proud to have in him such an exemplar."
Kolker focused his remarks, "How to Be Prepared for the Jobs That Don't Yet Exist," on the differences between his generation and the graduates sitting before him.
"My message in 1970 was that young people were not prepared to be patient or take small steps," he said of the speech he gave at his own commencement ceremony. "We were determined to accomplish the solutions that eluded previous generations. Specifically, to end poverty, to eliminate racism and intolerance, to clean up the environment and to end war and militarism. And I'm here 49 years later to tell you how we did. Not very well."
He later continued, "The glaring problems that preoccupied young people in 1970 are still with us today. Our intentions to end poverty and racism and environmental damage and war were sincere. But fighting these scourges proved vexingly difficult. We have left you, our successors, a legacy of insufficient progress, numerous failures and serious consequences if we continue our pace of 1.1 steps forward and then one step back."
He went on, "But I am here to tell you that you are well-prepared to tackle these huge issues and do better than the rest of us have done. To motivate you to sustain your energy and idealism to heal and improve the world. You have a degree—and an ethos and discipline of mind—from a great liberal arts college. U.S. News & World Report got one thing right: Carleton has the best liberal arts teaching faculty in the world. Let's repeat and think about that. You have been taught and nurtured, and as you would say in French and many other languages, 'formed,' by the best teachers of undergraduates anywhere. With that advantage you've had, learning from the best on the planet, making the friendships and appreciating the diversity, there is truly no one better prepared than you to advance intellectual rigor and knowledge, to address our long-standing challenges and to succeed in your career."
The commencement ceremony was livestreamed and recorded in its entirety. The full video will be posted on the commencement website alongside photos from the event.