Class of '58 "Memory Riders" arrive on campus
Bill Solberg and Lee Jones, Class of 1958, pedaled over 1,000 miles by bicycle to attend Reunion 2018.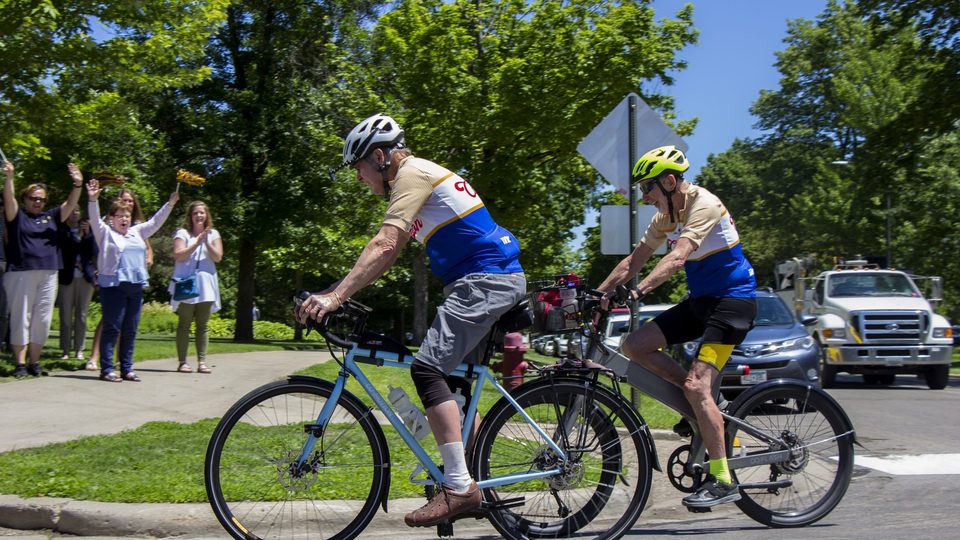 Celebrating their 60th Reunion, three members of the Class of 1958 biked over 1,000 miles from Denver to Northfield, arriving on campus June 13, 2018, just in time for the kick-off to this year's Reunion 2018 festivities.
Bill Solberg '58 is the leader of this octogenarian outfit, who call themselves "Memory Riders." Bill departed on May 1st from the Arizona border and rode with a (non-Carleton) friend to Denver. There, after a bit of a rest, Bill set out on May 22nd with classmates Lee Jones '58 and Roscoe Hill '58 for Greeley, Colo., as the first stop. Others, including Paul Johnson '58, took turns helping drive the van that accompanied them. The group arrived in Northfield mid-day on June 13.
Sarah Forster '93, director of alumni relations, explains: "The purpose of this incredible journey is twofold: first, the ride commemorates all the members of the class who have already passed on, as well as deceased faculty and staff who were so instrumental in their progress to this stage in their individual lives. Second, the ride has inspired many classmates to contribute additional gifts to Carleton in honor of this ride and in memory of those being commemorated."
Forster adds,"Thanks in part to this effort, and to the long-standing generosity of the class, '58 stands to set a second reunion record with a participation rate of 80% or higher."
Congratulations and thanks to the Memory Riders, and to the entire Class of 1958!