Chris Anisowicz creates solar-powered summer program
Senior Chris Anisowicz, a starter on the offensive line for the Knights' football team, turned his passion for learning into a program that he hopes will teach high school students from Northfield about the physics of energy and light while at the same time creating their own solar backpack.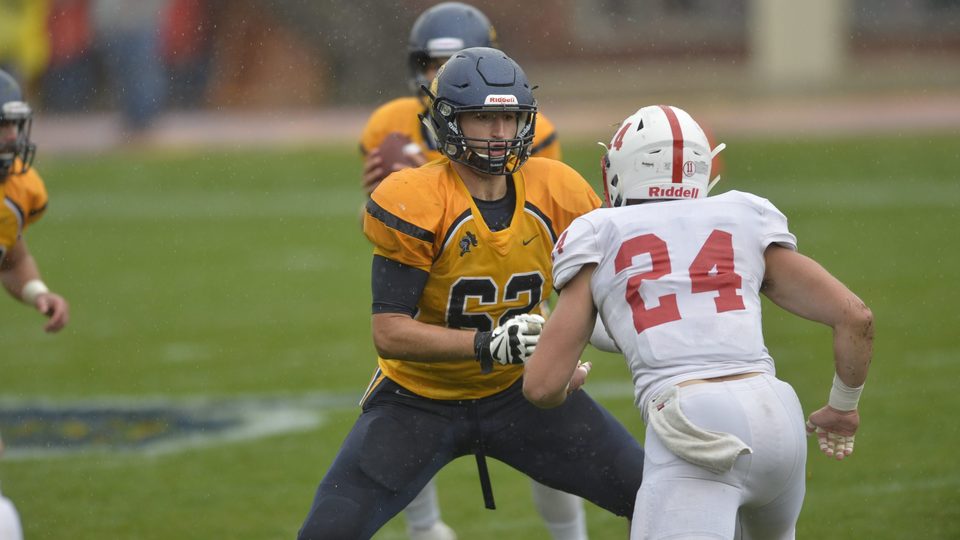 NORTHFIELD, Minn. — Senior Chris Anisowicz (Pelham, N.Y./ Pelham Memorial) is another example of how Carleton College student-athletes strive for excellence both on and off the field. A starter on the offensive line for the Knights' football team, he turned his passion for learning into a program that he hopes will teach others about solar energy in a fun and unique educational model.
His innovative ambition led him to create a summer program where high school students from Northfield get to learn about the physics of energy and light while at the same time creating their own solar backpack. The gear bag that these students will assemble is nearly identical to a traditional backpack, except it is fitted with a small solar panel that allows an individual to charge their phone or other small battery-powered device on the go.
Interestingly, Anisowicz's idea for this summer 2018 program stems out of his experience 12 months earlier as part of a five-week summer agriculture seminar run by two 2017 Carleton alumni. During that time, Anisowicz learned about the economics, soil biology, and technology of the agriculture business and how farmers are constantly engrained in all three fields.
"That program was set up to be interdisciplinary," Anisowicz explained, "the same way that mine is going to be. We worked on farms across Northfield for five weeks. In between working on farms, we had five one-week topical classes. The first week we learned about water. The second week we learned about soils. Then we learned about agriculture business, agriculture technology, and finally, we learned about food systems and food justice."
This interdisciplinary experience shaped how Anisowicz views his Carleton career. He saw this summer program as a learning model that could be implemented at a school like Carleton or even in high schools. Essentially, professors teach their courses by using the combination of an interdisciplinary education with tangible, real-world experiences. This structure of the program is a critical component.
"My education is one of the most valuable things that I've received," Anisowicz said, "and I believe if you could just learn at the same time as you were building something useful to you… well, I think if I could've learned that way, I would have been way more motivated to try in class."
(story continued below)
---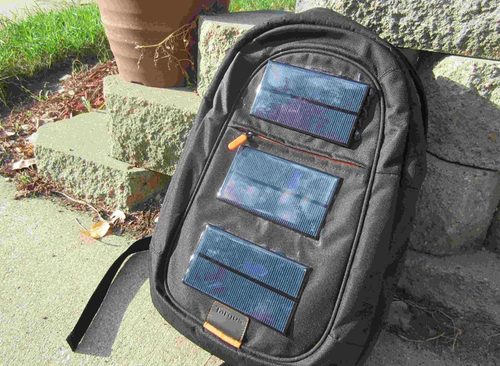 This is what a solar backpack produced during Anisowicz's summer program might look like.
---
Anisowicz's program has two central components: the first is the interdisciplinary class structure and the second is the hands-on, building component. Through his program, Anisowicz hopes high school students are exposed to all aspects of solar energy, not simply the traditional physics and chemistry elements.
"Students are also going to learn about the history of our modern industrial energy system, and the economics of integrating renewable energy technologies into our existing energy infrastructure," he commented.
By the end of the program, Anisowicz hopes that participants will be able to decide what questions in energy they want to explore further. He adds that, "the interdisciplinary component is intended to show students that energy is not just a question for scientists and engineers to think about; it is fundamentally a question of economic and policy choices that people living in a country make, which are both deeply rooted in cultural history."
His passion for this program pushed Anisowicz to delve deeper into the physics and chemistry of an advanced topic like photovoltaics, even though he has very little experience with either.
An American Studies major, Anisowicz is taking his first Carleton science class this winter: a physics course on electricity, magnetism, and optics. In the meantime, he relied on the expertise of Carleton physics majors to build the first draft of the program's physics curriculum. He hopes to use a similar model to generate the curriculum for the chemistry and economics sections.
"I've had to learn about this stuff on my own just to be able to tell Physics students what I want on the curriculum, but to say that I understand the mechanics of solar panels from my own research is completely inaccurate," he admits.
"And I don't want to give anyone the idea that I don't value the material that can be learned in an undergraduate setting. My summer program is designed to get high school kids excited about science precisely so they don't make the same mistakes I did when they go to college."
Anisowicz noted that he owed a great deal of thanks to the Carleton students and faculty members who helped him with the program so far. He specifically recognized Arjendu Pattanayak, Professor of Physics and Chair of the Physics and Astronomy Department, for helping make this vision a reality. Additionally, he noted that fellow seniors Henry Rook '18, Max Foster '18, John Scott '18, and Anne Hamilton '18 made integral physical contributions to the project.
Currently, Anisowicz is applying for the Carleton entrepreneurship grant. He hopes to design a sustainable business model for the program so that it can run for multiple years after he graduates.
————–