Carls prepare for an unprecedented election
Carleton students are preparing to vote in an election fundamentally transformed by COVID-19.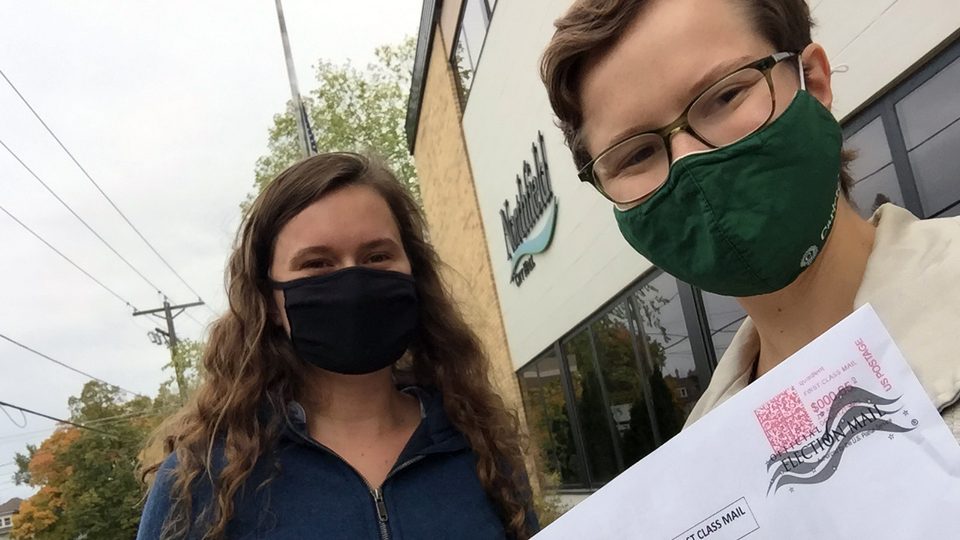 As November approaches, Carleton students are preparing to vote in an election fundamentally transformed by COVID-19. With early voting, mail-in voting, and in-person Election Day voting all potential options for students, groups around campus are working to make sure Carls are informed about the safest and easiest ways to vote. With competitive races up and down the ballot, the push to boost campus turnout is stronger than ever before.
"With five super competitive elections from the state house through the presidential election, you'd be hard pressed to find anywhere else where your vote could have more impact this year," said Siena Leone-Getten '21, president of Carleton Democrats. "The main thing we've been doing is trying to spread as much voting information as possible, particularly spelling out how students can vote early or by mail in Northfield and why their votes matter here so much."
With campus activities limited by COVID-19, bringing out the vote comes with several new challenges. "The main thing that's hard is not having large and in-person events on campus that are typical most fall terms," Leone-Getten added. "Having face-to-face contact is super important and just having a general presence matters a lot so people keep voting front of mind when school gets busy."
But this hasn't stopped Carleton Democrats and other groups, who are getting the word out through emails, posters, social media, and phone and text banks. Even groups that typically stay out of politics—like the Carleton Student Association—are getting involved. Molly Zuckerman '22, co-chair of the CSA Election Engagement Working Group, said that CSA had not originally planned to get involved in the election, but when Carleton Center for Community Engagement (CCCE) Director Sinda Nichols reached out about what resources CSA had at its disposal, she "realized how much we could do if we had our own working group."
Since establishing the group, CSA has been working with CCCE's #carlsvote campaign to hang fliers with QR codes to help students register and get mail-in ballots. They are also working on a social media campaign and developing resources to help Carls get familiar with the issues in state and local races.
Even with the obstacles posed by COVID-19, in many ways, voting has never been easier. "It was a fun, celebratory event, and also really easy," said Greta Hardy-Mittell '23, who voted early in her first presidential election. "My roommate and I both got mail-in ballots, filled them out in our rooms, then walked down to Northfield City Hall to deliver them in person. We dropped them off, took a picture, and then walked back!"
Despite the limitations on campus activities, Carls are as politically engaged as ever. "I've seen folks waving around their mail-in ballot in Sayles, or changing their Instagram bios to encourage their friends to vote," Hardy-Mittell added. To her and many Carleton students, voting carries a particular significance. "Voting is not only a right and a responsibility, but a chance for young people to feel more empowered than ever before."
Election Day is Tuesday, Nov. 3. Students can discover how to vote by visiting the CCCE website or going to turbovote.org.