Carls are key collaborators for Cecilia Cornejo in Wandering House creative project
Cornejo credits her work with Carleton students and alumni as necessary for the continued success of her ongoing Wandering House project.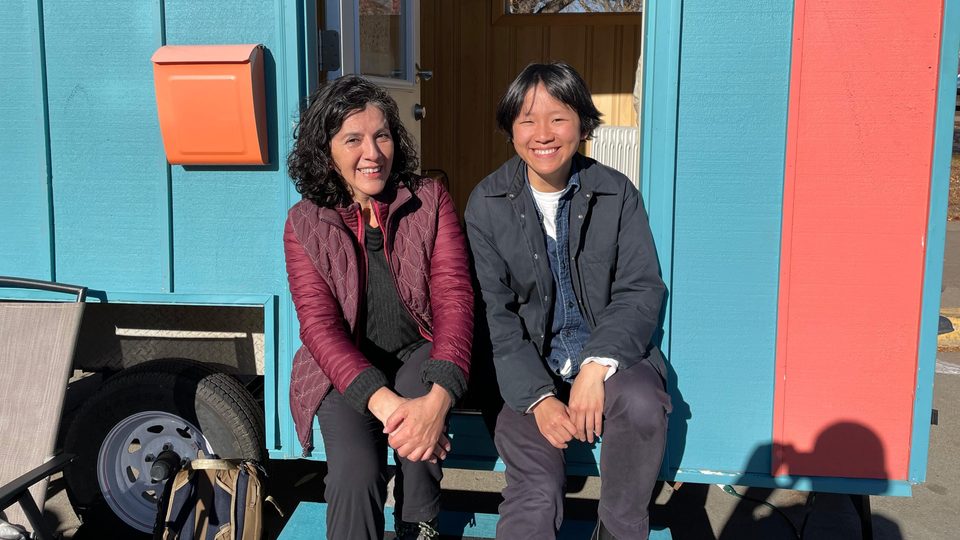 The Wandering House project from Cecilia Cornejo, lecturer in cinema and media studies, has been a mainstay at Carleton and in Northfield for years. Since Cornejo began the project in 2018, more than nine different Carleton students and alumni have helped her grow and develop her multi-modal, multi-platform work. The ongoing project examines "notions of home and belonging" from the perspective of three small river towns in southeastern Minnesota: Northfield, Lanesboro and Red Wing.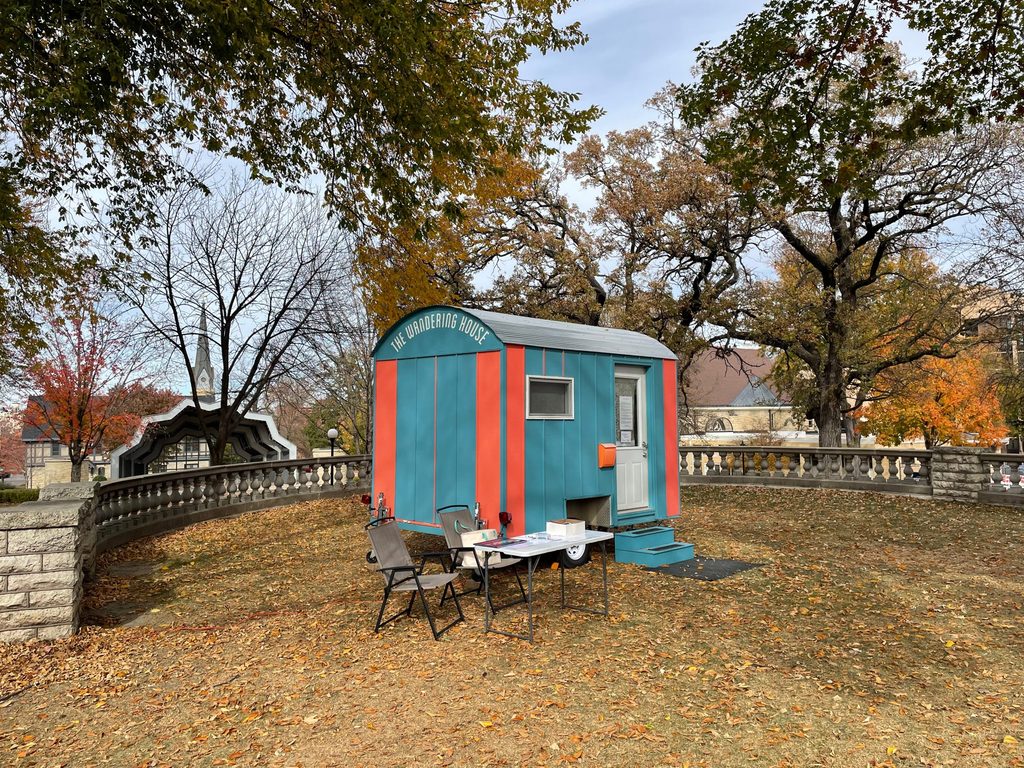 The Wandering House itself is a former ice-fishing trailer retrofitted as a mobile audio recording studio, which Cornejo uses to record community members' thoughts on what home means to them. Originally from Chile and now a longtime resident of the American Midwest, Cornejo is fascinated by how people find a sense of belonging in the places they reside. She's found a lot of success in her work on this subject, and says that the Carls she's collaborated with have been and continue to be deeply necessary to her art.
"I really want to emphasize their role in this," she said. "I tend to work with students long-term, because I want them to see where things begin and end as much as possible. They have been fundamental in allowing this project to grow in the way that it has and they deserve so much recognition for that."
Cornejo's Wandering House started its journey in Northfield with the help of Cornejo's students Sergio Demara '20 and Apoorba "Arya" Misra '22, who served as interns for her through the Center for Community and Civic Engagement (CCCE).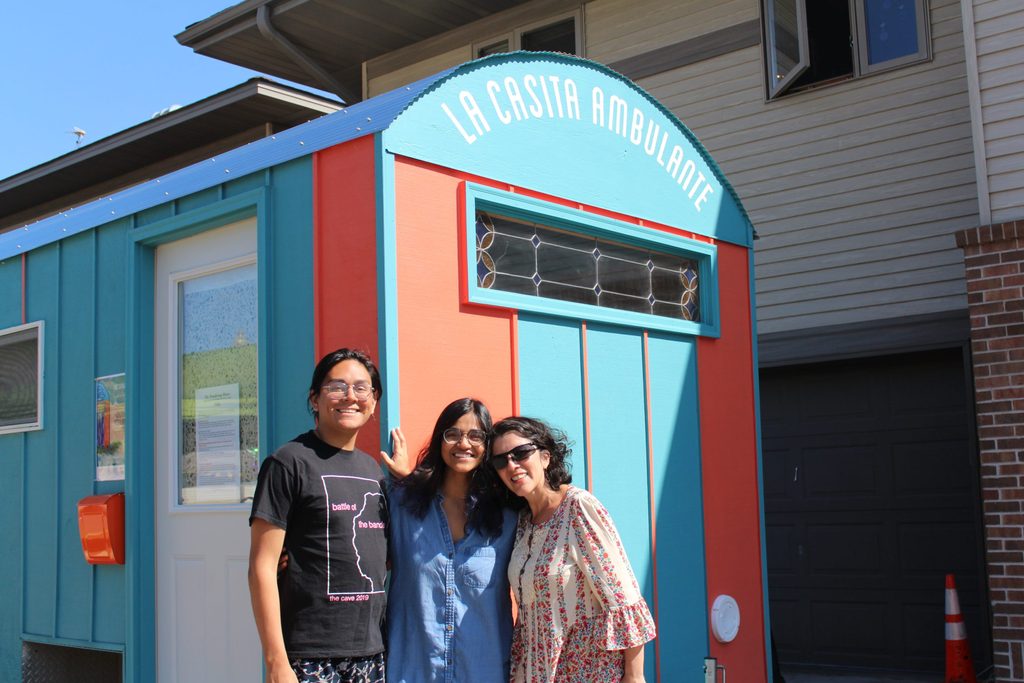 "They were phenomenal," Cornejo said. "Even though I knew what I was doing, I didn't 'know what I was doing,' you know? The project was an experiment at first. It takes a certain kind of person to be willing to follow along with that, and they were amazing about it."
Many more students have gotten involved over the years, from editing out background noise in audio testimonies to putting together installations for the project and more. Cecilia Kryzda '20 joined Demara and Misra to help translate and transcribe audio recordings. Luisa Ballinger '21 joined Cornejo for the Embroidery Project, an offshoot of the Wandering House that invited residents of Northfield and Lanesboro to embroider fragments of the audio collected in each town in order to create two community quilts. Those were transformed into Sonic Quilts by Valentina Guerrero Chala '24 and Chisom Oguh '23, who digitized the embroidery pieces, matched them with the correct audio testimonies and made it all interactive online.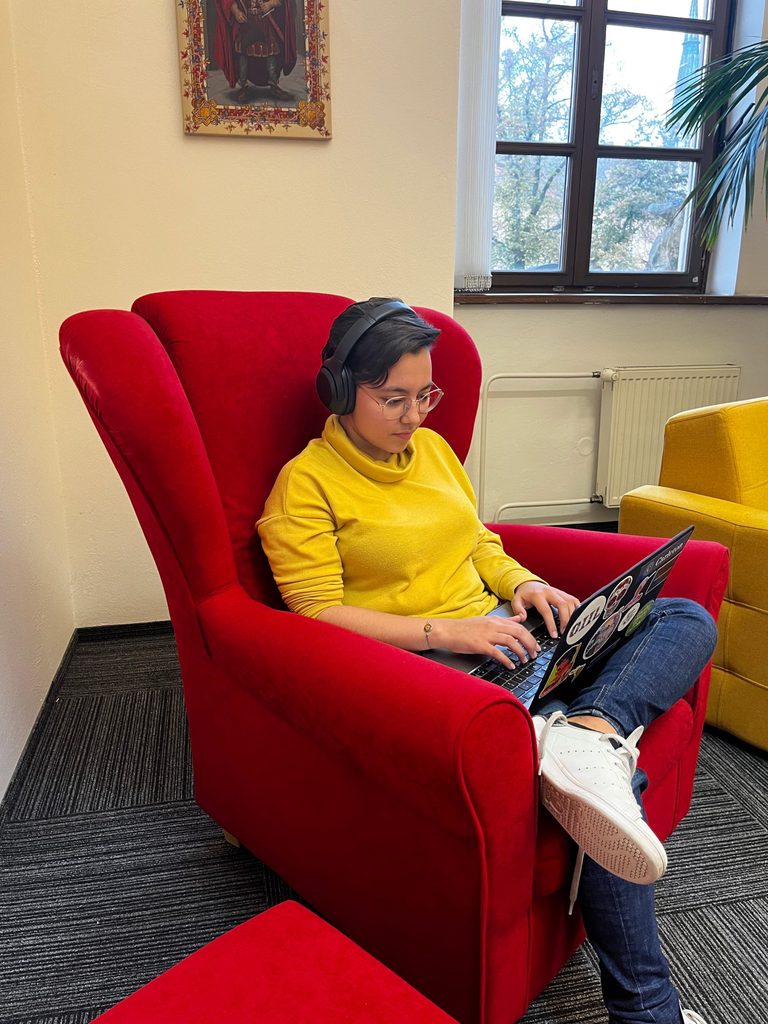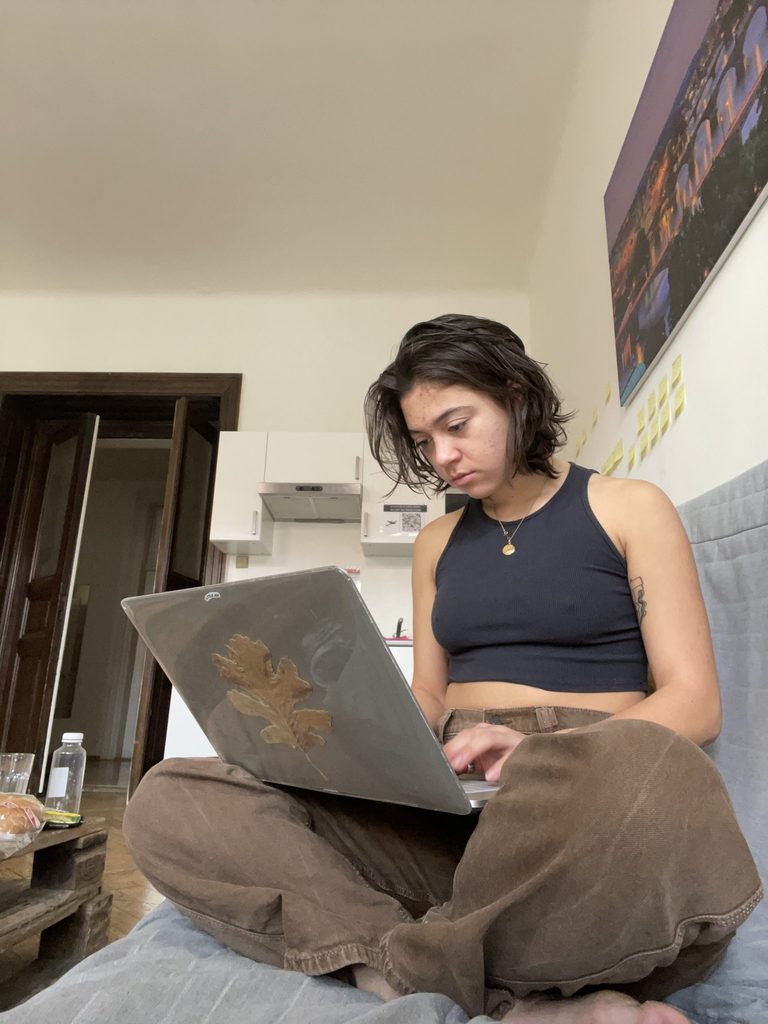 Guerrero Chala is also currently a research partner along with Victoria Aguado '24 for the Wandering House ~ Sonic Archive, formerly known as Sonic Landscapes of Southern Minnesota. Ceile Kronick '22 served as a research partner for the archive as well before his graduation. This project by Cornejo, which will launch in spring 2023, consists of an interactive archive and sound-mapping website that houses all the audio testimonies and ambient sounds recorded in Northfield, Lanesboro and Red Wing to date. While anyone can explore the archive after its launch, residents of the three towns will also be able to submit additional testimonies as well as their favorite ambient sounds directly via the website. Aguado also served as a summer intern for Cornejo through the Career Center when the Wandering House traveled to Rochester, Minn. for an exhibition in the summer of 2022, assisting with gallery tours and embroidery workshops related to the show.
Peixuan Ouyang '18 is the latest in this long line of Carls. She served as Cornejo's assistant and consultant during a month-long artist residency in October 2022 at the Anderson Center in Red Wing, Minn.
"It was incredibly rewarding working with Peixuan as a collaborator," Cornejo said. "We worked so well together—by the end of the month, we would just look at each other and know what the other was thinking! She was a total natural with talking to people, too. I didn't have to give her any instructions on navigating interactions with the public, she just did it so well. That is not something just anyone can do."
While not her only role in Red Wing, talking to people about the project and its many facets and outcomes was Ouyang's favorite. She got to interact with a wide range of people, from rural farmers to high schoolers to art enthusiasts and even other Carls, like Bill Christianson '58 and his daughter Emily Christianson '87, who served as Cornejo and Ouyang's contact person for the high school they visited in town.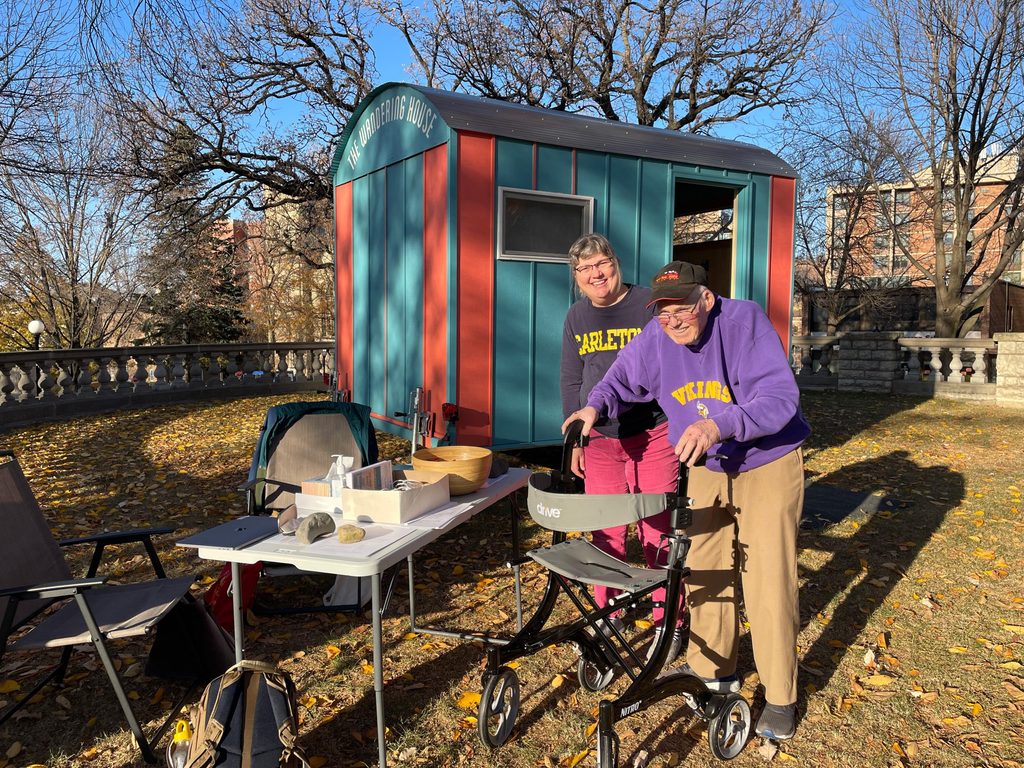 "To talk about and introduce the project to all these crowds was a very rewarding experience for me, because they represented so many different aspects of the Red Wing community," Ouyang said. "We were there to learn about the town and its people, and we did. We went in with no expectations for participation, but so many were willing to record their stories. I appreciate that opportunity and trust from Cecilia and from the people who worked with us."
"There's always a worry, going to a new town, that people won't get on board with the project," Cornejo added, "especially considering that Peixuan and I are obviously not from there. But people react very favorably to the Wandering House every time. In a way it's a no-brainer—how will people react if you treat them with respect and like you're really interested in what they have to say? Well, most people really appreciate that! It also helps that the house is inviting and colorful and nonthreatening, and I work with Carleton students like Peixuan, who have genuine interest in people and their lives."
Even the conversations with those who did not choose to record their stories in the Wandering House were significant to Cornejo and Ouyang.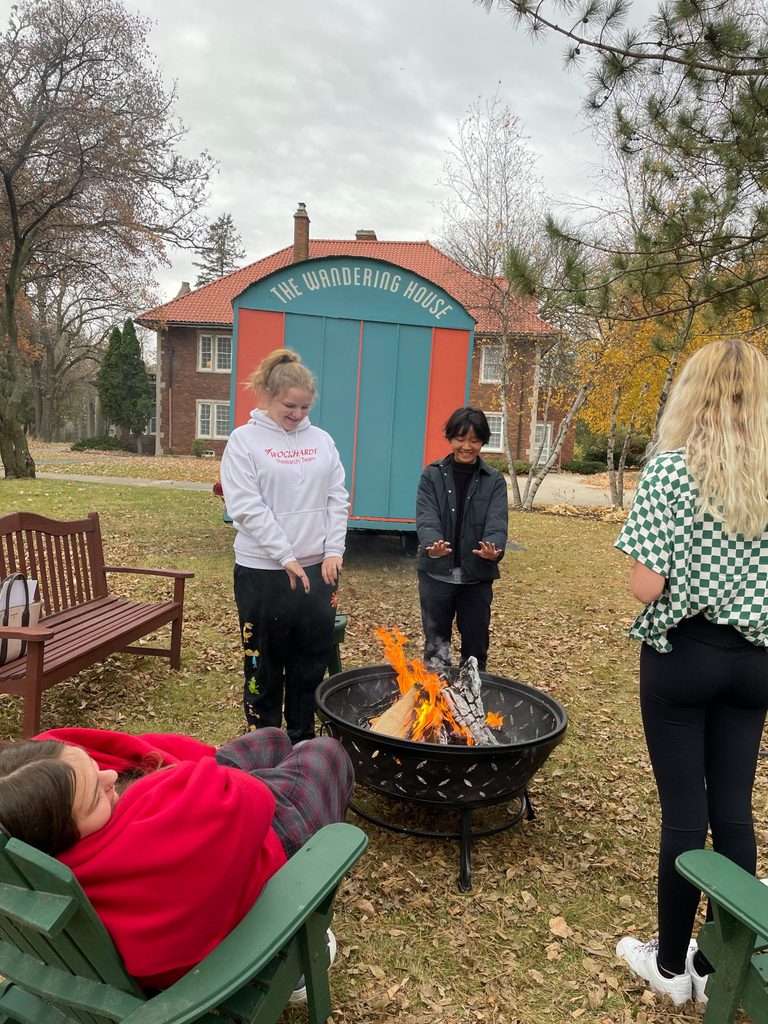 "The people really trusted us, even though we were outsiders," Ouyang said. "They were willing to tell us all of these difficult life stories and problems. Even the little things they shared meant a lot to me and showed their curiosity and how genuine they are. I learned a lot about the community and Red Wing as a town. Also, through witnessing how Cecilia engaged with people, I learned about her a little bit more, too, and I really liked that."
Ouyang's position as assistant and consultant also included sharing with Cornejo the physical labor of setting things up and breaking them down again, as well as the technical issues that come with operating a mobile sound recording booth and administrative duties like release forms and scheduling.
"Because I've worked at many small nonprofits, I'm very used to the workflow of a small team in which everyone wears many different hats and jumps in whenever there is a need," Ouyang said. "Cecilia and I got to be flexible in that way and I really enjoyed that."
Ouyang graduated in 2021 with an M.F.A. from the Film, Video, New Media and Animation Department at the School of the Art Institute of Chicago—the department from which Cornejo also received her M.F.A. Ouyang is currently focused on creating installations and artist books, and her passion is experimental nonfiction art, like essay films, which Cornejo introduced her to when Ouyang was at Carleton. Ouyang is positive that her experience in Red Wing has influenced her plans for the future as well as her art.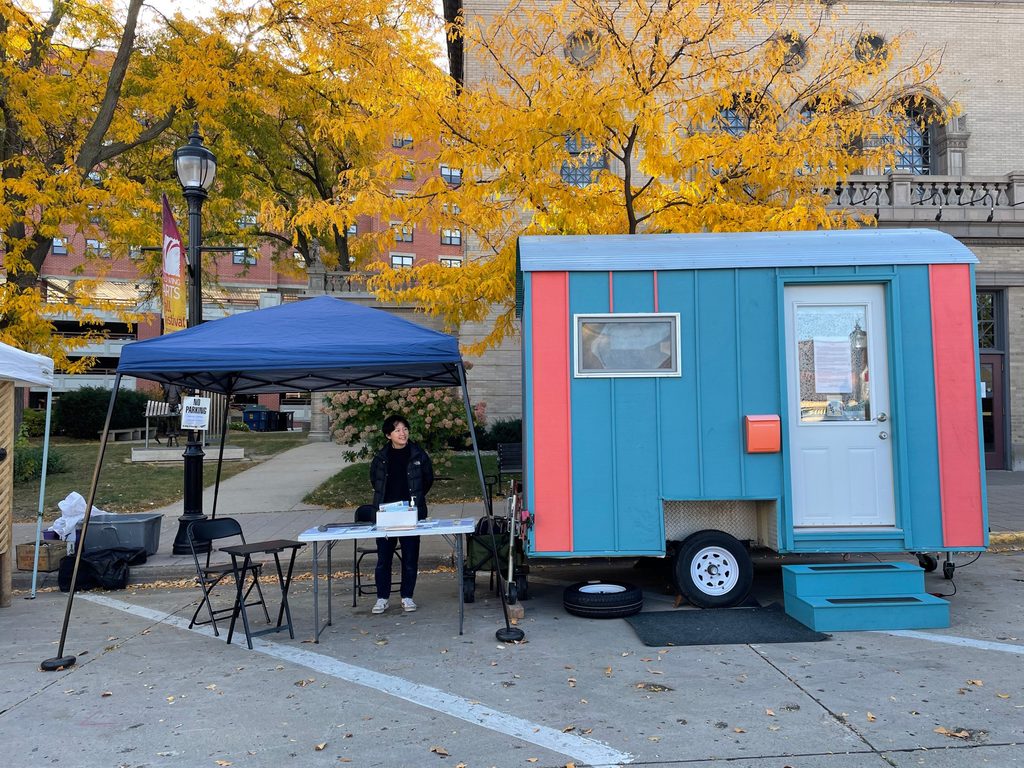 "When we got to Red Wing, I was already confident about creating public-oriented and community-based work because of my experience in nonfiction film," Ouyang said, "but by the end of the month, I became much more comfortable with creating a project on this larger scale. In terms of thinking and planning, I know now what I should consider logistically and budget-wise, who I need to talk to in order to make something like this happen, and what I need for grant applications, too."
Ouyang and the rest of the Carls who have worked on the Wandering House and its offshoots have truly helped shape the project, Cornejo says. While she guides its overall direction in order to give the experience some structure, her students and alumni have many opportunities for input and leadership.
"I always want my students to tell me what is and is not working for them and to suggest things to add or change," Cornejo said. "They also actively contribute to the project by telling their own stories of home, so they can offer their feedback from that standpoint, too. It's like they've been cast in two roles. They help me produce the project, but they also participate and let me know what it feels like from that side of the process so we can improve. I greatly appreciate all of the students' contributions—their input, feedback, creativity and direction."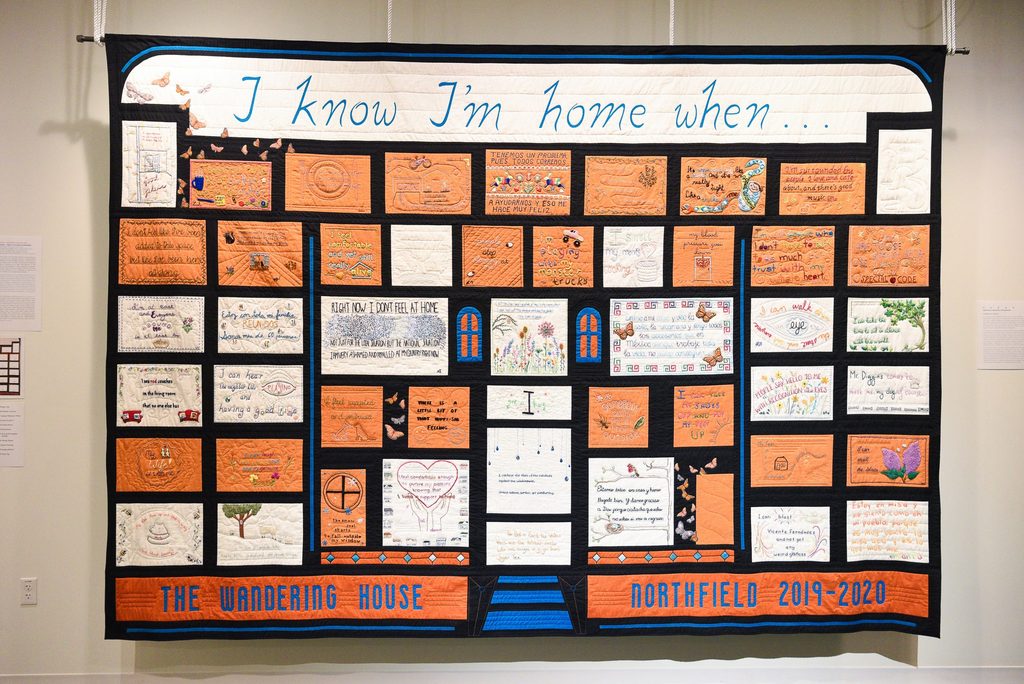 Cornejo would also like to recognize the support her project has received from Carleton's Humanities Center, the CCCE and the Public Works grant, which have all been "pivotal to the growth and vitality" of the Wandering House.
"This project only exists because of them," Cornejo said. "I'm eternally grateful to [Public Works co-directors] Susannah Ottaway and Kelly Connole, because it was with funding from Public Works that I could give myself permission to explore this field that I wasn't familiar with. I knew I wanted to do it, but I'm a filmmaker by training, so this allowed me to test out a different way of engaging with this set of questions. It was with their support that I could have the time to research, think about and then finally begin the project. It's so essential to artists to have that support to explore, and I'm glad I could share that with Carleton students as well."
---
Erica Helgerud '20 is the news and social media manager for Carleton College.