Carleton's Johnson honored as 2018 Newman Civic Fellow
Daniel Johnson '20 has been selected by Campus Compact as one of 268 students who will make up the organization's 2018 cohort of Newman Civic Fellows. Carleton's food recovery network students leaders and CAMS professor Laska Jimsen were also honored.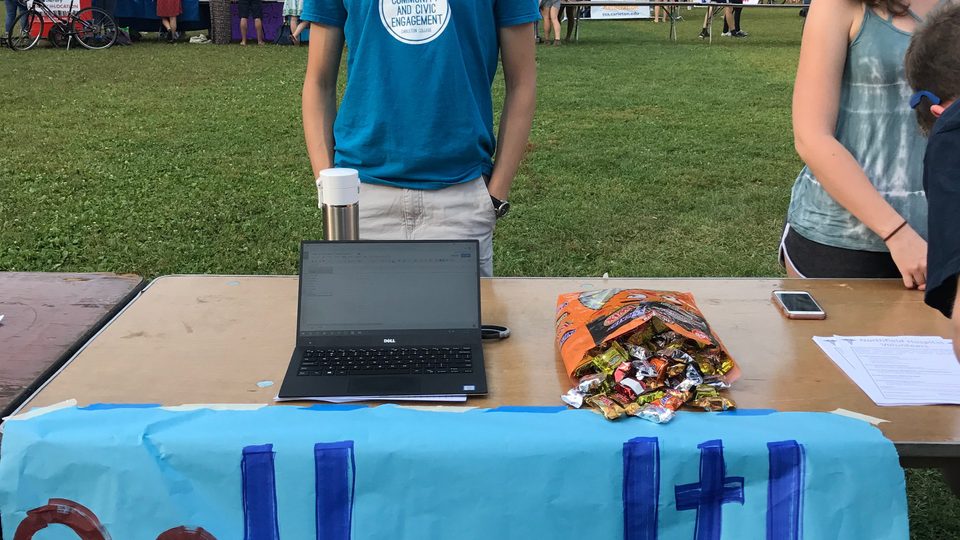 [[id="1690952″ width="300″ float="left" caption="Daniel Johnson '20"]]Daniel Johnson '20 has been selected by Campus Compact as one of 268 students who will make up the organization's 2018 cohort of Newman Civic Fellows.
Johnson, who serves as a fellow in Carleton's center for community and civic engagement (CCCE), works with a local community health center, HealthFinders. This nonprofit serves as an access point to healthcare in greater Rice County. As Carleton's HealthFinders liaison, Johnson's responsibilities include hosting on-campus information sessions regarding opportunities at HealthFinders, processing applications, setting up interviews, assisting with intern orientation, and tracking the college's volunteers. He coordinates student reflection sessions and writes quarterly evaluations.
In addition to his work with HealthFinders, Daniel serves as a tutor with Northfield's TORCH program. The mission of TORCH is to improve the graduation and post-secondary participation rates of Northfield's students of color, low-income students, and youth who would be first-generation college attendees.
[[id="1690950″ width="300″ float="right" caption="Johnson at the student organization fair"]]"My efforts to address health inequities through community service stem from my firm belief in the fundamental right to healthcare," Johnson said. "In the future, I hope to grow as a leader and help resolve health inequities in my community and beyond."
The Newman Civic Fellowship, named for Campus Compact co-founder Frank Newman, is a one-year experience emphasizing personal, professional, and civic growth. Through the fellowship, Campus Compact provides a variety of learning and networking opportunities, including a national conference of Newman Civic Fellows in partnership with the Edward M. Kennedy Institute for the United States Senate. The fellowship also provides fellows with access to apply for exclusive scholarship and post-graduate opportunities.
"We are thrilled to have the opportunity to celebrate and engage with such an extraordinary group of students," said Campus Compact president Andrew Seligsohn. "The stories of this year's Newman Civic Fellows make clear that they are bringing people together in their communities to solve pressing problems. That is what Campus Compact is about, and it's what our country and our world desperately need."
The Newman Civic Fellowship is supported by the KPMG Foundation and Newman's Own Foundation.
In addition to Johnson's award, a number of other Carleton students and a faculty member were honored by the Minnesota state chapter.
[[id="1690943″ width="300″ float="left" caption="Carleton's food recovery network"]]Carleton's "Food Recovery Network" program was given a student award. The six student directors were cited: Natalie Jacobson '18 (Evanston, Ill.); Emma Link '18 (Cleveland, Ohio); Julia Braulick '20 (Northfield, Minn.); Emily Moses '20 (Lino Lakes, Minn.); Alysala Malik '19 (Rapid City, S.D.); and Grace Liao '20 (River Forest, Ill.). Carleton is home to the first food recovery network chapter in Minnesota. The students recover food from two dining halls, six days a week, with a team of more than 70 student volunteers delivering food to eight community partners. Carleton's food recovery network leaders have taken this program to new heights; engaging the interest of Carleton students and building bridges between dining hall staff, students and community partners. Student participation has doubled annually over the last three years. They recently added two community partners and a day of service.
Laska Jimsen, associate professor of cinema and media studies (CAMS), earned a faculty/staff award. She teaches digital foundations, nonfiction, animation, experimental film and video, and junior/senior production workshops. She works across nonfiction forms from video documentary to 16mm filmmaking and animation. In her nonfiction course, students produce dynamic videos for community partners, allowing non-profits and organizations to more effectively tell their story.
[[id="1690947″ width="150″ float="right"]]The community partner award was given to Sarah VanSickle. Founded in 1965, Project Friendship is a mentoring program that matches Northfield children with students from Carleton or St. Olaf College. Project Friendship children are like children everywhere who may be struggling with stress in their family, be new to the community, or simply have trouble making friends at school.
About Campus Compact:
Campus Compact is a national coalition of 1000+ colleges and universities committed to the public purposes of higher education. Campus Compact supports institutions in fulfilling their public purposes by deepening their ability to improve community life and to educate students for civic and social responsibility. As the largest national higher education association dedicated solely to campus-based civic engagement, we provide professional development to administrators and faculty to enable them to engage effectively, facilitate national partnerships connecting campuses with key issues in their local communities, build pilot programs to test and refine promising models in engaged teaching and scholarship, celebrate and cultivate student civic leadership, and convene higher education institutions and partners beyond higher education to share knowledge and develop collective capacity. Visit www.compact.org.