Carleton's Food Recovery Network expands impact on the community
Volunteers recovered over 22,000 pounds of food from local businesses and Carleton's dining halls in fall 2018.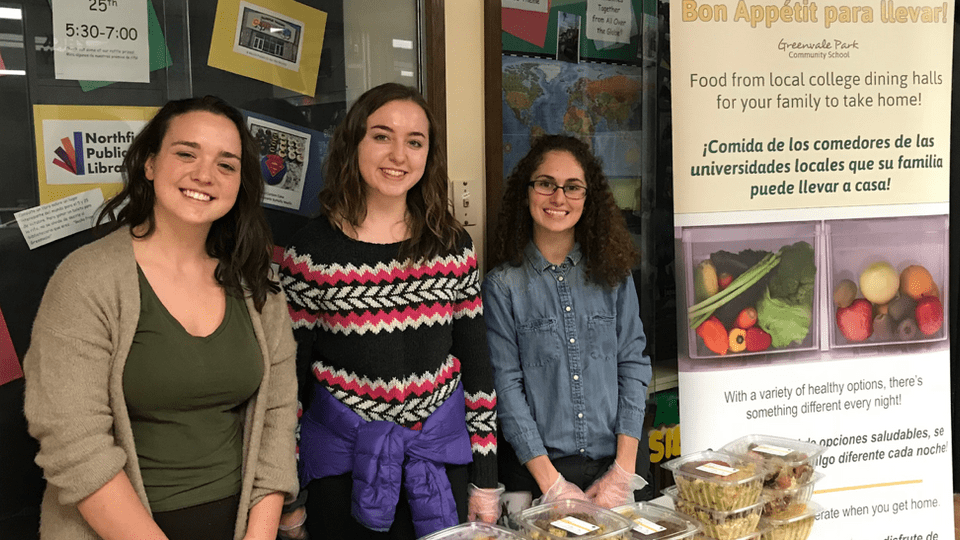 More than 22,000 pounds of food were recovered from local businesses and Carleton College's dining halls in fall 2018—a striking increase in the impact of the college's student-run Food Recovery Network in its fourth year of operation. With 58 volunteers currently active in the organization, the network is fully staffed to carry out its mission.
In 2014, Carleton established its chapter of the Food Recovery Network, a nationwide organization that aims to reduce food waste from college dining halls and reduce food insecurity in local communities. Since then, the Carleton network has dramatically increased in size, and has become a well-established organization both on campus and within the national network.
Volunteers recover extra food from Burton and LDC dining halls and the Sayles Cafe six nights a week and distribute the packaged food to eight community partners in Northfield and Faribault, including the Northfield Food Shelf, St. Dominic's Catholic Church and Greenvale Elementary School. Tandem Bagels also donates extra bagels to the network each weekend to be given to Greenvale students.
For some community partners, the network is their only connection with the college, said Food Recovery Network Program Director Alysala Malik '19 (Rapid City, S.D.), giving volunteers and program directors "both the honor and responsibility of representing the school." Malik is responsible for communications with community partners and praised Carleton's Center for Community and Civic Engagement (CCCE), which runs the network, for providing students with "meaningful work that helps tackle difficult issues within communities, such as food insecurity."
"Although to college students, Northfield can look like a privileged community, there are actually many families struggling with food access," Program Director Natalie Jacobson '18 (Minneapolis) said. "We are happy to play a role in efforts to provide high-quality food that would have otherwise gone to waste."
When it comes to the impact on area families, Program Director Grace Liao '20 (River Forest, Ill.) said she knows the network is making a difference. She said a Greenvale student once told volunteers distributing food, "When I bring this food home, my parents give me hugs and kisses."
Malik began volunteering as a first-year student after observing food waste in her parents' Thai food business, and at that time, she said the Food Recovery Network "struggled to get enough volunteers to run recovery smoothly and efficiently." Now, Malik said there are "very few gaps in our volunteer needs and even room to expand." With more than 58 active volunteers this term, there are no longer concerns about filling shifts. Thanks to the increase in volunteer efforts, the network has more than doubled the amount of food recovered since it began collecting food locally from Cub Food, Target, and Open Hands farm. In fall term, 2,500 pounds of food were recovered from Carleton dining halls, and 19,700 pounds from local stores and farms. During the 2017-2018 academic year, volunteers recovered 8,782 pounds of food from the dining halls.
Leaders of the Carleton Food Recovery Network also hope to inspire other colleges to start chapters on their own campuses. In November 2018, Carleton students presented at the Students for Zero Waste conference in Philadelphia, organized by the Post-Landfill Action Network (PLAN).
"It was uplifting and enlightening to spend a weekend with other college students committed to reducing waste and improving communities," Malik said.
Looking ahead, the Food Recovery Network could continue to expand. Beginning in the summer of 2018, the network began recovering food from local businesses and donating it to the food shelf operated by the Community Action Center (CAC) of Northfield. This connection prompted local farm Open Hands to commit to growing produce specifically for donation to the food shelf.
"Since taking on these new commitments, we have become more involved in the community dialogue about food insecurity and are seeing our program become even more rooted in the community," Malik said.
The network continues to expand its list of community partners, with the most recent addition being the Adult Education Center in Faribault, where food insecurity is a concern. Another new partner is Project Friendship, a program that matches Carleton students with local elementary schoolers to serve as their friend and mentor. The network also supplies a refrigerator with take-home meals in the CCCE, which college mentors can access and take to their students.
Visit the Food Recovery Network website to learn more.