Carleton students flex their 'mussels' on research trip to Washington
Maya Hofmann '23, Faith Hanshaw '23, Abdisalan Hawadle '23 and Wanying Na '24 are working with Professor Mike Nishizaki to combine climate change research with local public outreach.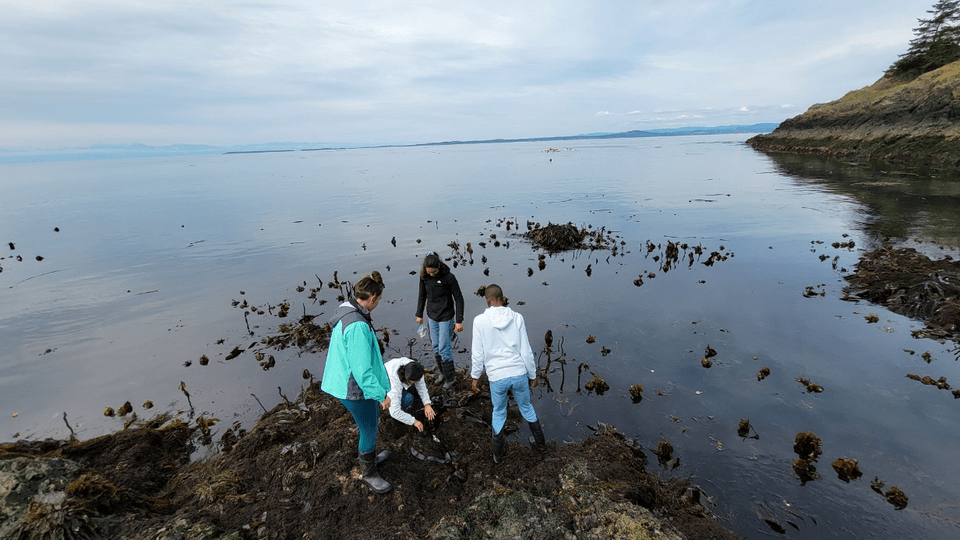 Have you seen @frozentidepool show up in your Instagram follow suggestions? How about @intertidal on your TikTok For You page?
The accounts are run by four Carleton biology students—Maya Hofmann '23, Faith Hanshaw '23, Abdisalan Hawadle '23 and Wanying Na '24—who are on a summer research trip in Washington state with assistant professor of biology Mike Nishizaki.
Nishizaki and his students are based out of a University of Washington research station called Friday Harbor Labs (FHL). FHL occupies a small town—Friday Harbor—about two hours north of Seattle on San Juan Island, located in an area called the Salish Sea, which is named after the Coast Salish First Nation peoples who live in the Pacific Northwest.
Nishizaki and his students are part of a larger research group on an NSF-funded project there. Emily Carrington of the University of Washington and Matthew Reidenbach of the University of Virginia are co-primary investigators (PIs) with Nishizaki. All of the students conduct individual experiments addressing whether marine mussels are significantly affected by changes in environmental factors related to climate change, such as temperature, flow and pH. They combine techniques from physiology (respiration), ecology (feeding and behavior) and genetics (genotyping and gene expression) for their experiments, the results of which are brought to the larger group in order to create comprehensive conclusions.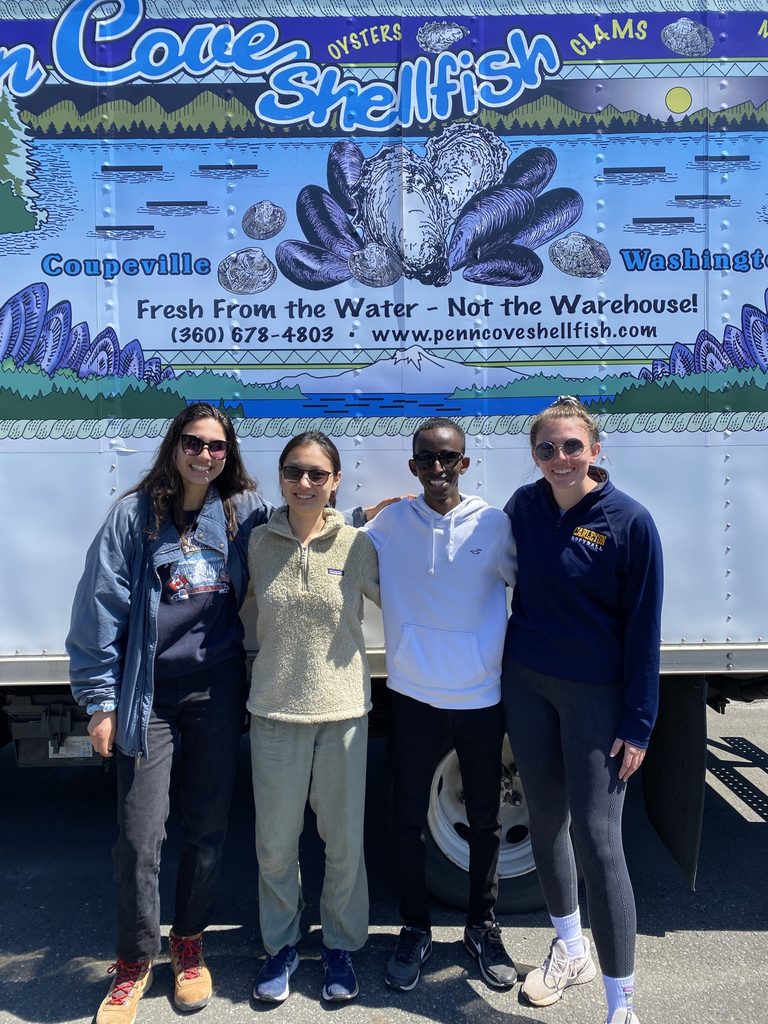 "The overall question is whether mussels, when they aggregate into dense beds or clumps, slow down the water and change water chemistry within the bed that make for unhealthy mussels," Nishizaki explains. "We are working with mussel farmers—yes, there is such a thing!—here in Washington, in order to help understand the potential effects of future climate change."
Students also conduct public outreach at Westcott Bay, a local shellfish farm and restaurant, to increase awareness about the biology of the mussels that people see on their plates—that's where those Instagram and TikTok accounts come in.
"One of the project goals is to provide different experiences and research to different age groups of people," says Hofmann. "One of the PIs has a high school student from Friday Harbor High School who's in charge of doing community outreach. We go to Westcott Bay and try to educate the public about how shellfish is raised, how it has benefited different cultures that live in the area and other facts like that. We also work on science communication in other places with the general public and try to demystify science for people."
The social media accounts are an appropriate way of achieving their goal, as it allows the students to connect to younger audiences and make science more engaging and accessible for them.
"We have a good idea of what people like and want to see," says Hanshaw. "We know how to make them laugh and how to incorporate our humor into real education. I think it's also important that we come at it from the perspective of knowing we don't have all the answers. We know what it's like to have a lot of questions about something, so being able to answer some of those questions has been really cool."
The students' favorite aspects of their research trip vary of course, but all of them mention the natural beauty of their location as a stand out.
"I personally really like the view," Na says as she gestures to the wide-open bay just over her shoulder. "Having this view even when you're just eating lunch is incredible."
Each of them also appreciates being on a coast and the unique experiences that come with that.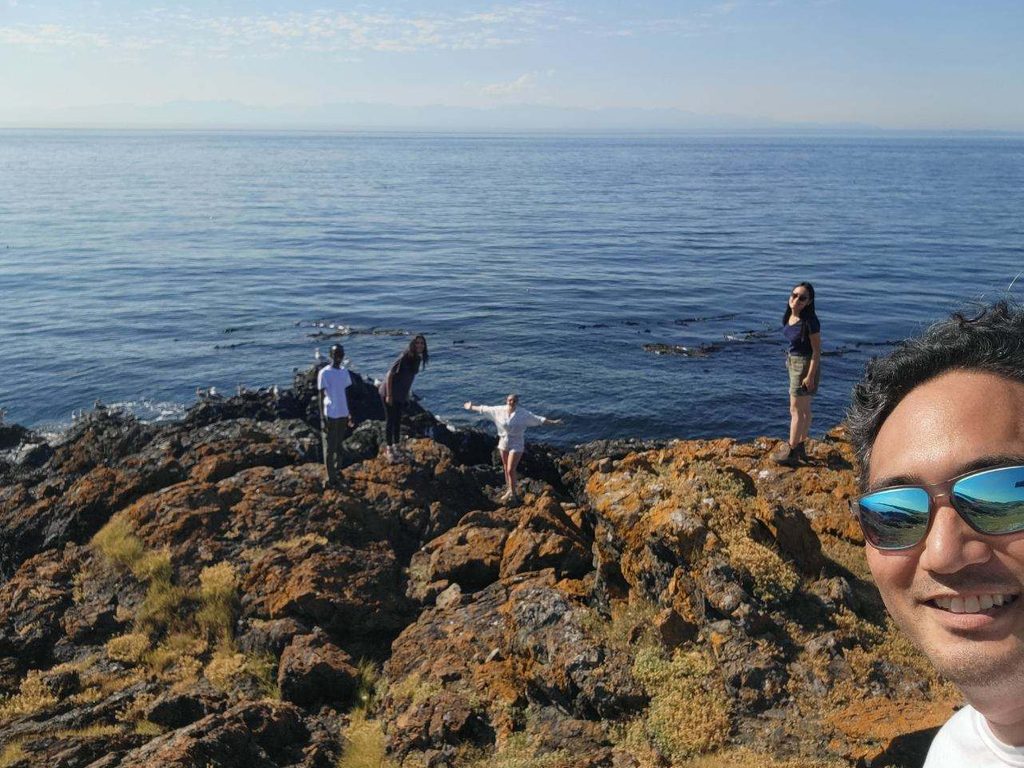 "In our classrooms in Minnesota, we can only talk about the ocean and talk about all the research being conducted in the Pacific Northwest. We can't experience it," says Hawadle. "So it's nice to be here in person, where we can see what we've been talking about and actually work in the ocean."
"Sometimes we go out to different field sites and go tidepooling," adds Hofmann. "We go at low tide when there are little ponds of water the waves have left behind and we can see which marine organisms are there. We also collect marine organisms from all different types of sites around the island. I've never gotten that experience before, being from the Midwest and going to college in the Midwest, so actually going to ocean sites and doing marine biology has been one of the coolest parts for me."
Another important element of the experience for these Carls has been connecting with the graduate students working there.
"We've been playing sports after we're done in the lab," says Na. "We play with the professors, the Ph.D. students and the postdocs, which is a good opportunity for us to get to know what their lives are like so we can think about future paths for ourselves."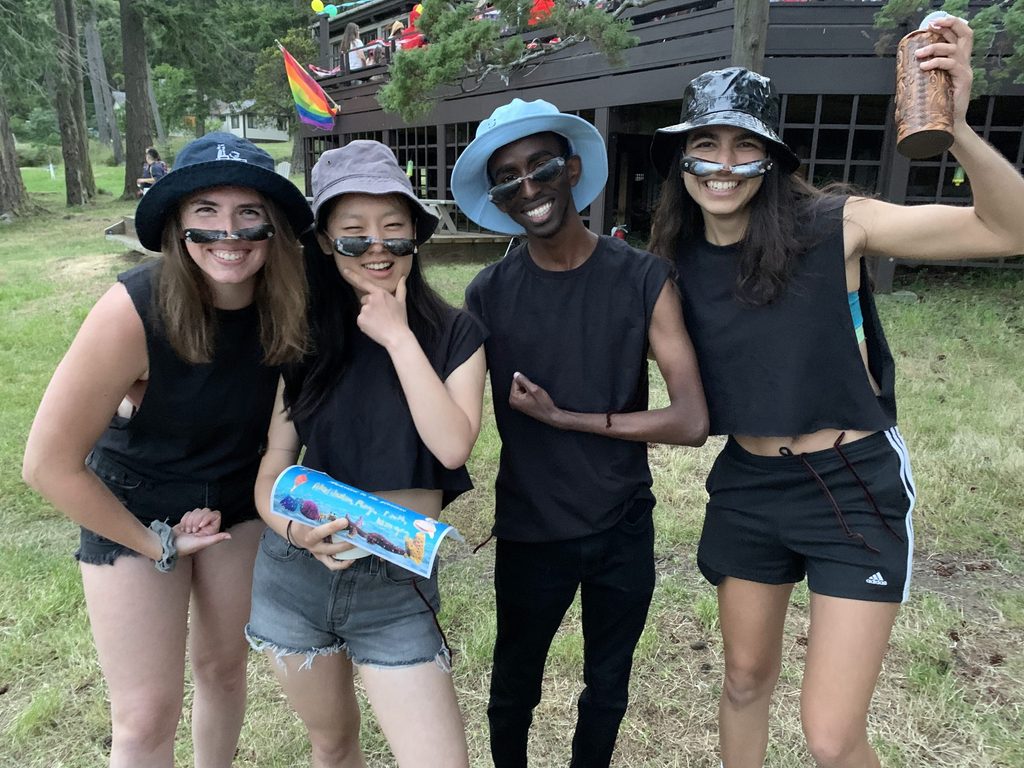 "I've loved getting to know the community here," adds Hanshaw. "There are so many different people you can talk to, from high schoolers to people who have published over 300 papers, and they're all so ready to share their knowledge and what they're doing. Getting to hear all the different perspectives has helped make the thought of going to grad school in this profession a lot less scary."
Worrying about the future is to be expected when one is so close to the end of college, but Nishizaki's research trip has provided specific help and support to his students in order to alleviate some of the stress, including dedicated panels with current graduate students, which every Carleton student highlighted as extremely useful.
"I've always known that I wanted to do marine science, but this experience has made it feel more realistic," Hanshaw says. "Like, 'Oh, I can actually do this. It's not just a dream.' Also, talking to the grad students has given us a realistic perspective of what grad school is like. They do not sugarcoat anything, which I appreciate. They've also told us about other careers beyond strictly those in academia. That has been especially great to hear about."
"Before this research experience, I was more interested in one specific field, ecology," adds Na, "but here, I've learned a lot about how fields are all interconnected. I could use my knowledge in ecology to study marine disease, for example, combining immunology and ecology, which is very cool."
The students also have some great advice for other Carls interested in doing this kind of research:
"Go for it!" Na exclaims immediately, which everyone nods at in agreement.
"I would say be open to things beyond your interests," Hanshaw adds. "Don't narrow your options too much. I feel like that was something I did early on in my Carleton career. I knew I wanted to do marine science, so I only looked for marine science labs, and I think that hindered me a lot. I would recommend keeping an open mind and consider that maybe something isn't what you want to do specifically, but it will at least give you hands-on experience that you can use in the places you want to end up. Lab experience is lab experience!"
For more information on scientific summer research, visit the Carleton STEM webpage for research opportunities, and don't forget to follow the Nishizaki lab antics @frozentidepool on Instagram and @intertidal on TikTok!
---
Erica Helgerud '20 is the news and social media manager for Carleton College.