Carleton student-run radio station KRLX celebrates 75th anniversary
Current and past station managers Sigrid Edstrom '24 and James Brink '23 share their experiences with KRLX as the student-run radio station celebrates its 75th anniversary.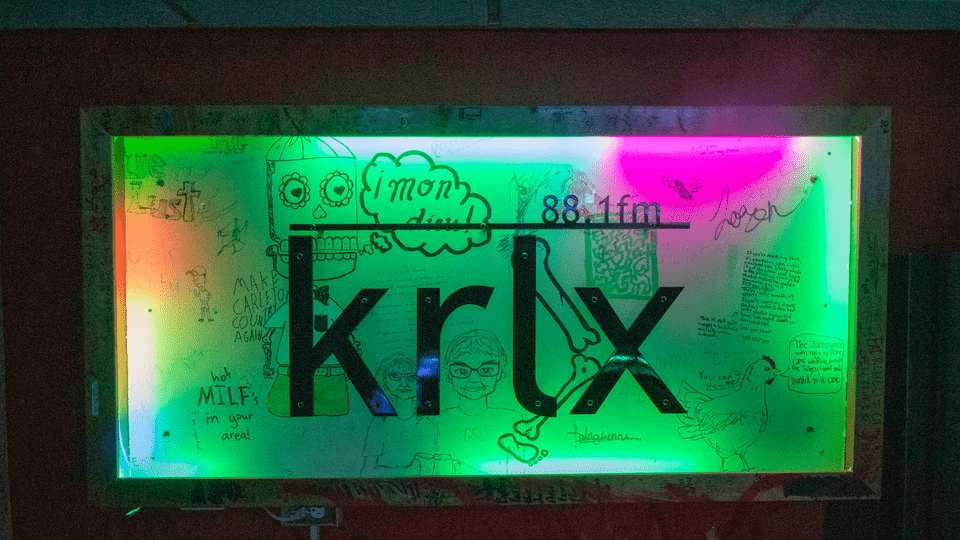 If you walk down the staircase in the entryway of Carleton's Sayles-Hill Campus Center, you'll find yourself in a hallway with fluorescent lights, white cinder block walls and flooring reminiscent of a high school gym (Sayles did, in fact, house campus athletics in the early 1900s). Yet if you step through the right doorway, you'll find yourself in a very different space.
Colorful dim lighting illuminates scribbled notes and posters haphazardly covering most surfaces, while floor-to-ceiling shelves of records line the walls. Through a glass window, you can see a jungle of microphones, turntables, mysterious sound panels and big, comfortable-looking chairs. There is a certain funky opulence about the place, and amidst the cozy lighting and the smell of old records, there is a palpable feeling of importance. Welcome to the basement home of Carleton College's Record Libe and the student-run KRLX radio station.
Sigrid Edstrom '24, current KRLX station manager, reflected on the hidden character of KRLX, saying, "We're just in the basement of Sayles, in this sterile hallway, and then you go inside and the posters all over the place and the stickers and the funny things people have written on the walls is just special."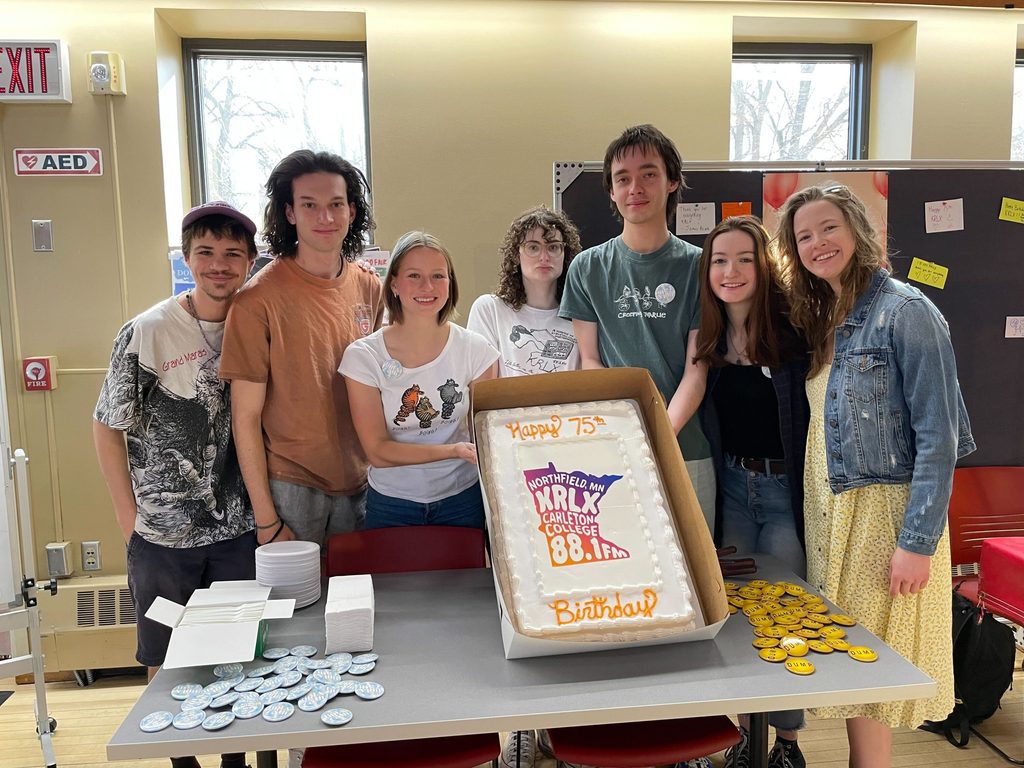 KRLX's singular character was not developed overnight. In fact, Friday, April 14 marks the 75th anniversary of the radio station's first-ever broadcast. Last week, I sat down with Edstrom and James Brink '23, former station manager, to discuss the meaning that KRLX holds in the Carleton community today.
Carleton's radio station was quite literally built by the hands of Carleton students. After gaining official approval in January 1948, it began to take shape with the support of 157 student volunteers, approximately $1,000 in funds raised from students and an $800 loan from the college. Students then dug out and built the space for the radio station, below what was then the Scoville Library Annex. They put their broadcasting technology together by hand from spare parts and used the transmitter from a WWII U.S. Navy destroyer, with much of the work done by students returning from WWII military service. The station initially went by the name KARL, but switched to KRLX when it transitioned from an AM to an FM station in 1974. KARL only broadcasted for around two hours every weekday when it first began, but the station quickly expanded, and KRLX has now grown to an operation with approximately 200 student DJs and 24/7 radio shows during the academic year. Today, the Princeton Review names KRLX as one of the top ranked student-run radio stations in the country. 
As Brink and Edstrom talked about KRLX's anniversary, common themes from both the past and the future surfaced.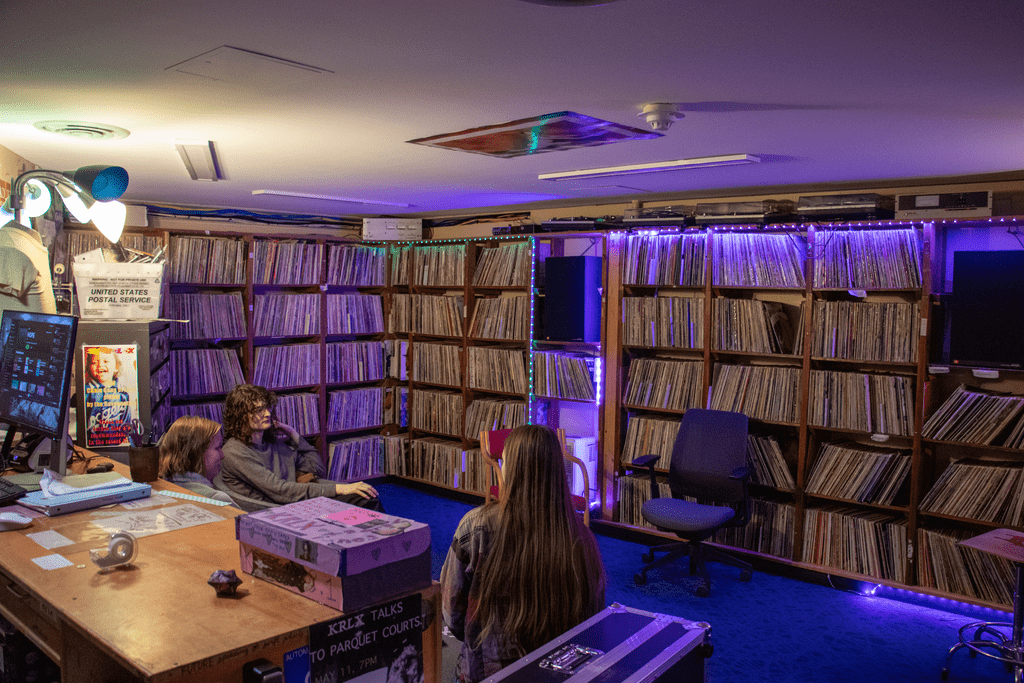 "KRLX is kind of a reflection of radio, the world and college life at the time," Brink said. "KRLX was super serious [in the 1960s] because they were using it as a platform to talk about the Vietnam War, for instance. Over time it became a lot more music-oriented, with New Wave and REM in the '80s and '90s. We're in the streaming era now and radio is [considered] old and dinky in some ways, but I also feel like there's a lot of beauty to that, where you are literally transmitting your voice over Northfield and random people can listen in their car. It's always interesting to turn on your radio and be like, 'These people are talking about bananas right now, that's so weird.' I feel like there's this [good] kind of chaos that's grown over the years."
"There's a really big live music scene at Carleton right now," Edstrom added. "We're lucky to have folks who are involved with it on our board of directors, and I foresee that becoming a really important part of KRLX. I think that KRLX, though it's really special, does serve a niche on campus and I would like it to become more inclusive than it is. We've been thinking about that and trying to do things to facilitate that, and I really hope that we can continue to bring in more types of people on campus and diversify, because that's always good and exciting and fun and lovely."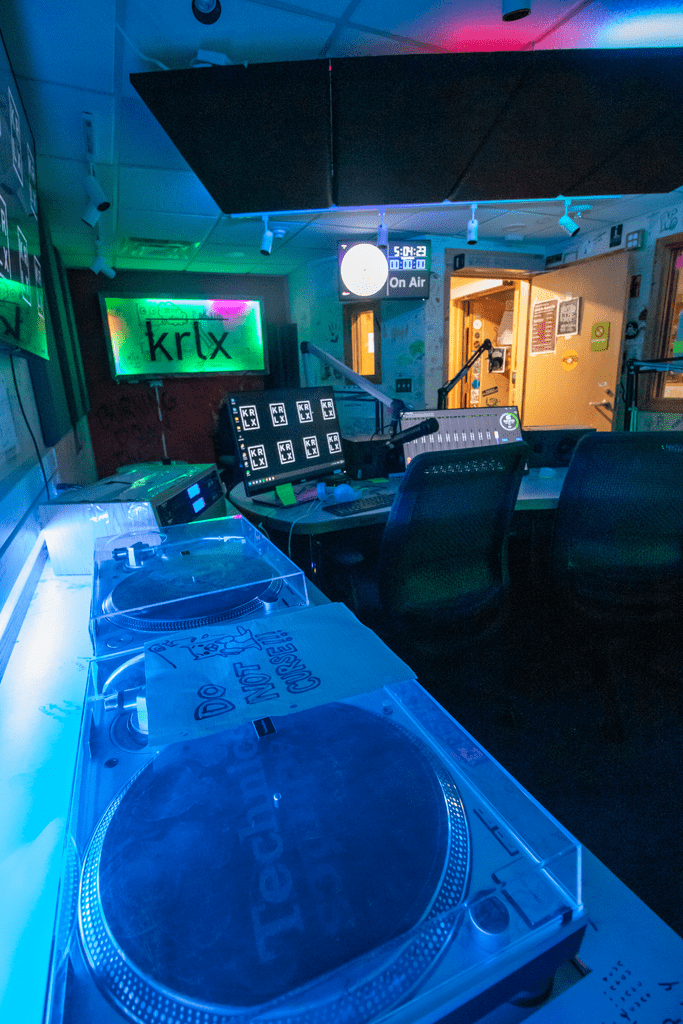 The passionate members of the KRLX board have kept the station alive through the past three years of pandemic challenges, utilizing the ability to stream music online as a supplement to a traditional radio broadcast and thereby giving board members and DJs the ability to connect across campus and across the country.
"A sad consequence [of the pandemic] is there were so many clubs that couldn't necessarily adapt," Brink said. "[Board members] couldn't nominate [new students] to fill their shoes and there are a lot of clubs that don't exist anymore. It's a miracle that we were able to set up a streaming server and have software that allowed us to broadcast to that server. Obviously there were a lot of technical issues that came with that, but it was [great] that we were able to have a thing that people were actually able to do."
"I wasn't on the board during the COVID year, it seemed really, really difficult," Edstrom added. "A lot of folks, especially in my year, were really grateful that you chose to stream anyways, James. You had an insane amount of patience teaching people how to download software and use it to stream from their dorm room over Zoom."
The bright side of having to pivot to streaming, according to Brink, is that many more students ended up involved in KRLX.
"It was probably one of the very few clubs that had things going on," Brink said. "A lot of it was Zoom dance parties. There was a New Year's live stream during the pandemic that is still up on YouTube—people all had their own DJ sets, they were doing art and T-shirt making. I feel like a lot of people had fun with it."
Getting back into a more "normal" swing of things on campus in the fall of 2021 caused its own set of challenges, of course. Students had to get used to being in physical campus spaces again and they ran into quite a few technical issues in the studio. There have been more and more DJs signing up for spots every term, though, according to Brink, and Edstrom says that KRLX events like "Live at the Record Libe," where live music played in the station space is broadcast on air, have attracted quite the crowd.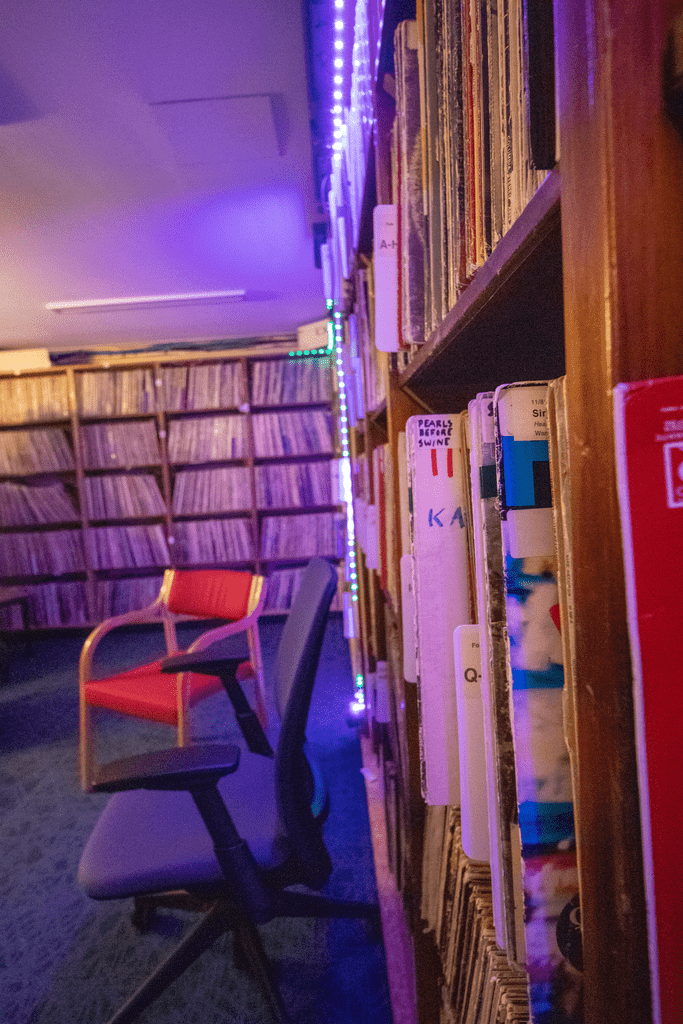 2021 also brought another change to KRLX: studio renovations.
"We really needed the renovations," Edstrom said. "They were controversial, because we lost a lot of the old vibe that the studio had, but [there's a lot of] cool additions. The way they designed the new microphones, for example, is kind of a reflection of podcast culture, because it looks like it's supposed to cater toward DJs having conversations with themselves. In the past, I think KRLX sort of functioned as a news source mostly, which is one thing I'm really interested in bringing back to KRLX—having some sort of digest for DJs to read at the top of an hour if they feel like, whether that's campus news or world headlines."
Being part of KRLX means being part of a large community but also simultaneously having a lot of independence, says Brink.
"We have almost 200 DJs every term, so there are [all these people] who have the shared experience of going into the studio and being on air," Brink said, "but also there is so much individual creativity KRLX allows for, because you're in the studio by yourself a lot of times. I just think that student-run aspect is incredibly important and is a big part of what I value about KRLX."
Highlighting the unique voices of individual students is a real strength of the organization for Brink and Edstrom. Brink was especially grateful for that function of KRLX as a first year and continues to appreciate it as a senior ready to graduate.
"I remember being in the KRLX studio every week and [that being] something magical," Brink said. "Waking up at 4 a.m. [and walking] from Goodhue to the KRLX studio in the winter, as miserable as that sounds—there was just something really meditative about it. Now, we have live events basically every week, we have an imprint, people are putting music up on Spotify every term. It's really exciting to have a place at Carleton where people are being creative and doing things. [KRLX] is simultaneously this wide net, but also has this piece of creativity and coolness that I really love."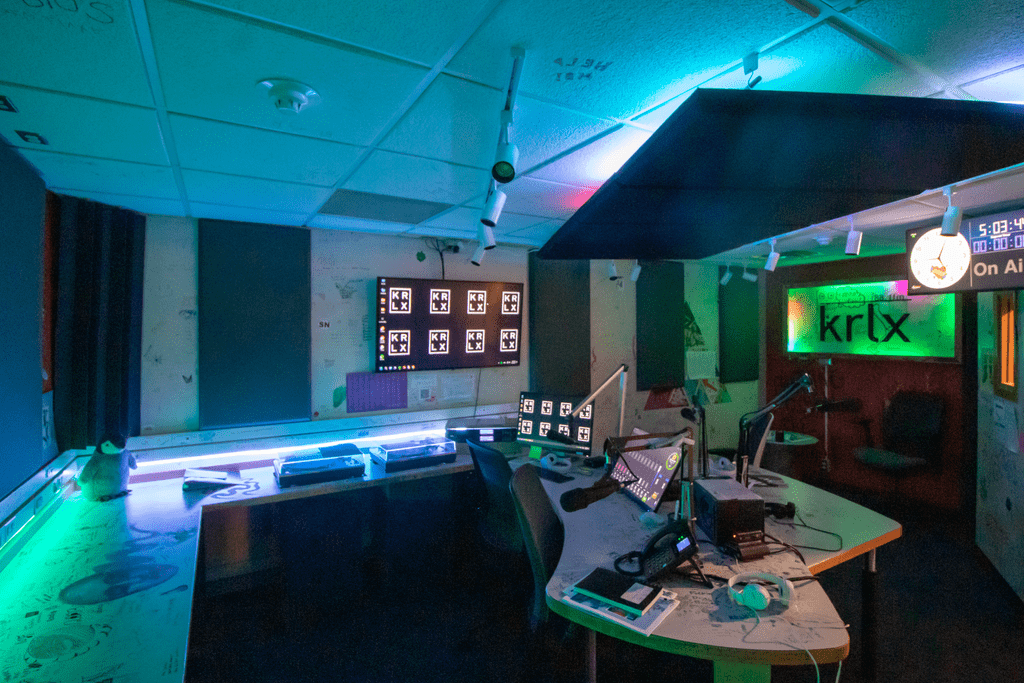 No matter the topic or genre of the radio show, Brink and Edstrom believe that being on air is a window into a different part of yourself.
"There's some moments where you tune into a radio show and you hear somebody who you saw one time in your French class two years ago," Brink said, "and it's this really cool intricate thing, where you're like, 'Woah, I never knew this about you, that's so cool.'"
"It's always really sweet to tune into someone's show who you might not know very well," Edstrom added. "There's something about speaking on air that forces you to be really vulnerable, when you're willing to just let people listen to you. [There's an] inherently invisible aspect of radio where you can't decide who listens to you and who doesn't listen to you—you have to just put yourself out there."
Whoever is tuning in, KRLX and its "wide net" of a community—with members spanning from journalists like Jonathan Capehart '89 to Carls who just want an excuse to promote their favorite obscure bands—provide an important haven on Carleton's campus.
"There is a special warmth to this space," Brink said, "that I hope is a home for many Carls down the line."
Happy 75th birthday, KRLX! You can tune in to KRLX online or on your radio at 88.1 FM. You can also call in to the station at 507-222-4127.