Carleton student organizations and sports teams find creative ways to stay connected
With students spread out across the United States and around the world for spring term, many student groups have found creative ways to continue activities virtually.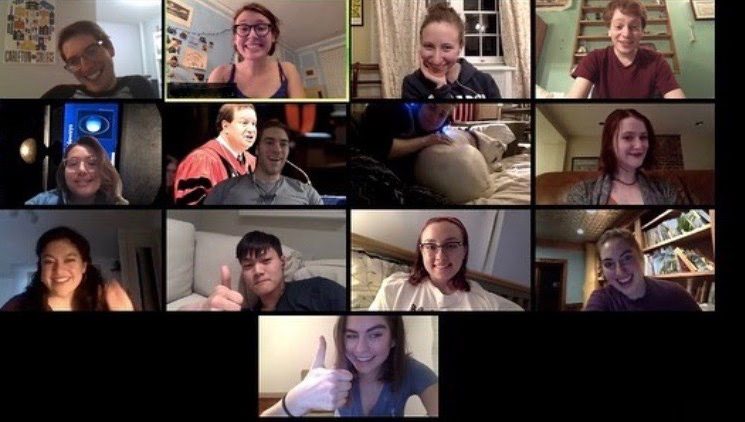 With students spread out across the United States and around the world for spring term, many student groups have found creative ways to continue activities virtually, recognizing the importance of maintaining social connection during the COVID-19 pandemic.
The Carleton Singing Knights
The Carleton Singing Knights, Carleton's all masculine-identifying acapella group, is among the many student organizations using Zoom to continue weekly meetings. "It's really nice to keep the community going," said Knights member Anders Brodnax '22. "Keeping with activities that you've been doing creates a sense of normalcy in a time in which not everything is normal."
During the term, the Knights hope to release songs on their YouTube channel recorded in their homes and edited together using GarageBand. They have already recorded the song "Do You Wanna Do Nothing With Me?" by Lawrence, which Brodnax said "required a lot of coordination" to make sure everyone is singing at the same tempo. While this posed some challenges, Brodnax said, "the idea is it doesn't have to be perfect, but it's a fun thing to do and we just hope people enjoy it."
The Knights have also taken this opportunity to continue arranging songs they can use in the fall, which will allow them to focus on outreach when returning to campus.
Additionally, they have used their online format to connect with alumni in the community, holding a Settlers of Catan game over Zoom that included Knights from seven class years. Brodnax hopes to also have alumni participate in the next song they record during quarantine.
Lenny Dee
Carleton's sketch comedy group Lenny Dee has also used Zoom to continue meeting twice a week. Similar to the Knights, the group plans to release digital content on its YouTube channel while also writing sketches to reserve for the fall. According to one of Lenny Dee's directors, Arlo Hettle '22, the group is also using this time to improve its social media presence on Instagram, where 10-second shorts and links to longer sketches will be released.
The new virtual format poses a challenge of "balancing having fun and hanging out together while also being productive," Hettle said. "I feel like over Zoom, you have to choose either one or the other, and it's hard to balance both."
Nevertheless, the group is thankful "to work on something outside of classes and unrelated to all of the awful things going on in the world," Hettle said. The opportunity "to maintain the social connections for the group, especially for our seniors, and trying to have that last term together is really important."
Swim Team
Like student organizations, sports teams have also had to transfer their activities online. This task has proven especially difficult for Carleton's swim team, as pool access is restricted during quarantine. Women's swim team member Izzy Quattrucci '22 said that the biggest challenge to the virtual format is that "you can stay in shape, but it sometimes just doesn't translate to being in the water."
The swim season spans fall and winter, however, the team usually continues optional captain's practices during the spring. These practices are now held three times a week over Zoom in which one or two captains lead both the men's and women's teams in dry-land bodyweight workouts. Quattrucci says participation "has definitely gone up, as people miss being around each other."
For Quattrucci, it is especially important to continue online workouts for the social connection. "I feel like it's important to try and preserve some of those team traditions and team qualities, even though we aren't all in the same place."
Syzygy
Carleton's Division I women's ultimate frisbee team, Syzygy, has also transferred to optional online activities via Zoom. Captain Maya Powell '20 said team members "come together to do different activities including workouts, discussions, film, crafts, cooking, celebrating birthdays and more."By transitioning to individual workouts, they are "encouraging people to do what is good for them mentally and physically at the moment," Powell said. "With that idea in mind, we've provided resources such as workouts, film and more. We've also created ways to stay in touch with teammates through fun activities via video calls and chats."
For Syzygy, spring season is critical, culminating with nationals. The team was undefeated this year and had its sights set on winning nationals, which has now been canceled this spring. There is a possibility that nationals will be rescheduled for the fall, however, no official plans have been made.
Both Powell and teammate Allegra Johnson McKee '22 say staying motivated has been challenging. "Since we aren't able to work together towards any sort of goal, motivation is really difficult to quantify and maintain," Powell said.
Johnson McKee agrees, explaining that "it's definitely hard to stay motivated when you don't have a tournament coming for probably five months and also you just don't have your teammates there in person to push you at practice."
Despite these challenges, Powell believes "creating and sustaining meaningful connections during this time of social distancing is really important, and it's amazing to have a team who is so excited to do that."

For both student organizations and sports teams across campus, transitioning online has presented its own set of challenges. However, many students agree that it has allowed for group members and teammates to remain socially connected during this time of social-distancing. Although separated by distance, the use of virtual workouts, gatherings, and activities has provided Carls with a sense of community during these difficult times.