Carleton makes meaningful connections at Greenvale Elementary
A community school partnership is bringing both sides together for the greater good.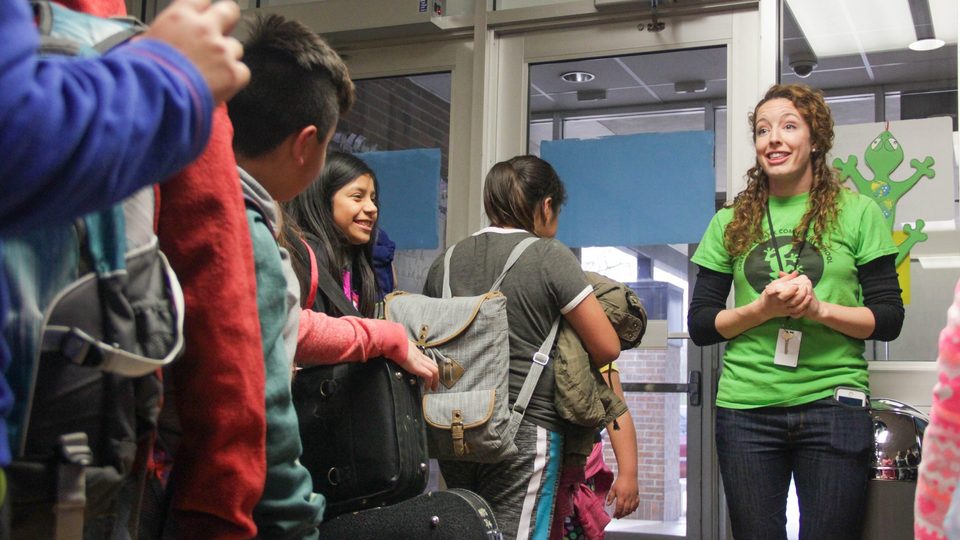 The intersection of Success Court and Respect Street is noticeably calm on a recent Thursday night at Greenvale Park Elementary School. Save for a lone janitor with headphones making the hallway rounds—where more street signs like Perseverance Alley and Goal Setting Parkway encourage from above—this is an expected scene after hours.
Just give it a minute.
Around the corner, Vanessa Martinez '18 painstakingly smears cream cheese on bagel after bagel for hungry elementary school kids in the cafeteria. A few feet away in the gymnasium, 15 kids scramble for a lone soccer ball. After one sweaty youngster tumbles to the ground, a competitor extends his hand to prop him back up. Down the main corridor in the library/media center, a group of first and second grade girls quietly tackle basic addition problems with Carleton "homework helpers" Jessica Makori '19, Daniel Quintero '20, and Lauren Goboff '19.
"Awesome! You are a math whiz!" Goboff says to one of the girls while giving her a high-five. The lesson lasts about five minutes. Some kids request to read a book, another wants to play chess. Makori, Quintero, and Goboff are happy to oblige.
Thanks to a 21st Century Community Learning Center Grant, Greenvale is in year three of a strategic collaboration that brings multiple Northfield resources under one roof for after-school and evening programming. Local support from WINGS (Women in Northfield Giving Support) and SHIP (Statewide Health Improvement Program) catalyzed federal funding—$92,000 each year over five years, three guaranteed—a significant game-changer for a school with specific cultural and socioeconomic needs. Perhaps less noticeable from the outside: Staffing provided by the grant has given Greenvale's partnership with Carleton added purpose and focus.
"It's opened up so many more possibilities for us," says Laura Riehle-Merrill, director for community engagement and student leadership with the Center for Community and Civic Engagement (CCCE). "We've been a longtime partner with Greenvale, but now, if Carleton students come in with programming requests or have an idea for a project, there are specific staff members there who serve as a conduit. Plus, not every student can squeeze in day opportunities between classes. Having evening options to help is huge. It leads to a higher level of engagement from our campus."
[[id="1567987″ width="1000″]]
Pick any busy intersection at Greenvale to see engagement in action: Second graders learning to grow basil in plastic cups from Carleton's Green Thumbs club. Adults from several countries patiently repeating English phrases with Carl tutors. More Carleton students staffing a table filled with packaged dining hall leftovers so Northfield families can grab meals to go.
The 3 p.m. school bell used to signal a mass exodus from Greenvale's "streets." Not anymore.
"I remember when we opened in year one, we had maybe a handful of kids who stayed for after school or evening programs. And we were excited about that," says Erin Bailey, director of community services for Northfield Public Schools. "But then you get the nights where you see 100 people at Greenvale—kids and adults. It's transformational, the connection that families and students feel to the building now. There's a level of ownership that didn't exist until this grant started.
"They say, 'This is where I go. This is my school.'"
CREATING A CENTRAL HUB
Motivation is around every corner at Greenvale.
Open your mind, open a book.
Mistakes help me improve.
You can do it!
The interior itself—which favors partitions separating classrooms, not doors or walls—only adds to the school's creative, collaborative charm. Makori, a Carleton biology major who has tutored at Greenvale for the past two years, was surprised by the lack of classroom doors at first—"The rooms are almost built like cubicles." She quickly came to admire the set-up.
"I don't know if it's the main reason, but I noticed right away how bonded these students are," Makori says. "Every time I'm here, I appreciate that."
[[id="1567991″ width="1000″]]
Perhaps that openness—and the ability to see, hear, and share in what everyone else is doing—best captures the essence of the Greenvale Park community school model. No more "working in silos," Bailey says. Let's learn together.
"One of the things that makes Greenvale unique as a community school is that they are serving the most racially and economically diverse populations in Northfield Public Schools," Bailey says. "That always brings a level of need and challenges that aren't seen when dealing with families who have more resources, or who have more developed English language skills, or who've simply lived in this country longer. We really worked with Greenvale staff to better understand the school's needs. 'Okay, you see them every day. Tell us what will help.'"
Conversations originally started with residents who live near Greenvale, located on the north end of the city less than two miles from Carleton. Their pitch was simple: Open a community center that offers kids' activities, but also allows everyone—high schoolers, parents, any Northfield resident—access to exercise classes, drop-in tutoring, or English language sessions. Because of the 21st Century grant, Greenvale has become "the hub" for education, health and wellness, and food security.
At the heart of expanding Northfield connections is Kathryn (Schmidt) Lozada '12, who along with Laura Berdahl, serves as a co-coordinator for the grant's goals at Greenvale. An international relations major (and Latin American studies minor) while at Carleton, Lozada is scheduler-in-chief—one of several 'round-the-clock duties she shares with Berdahl.
When students are ready to leave following after-school programming, Lozada is at the front door making sure they line up properly. If a 7 p.m. loudspeaker announcement needs to be made for the departure of a community school bus—part of guaranteed transportation for families who want to attend night programming—Lozada voices the reminder in both English and Spanish, the latter particularly important to Latinos who make up 28 percent of Greenvale's student population. And of course, when Carleton students, professors, or CCCE staff members need to contact someone about after-school or evening help, Lozada is their point person.
[[id="1567983″ width="1000″]]
"There's a lot of energy and passion at Carleton, but it's really challenging when you have 10-week terms and you're applying yourself as a student and you're trying to do something amazing in the world," Lozada says.
"This is an easy way for Carls to work with people in need, right in their own backyard. That's huge—because you can study a lot of important concepts in the classroom, but you don't have to go far to see how what you're learning can have an impact in the community."
GETTING TO KNOW NORTHFIELD
Circle back to the cafeteria after a half hour, and Martinez is still handing out bagels.
A community-based work study employee with CCCE since winter term, Martinez is at Greenvale four nights a week—until 8 p.m. on Tuesdays and Thursdays for community school evenings—helping as an extra set of eyes and ears for staff and volunteers. Students are excited to see her. They listen. When one boy needs to blow off steam before an after-school program begins, she accompanies him to the gym to run laps.
"You figure out what works for them. You get to know them. Those interactions are meaningful," says Martinez, a psychology major with an educational studies concentration.
"I'm the oldest in my family. I have younger siblings, and I love kids. So I'm definitely in my element here."
Goboff and Quintero connected with CCCE for similar reasons. As homework help tutors for elementary to high school-aged students in the evening, they are proud to contribute a small piece to the overall Greenvale puzzle—to provide "services that are really needed and valued," Goboff says.
"I think I'd go a little stir crazy if I wasn't able to get out and work with kids," says Goboff, a work study student who now coordinates Carleton volunteers as the Greenvale fellow with CCCE. "I love my academic life at Carleton, but there are moments where I ask, 'Okay, what am I really accomplishing here?' I needed something concrete, something that allowed me to get my hands in the ground."
[[id="1567997″ width="1000″]]
"It's made me realize that there's a town around Carleton," adds Quintero. "Of course, I knew that before. But I didn't have contact with the people who live in Northfield.
"Now, we get to know the kids. We get to know their family struggles, their proud moments. Over winter term, one of the kids got a new baby sister. We all remember that. It was a very big deal."
Riehle-Merrill, who serves on the community school's advisory council, says Carleton's capacity to help is a direct result of Greenvale staff and teachers leading the charge. The college's contributions run the gamut: Afternoon science-based sessions (Green Thumbs, Art Sprouts) and morning/evening tutoring fill important basic needs, while academic exercises like professor Daniel Groll's "Philosophy for Children" add decidedly Carleton wrinkles. In all, about 80 Carls connect with Greenvale during the academic year.
"We're working together to get it right," Riehle-Merrill says. "I'm especially proud of the food recovery program we've set up with Greenvale. All of this food that was going into a dumpster is now recovered from the campus dining halls, packaged, and taken to Northfield families who are lining up for it. For students who are super passionate about food security, by just spending an hour there, they are really helping to address this issue."
A LASTING IMPACT
The needs of the community are always front and center.
After a particularly challenging after-school session, Lozada heads to her office to regroup with staff and volunteers. They can't solve every problem that arises on a given day. But they're trying.
"For some of our students, their home environments are not necessarily the best. The meals here might be the only ones they get," says Elizabeth Ziemann, a kindergarten teacher at Greenvale. "This is a good, safe place for them. That's what I'm most proud of. The positive interactions they have with role models after school and into the evening can show them what to achieve."
The good news: Greenvale already met its attendance goals for the year in February. That checks off a major requirement to obtain funding for the final two years of the grant, a decision expected before the new cycle begins in June.
The bad news: Recent political shifts leave the future of 21st Century grant funding in serious doubt. It isn't a comfortable conversation for staff to have, and unfortunately, there's little solace in knowing that a blueprint for Northfield partnerships has been created if the worst-case scenario unfolds.
Instead, Lozada focuses on the task ahead. She has to. The 7:30 community bus isn't going to announce itself.
"It's very easy to get bogged down by the work, and when you have limited resources, there are certainly moments where you're made aware of how much needs to be done. But being in this school, I am constantly reminded why I am doing this. I see a spirit of community collaboration and connectedness every day," Lozada says.
"I think our society is missing that in a lot of ways—building bridges between different languages, cultures, and life experiences. To see that all of that happen in one place in Northfield is pretty amazing."