Carleton Launches $100 Million Financial Aid Initiative for Low-Income Students and Students with Undocumented Status
Partnership with Schuler Education Foundation will expand access to Carleton and other liberal arts schools for high-achieving students.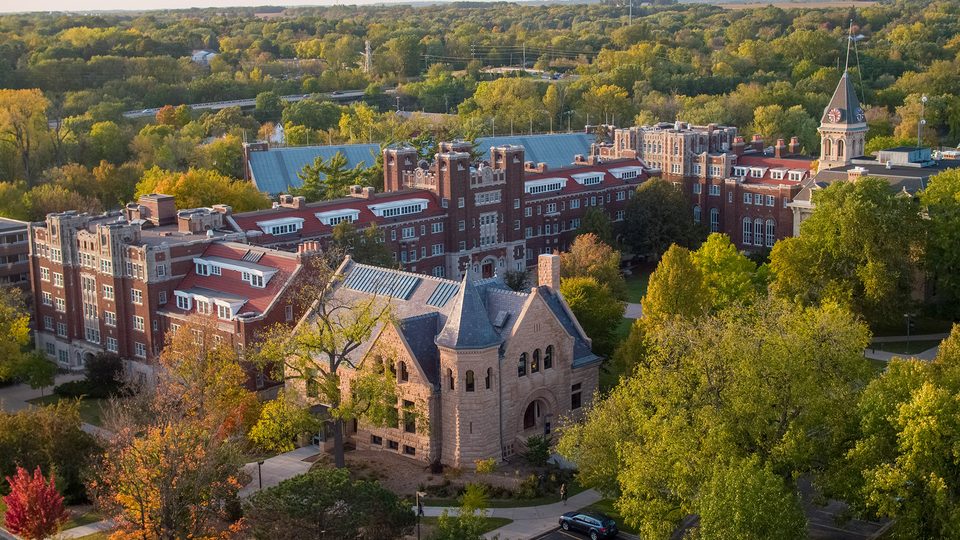 Carleton College has received a commitment of up to $50 million in funding from the Schuler Education Foundation as part of a revolutionary partnership to dramatically increase college access for low-income students and students with undocumented status.
Over the next 10 years — and contingent upon Carleton providing a matching level of support — the Schuler Education Foundation will fund financial aid to support the enrollment and incremental increase of Pell-eligible students and students with undocumented and DACA status at the college, up to $50 million. This initiative builds on Carleton's existing policy to meet every student's full demonstrated financial need for all four years of college. To qualify for this generous funding, Carleton must raise and receive a dollar-for-dollar match of the total amount expected from the Foundation within the next five years.
"Carleton is thrilled to be part of an initiative that will advance and accelerate our goal of providing greater access to a Carleton education for low-income and undocumented students, who research has shown are among those who stand to gain most from a high-quality liberal arts education," Carleton President Alison R. Byerly said. "We are proud to partner with the Schuler Foundation on a program that will have a dramatic impact on Carleton and peer institutions."
The Schuler Access Initiative recognizes and addresses the urgent need for financial aid dollars to ensure equal access for Pell-eligible and DACA students at Carleton. Currently, 13.5% of Carleton students qualify for Pell grants — which are awarded to students with family incomes of roughly $40,000 or less — and at least nine students have DACA status. The average financial aid award for a DACA student at Carleton is $78,149 for the current academic year. The average financial aid package awarded to a Pell-eligible Carleton student in 2021–22 is $72,987.
Successfully meeting the goals of the Schuler Access Initiative will result in $100 million in endowed funds, the payment from which will be distributed as scholarships for eligible students in perpetuity through increased need-based financial aid. When the full $50 million is contributed by Carleton donors, the number of low-income students attending Carleton will be expanded by over 50 students every year in perpetuity.
"A long-standing goal of our institution is to expand low-income access to a Carleton education," said Art Rodriguez '96, vice president and dean of admissions and financial aid. "As low-income students' concerns about college costs are ever-increasing, the Schuler Access Initiative will generously aid in this effort."
The Schuler Education Foundation has a long history of supporting individuals and communities by creating pathways for high-achieving under-resourced and underrepresented students to gain admission to top-tier liberal arts colleges. Carleton is one of five liberal arts colleges that have signed on to the Schuler Access Initiative, joined by Kenyon College, Union College, Bates College and Tufts University. The initiative will allow for up to 20 schools to participate over the next decade.
"What better investment could there be for this country than to invest in undocumented students?" said Jack Schuler, co-founder and chairman of the Schuler Education Foundation.
Schuler, 80, is the parent of a Carleton graduate and an emeritus trustee of the College. The son of a Swiss immigrant whose father came to the United States in 1927 and made sure his children went to college, Schuler said he sees the same drive in today's undocumented and low-income students, many of whom are first generation or children of first-generation families.
"Immigrants have historically displayed optimism and ambition in the decision to leave home for America," he said. "A liberal arts education is unique to the United States and has proven to be a great foundation for success in post-graduate studies. You become a citizen of the world with a liberal arts education."
Over many years, the Schuler family has generously committed over $10 million to further financial aid, young alumni engagement and other priority initiatives at Carleton, investing their philanthropic support in a variety of impactful ways. Learn more about Carleton's partnership with the Schuler Education Foundation.